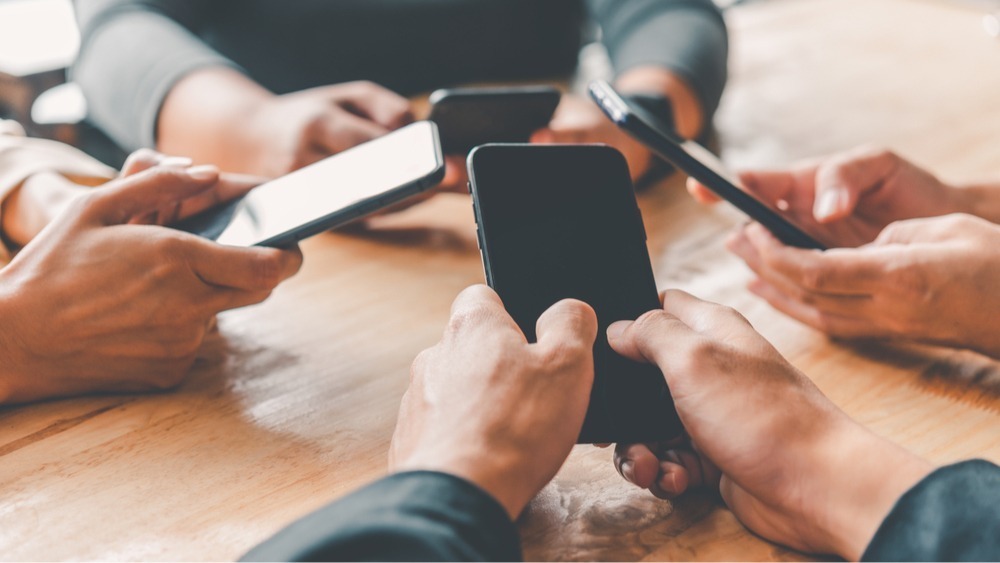 Have you ever had a great idea for a mobile app, but felt overwhelmed by the sheer amount of work involved in bringing it to life? From concept development to design and deployment, there are countless steps involved in bringing an app to market. Every entrepreneur and business owner is used to balancing between two fires: the need to elevate user experience and focus on core competencies. 
But fear not, because there's a solution: outsourcing. By tapping into the expertise of skilled professionals, you can streamline your mobile app launch and turn your vision into a reality. So sit back, and relax, as we've collected some expert tips and plenty of real-world examples to show you how outsourcing can help you facilitate your mobile app development and bring your best ideas to life.
Contents:
Mobile Apps: A Crucial Factor for Business Development (find some fresh statistics on the mobile app market in 2023)

Why Outsourcing Is a Go-To Approach for Mobile App Development Launch

Examples of successful mobile app launches with outsourcing

What do we offer?
Mobile Apps: A Crucial Factor for Business Development
With 3 in 4 Gen Zers claiming to spend too much time on their smartphones, people are more attached to their mobile devices than ever before. Today, individuals are expected to live in two worlds: the real world and the mobile world. While the real world can make it difficult to access people as customers, the mobile world offers almost unlimited opportunities for businesses and organizations to reach and engage with their audience. Therefore, mobile apps have become an essential part of business development, enabling businesses to interact with customers in new and innovative ways, enhance the customer experience, and increase revenue opportunities.

As a result, every entrepreneur today has an idea for their own mobile app to gain a competitive advantage in their industry.
The mobile app industry as a whole is growing, and people are increasingly relying on apps for their daily activities. According to Statista, global mobile app revenues amounted to $431 billion in 2022.
Between 2016 and 2022, app downloads saw a 63% increase, and there was an additional 11% increase from 2021 to 2022. In-app advertising, which is a huge share of business today, is projected to reach $226 billion by 2025.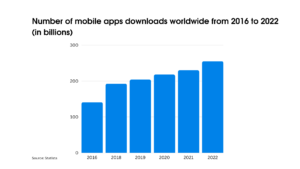 Almost 90% of mobile user's time is spent on apps. That's why the latter have become increasingly important in business development due to their ability to provide a range of benefits for businesses of all sizes such as:
Increased customer engagement.

Mobile apps provide businesses with a direct and personalized way to engage with customers, offering features such as push notifications, in-app messaging, and personalized content.

Improved customer experience.

During the day, the customer travels through several gadgets. Considering that, mobile apps offer a more convenient and streamlined user experience than traditional websites, allowing customers to access information, products, and services quickly and easily.

Enhanced brand awareness

. Mobile apps provide businesses with a platform to showcase their brand and offer customers a unique and memorable experience. 

Access to customer data.

Mobile apps allow businesses to gather valuable data on customer behavior and preferences, which can be used to inform marketing and sales strategies.

Increased revenue opportunities.

Mobile apps provide businesses with new revenue opportunities, such as in-app purchases, subscriptions, and mobile advertising. 
Compared to traditional websites, mobile apps provide a better user experience, offering faster load times, improved functionality, and easier navigation. This has led to increased user satisfaction and higher engagement rates.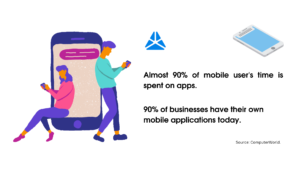 The non-less important factor in the success of mobile apps among businesses is that advances in mobile technology have made it easier and more affordable for developers to create high-quality mobile apps. From app development tools to cloud-based hosting services, there are a variety of resources available to developers to create powerful and efficient apps.
As businesses ever more seek to differentiate themselves from their competitors, there is a growing demand for custom mobile app solutions that are tailored to their unique needs and requirements. In fact, about 90% of businesses have their own mobile applications today, according to Computer World.
Why Outsourcing Is a Go-To Approach for Mobile App Development Launch
They say that outsourcing is a go-to approach for mobile app development because it provides businesses with access to specialized expertise, can be more cost-effective than hiring an in-house team, can expedite the development process, allows for scalability, and enables businesses to focus on their core competencies. Outsourcing also helps businesses to manage risk and overcome various challenges related to app development, as it can provide access to a larger pool of talent, and allows for greater flexibility in managing resources.
This topic is more widely discussed in our recent article, which is devoted to the common challenges of mobile app development. The article explores a go-to plan during outsourced development and its different approaches, including outstaffing – one of the most advanced approaches to software development in the market.
Successful Outsourced Mobile App Marketing Examples
In this chapter, we describe the most popular types of applications that are currently at the peak of popularity, as well as add successful examples of the implementation of these applications with the help of outsourcing. From WhatsApp, Uber and Skype – the market is full of success cases of outsourced mobile app development.
Ground Travel Apps
Ground travel apps provide users with the ability to easily find and book various forms of transportation such as taxis, car rentals, and public transportation which makes them one of the most requested types of apps on the market. These apps often use real-time data and GPS tracking to offer users accurate and up-to-date information on available transportation options, prices, and estimated travel times. 
Some typical difficulties in developing ground travel apps may include integrating with various transportation providers, ensuring accuracy and real-time updates of transportation schedules and availability, and dealing with complex mapping and navigation systems. One of the most successful examples of outsourced ground travel app development is obviously the Uber app, which was created by outsourcing the app development to a team of software engineers in India. Another good example is Grab, the app developed by a team of outsourced developers in Vietnam, which is one of the most popular ride-hailing apps in Southeast Asia.

Among our in-house examples of successful outsourced app development we may mention is our project Gett, a ground travel app that allows users to book a taxi or a ride-hailing service in real-time. Gett offers a variety of features to make the booking process more convenient for users, such as the ability to pre-book rides, track the driver's location, and pay through the app. The app is also designed to cater to the needs of businesses and corporations, with features like expense management, centralized billing, and custom reporting. Gett has received positive reviews for its user-friendly interface, efficient service, and reliable drivers.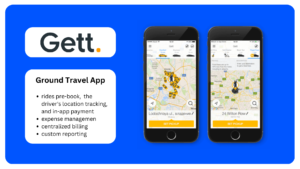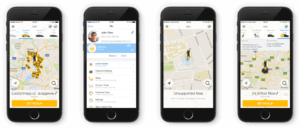 Video-Editing Apps
Video-editing apps allow users to create high-quality videos with advanced editing features like adding transitions, filters, text, and audio tracks. They are widely used by YouTubers, social media content creators, and businesses for making marketing and promotional videos. 
The typical difficulties of developing video-editing apps include dealing with large files and managing resources to handle complex video rendering processes. Additionally, ensuring smooth playback and seamless integration with other devices and software can also be challenging.

One example of a successful mobile app launch campaign example in the video editing space is "InShot Video Editor." The app was developed by a team in China and has more than 100M downloads on Google Play. It offers a range of editing features, including adding music, filters, and text to videos, and has been positively reviewed for its ease of use and functionality.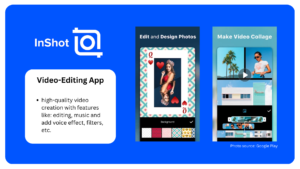 Accounting Apps
Accounting apps are popular because they make managing finances easier and more efficient. These apps provide a variety of features, such as invoicing, expense tracking, and budget management, all in one place. They also help users save time by automating many manual financial tasks, and provide real-time insights into their financial health. Additionally, many accounting apps offer integration with other financial tools, such as banks and payment processors, making it easier to manage all financial transactions in one place.
The development of accounting apps can be challenging due to the complex and constantly evolving tax laws and regulations that vary by country and region.
One successful example of outsourced mobile app development for accounting is Vatbox. Vatbox is a cloud-based VAT recovery solution that automates the VAT recovery process for businesses of all sizes. The app enables companies to automatically extract and validate data from invoices and receipts, manage VAT recovery requests, and generate reports for tax authorities.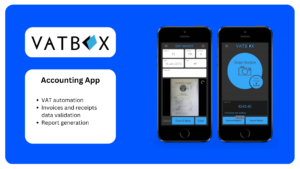 Productivity Apps
Productivity apps are popular due to their ability to help users stay organized, focused, and efficient. They often offer features such as task management, note-taking, calendar syncing, and time tracking. The typical difficulties of developing a productivity app include ensuring a smooth user experience, integrating with other apps and platforms, and maintaining high levels of data security and privacy. 
One of the most well-known examples of outsourced mobile app launches among productivity apps are Trello, Slack, and Evernote, which are widely used among corporations worldwide. Productivity apps are used across many industries including hospitality and restaurants. A good example is Better Chains, a productivity app specifically designed for the restaurant industry. It includes features like inventory management, employee scheduling, menu planning, and more to help restaurant owners and managers streamline their operations and improve efficiency.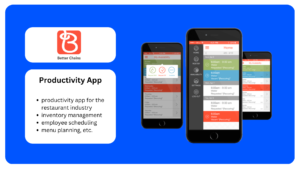 Restaurant Management Apps
Restaurant management apps are popular because they provide a comprehensive solution for managing different aspects of a restaurant's operations, including ordering, inventory, staff management, and communication. These apps help restaurant owners and managers to streamline their operations, reduce errors, and save time and money.
The development of restaurant management apps can be challenging because it requires integrating multiple systems and ensuring seamless communication between them. Additionally, developers need to ensure the app is user-friendly, easy to navigate, and customizable to fit the unique needs of each restaurant. Furthermore, data security is also a critical concern, as these apps deal with sensitive information such as financial and customer data.
There are plenty of successful examples of outsourced restaurant management apps, among them are Tock, developed by an outsourced development team in Ukraine, OpenTable and Simple Order. The latter offers a range of features, including online ordering, inventory management, sales reporting, and customer relationship management. Simple Order allows restaurant owners to automate many of their routine tasks, freeing up time for other important activities.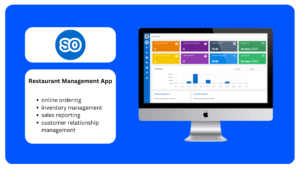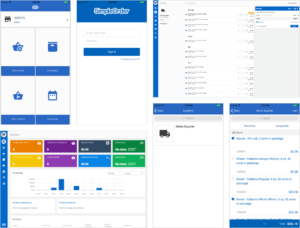 Security Apps
The rise of mobile device usage has made security apps even more essential, as mobile devices are more vulnerable to security threats than desktop computers. In this regard, security apps provide features like antivirus protection, VPN services, password managers, and encryption tools that help to safeguard users' data. The typical difficulties of developing this type of app are ensuring that the solution is easy to deploy, use, and manage, while maintaining a high level of security and performance. Additionally, integration with existing corporate systems and workflows can be challenging.
There are several successful examples of outsourced mobile app launches among security apps like well-known Norton Mobile Security, developed with the help of outsourced developers and Twingate. The latter is one of our most successful projects that allows users to access private cloud resources from any device, with better security than a traditional VPN. It uses a modern approach to secure access called Zero Trust Network Access (ZTNA), which is designed to eliminate traditional security perimeters and provide secure access to applications and data.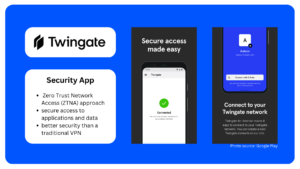 Telehealth Apps
Telehealth apps play an important role in healthcare by allowing medical professionals to remotely monitor patients' vital signs and health indicators. These apps can help reduce the need for in-person visits, improve patient outcomes, and increase patient satisfaction.
IoT technology can be used to gather data from connected medical devices, such as blood pressure monitors or glucose meters, and transmit the data to the app. The app can then analyze the data and provide alerts to medical professionals if any readings are outside of the normal range.
One of the main challenges in developing telehealth apps is ensuring that the data is transmitted securely and is compliant with relevant regulations, such as HIPAA in the United States. Additionally, the app must be user-friendly and easy for patients to use, as many patients who require telehealth apps may not be tech-savvy.
Nicas CS is one the most vivid examples of telehealth apps. Nicas is a healthcare app that enables medical professionals to remotely monitor their patients' vital signs and health indicators in real-time, such as blood pressure, heart rate, blood oxygen levels, and more. It uses wireless sensors to collect this data and sends it to the app, where medical professionals can access it from anywhere at any time.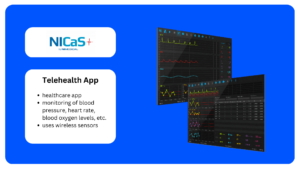 Social Network Apps
Social network apps allow users to connect and interact with each other through various social media platforms such as Facebook, Twitter, Instagram, LinkedIn, and more. These apps often have features like messaging, sharing posts and media, commenting, and following or connecting with other users.
Developing a social network app can be challenging due to the need to create a user-friendly interface, build a robust backend infrastructure to handle large amounts of data and user interactions, and ensure data privacy and security. Additionally, competing with established social networks can make it difficult to attract and retain users.

What's interesting is that almost all the currently popular social network apps like Instagram, Tiktok, Pinterest, and Snapсhat were, to some extent, developed with the help of third-party developers. A slightly less popular but no less effective example is the social network app Smupp – an anonymous social networking platform that enables users to add friends, connect and network with members anonymously.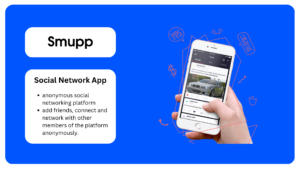 Construction Apps
Construction apps, also known as construction management software, are becoming increasingly popular because they help streamline communication, manage resources, and increase efficiency in construction projects. These apps provide features like project management, document sharing, scheduling, and collaboration, making them an indispensable tool for construction managers, contractors, and builders.
The development of a construction app can be complex and challenging, requiring a deep understanding of the construction industry, as well as expertise in software development. 
The app needs to be intuitive and user-friendly, but also robust enough to handle the complexities of construction projects. Security and data privacy are also critical considerations, as sensitive information like project timelines, budgets, and blueprints need to be protected. Testing the app thoroughly to ensure it performs well across different devices and platforms can also be a challenge.
One example of a successful outsourced mobile app launch in the construction industry is PlanGrid, which was developed by an outsourcing company and is now used by over one million construction professionals globally. Another successful example is IRoofing, a mobile app designed for roofing contractors, home inspectors, and homeowners. It allows users to create accurate measurements and estimates of roofs and to produce professional proposals for clients. Being one of our most successful projects, the app uses satellite imagery to create 3D models of the roof, which can be analyzed for damage and other issues. It also provides tools for creating diagrams and diagrams, as well as tracking the progress of the project. iRoofing has been used by many contractors in the roofing industry and has received positive reviews for its accuracy and efficiency.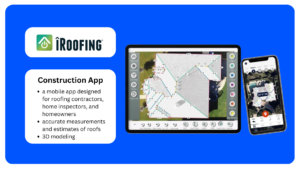 How Does MWDN Work With the Clients?
For over 20 years, MWDN has been delivering software and application development services to various industries. Starting as an outsourcing provider, we have evolved to primarily offer outstaffing services. Today, we have 50 extended teams and have successfully executed over 200 projects. 
Outstaffing works as follows:
We find dedicated specialists with a proven work record who work exclusively for that company, not being direct employees of the company

We take care of all the legal and administrative aspects of their employment, such as taxes, benefits, and salaries.

Our customer doesn't have to worry about managing their employment, but can still work closely with them to achieve their business goals.



We find only expert developers and designers who specialize in creating customized mobile apps tailored to your business needs. From concept development to launch, we work closely with you every step of the way to ensure your vision becomes a reality. Apply now to get started and elevate your business with a cutting-edge mobile app.