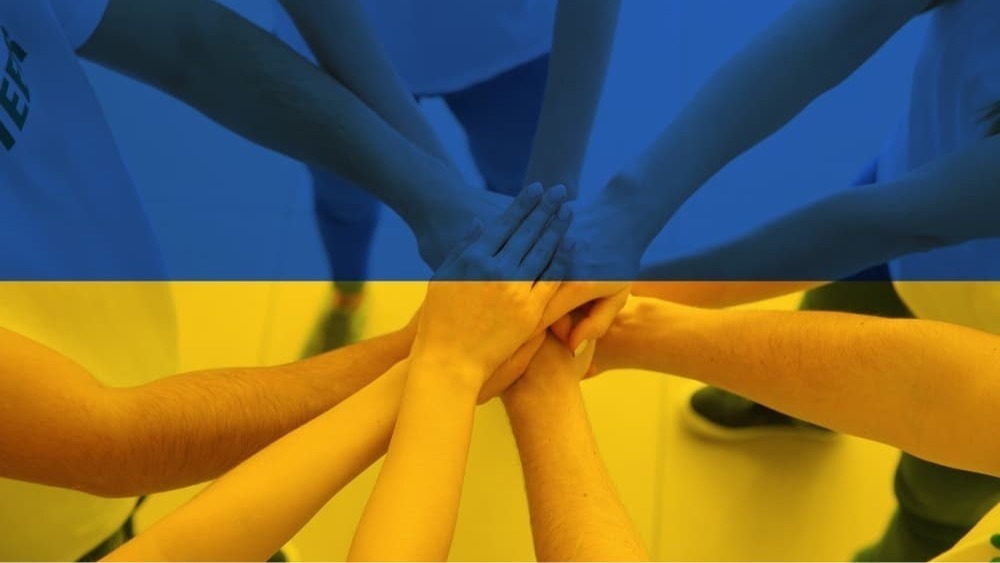 Whatever happens to the world, business is still business with all its rules. One of the main business laws is that customers will not work with vendors if this cooperation is not profitable. Fortunately, customers of Ukrainian IT service companies don't have to choose between what is moral and what brings money. Thanks to the enormous effort of the Ukrainian government, Ukrainian IT Association, Ukrainian software development companies, and Ukrainian tech talents, the IT sector in the country has more than survived – it is profitable, notwithstanding the full-scale Russian invasion.
Content:
What has changed in 2022
Governmental support – IT education for the nation
Challenges of the new Ukrainian realities for the IT sector
Companies' support – Relocation, European hubs, international recruitment
Blackouts – What does MWDN do to keep its developers online?
Reasons why Ukraine is still a top destination for IT outsourcing
Median salaries of Ukrainian tech talents in 2022
Worldwide trends and the role of outstaffing in new realities
Summing up
What has changed in 2022?
MWDN has moved its main office from Kharkiv to Kyiv and opened a new office in Warsaw, Poland. Most of our Kharkiv employees have relocated to the Ukrainian cities that suffer less from shelling or became refugees and moved to the EU countries. We're not alone in these steps. The full-scale invasion forced most Ukrainian IT companies to change their residence and help their employees with prompt relocation.
Notwithstanding the new reality, the Ukrainian export of IT services in 2022 managed to grow. The numbers are much lower than the 20-25% growth we saw from 2014 to 2020, but compared to other goods and services export, they look optimistic. In 2020, the Ukrainian IT sector held third place in the GDP volume of the country, right after agriculture and mining. In 2023, it is the only sphere of the Ukrainian economy that continues to grow. So, how did we do that?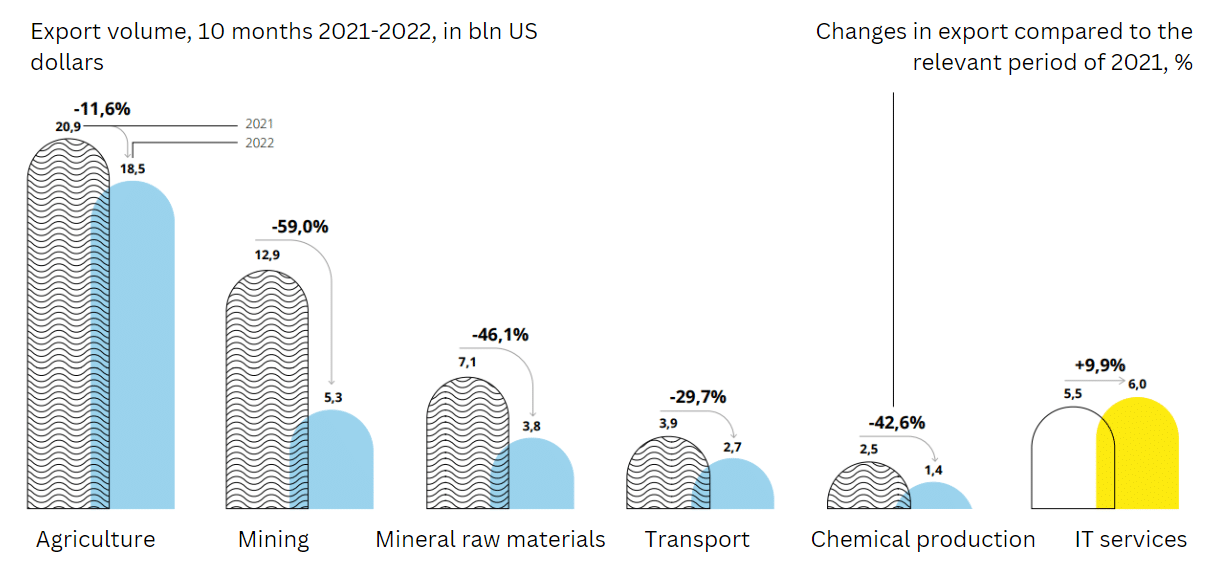 Image source:
Do IT Like Ukraine
survey by Ukraine IT Association. Data provided by the National Bank of Ukraine.
Governmental support – IT education for the nation
Four months into the war, the Ukrainian Ministry of Digital Transformation started an ambitious educational project – IT Generation. The goal was to fill the tech talent gap within the country, help people who have lost jobs due to the Russian invasion, to develop new skills for further employment, and to increase the level of digital awareness among Ukrainians.
Binance Charity company, Lviv IT Cluster, and the Ministry of Digital Transformation gathered 21 schools that offered their educational courses on IT, software development, and digitalization to Ukrainians. More than 50 000 people have applied for the possibility, and 2 200 were chosen to get free education.
During two to six months, depending on the educational program, new students were taught tech specialties, like front-end development, JavaScript, Java, Quality Assurance, Python, and Blockchain, and some non-technical skills, like Project/Product Management, UI/UX Design, Business Analysis, HR/Recruiting, and Digital Marketing.
Challenges of the new Ukrainian realities for the IT sector
Unfortunately, it's not all bright and perfect in Ukrainian IT-2023. These are the most common difficulties that IT companies from Ukraine have faced this year:
Men 18 to 60 years old are forbidden to leave the country;

Employees and their families have to migrate through the country;

Some of the employees became conscripts for the Armed Forces of Ukraine;

The Ukrainian government has implemented currency regulations to stabilize the national currency;

Challenges connected to the cooperation with international clients;

Challenges connected to the relocation;

Active hostilities;

Occupation of certain territories;

Changes in taxation laws.
0,0% of companies that participated in the survey by the IT Ukraine Association haven't faced any of the above challenges.
Companies' support – Relocation, European hubs, international recruitment
Before the 24th of February 2022, many Ukrainians, with CEOs and COOs of IT companies among them, felt what was coming. This is why many companies already knew what they would do. Some of them immensely helped their employees with relocation to other countries or regions of Ukraine, while others continued paying salaries to their employees who were conscripted into the Armed Forces.
Some stats
Overall, today, more than 34% of respondents that took part in the IT Association of Ukraine survey state their companies are now fully in tune with the new realities while multiple challenges don't prevent them from doing business. Meanwhile, more than 61% of companies still have some problems unsolved, however, overall, they're resilient, persistent, and productive in their work. Unfortunately, for almost 4% of Ukrainian IT companies, the war was too much, and their business couldn't make it.
European hubs
One of the major tasks for IT service companies was to maintain their customers. To do so, they had to guarantee to their clients the safety and efficiency of their employees. One of the ways to do so was by opening new offices in other countries, particularly near the Ukrainian borders.
Being a part of this trend, in January 2023, MWDN opened a new office in Warsaw, Poland. With this being said, our headquarter stays in Kyiv, and we re-opened our office in Kharkiv.
Top 10 countries where Ukrainian IT companies have relocated their offices: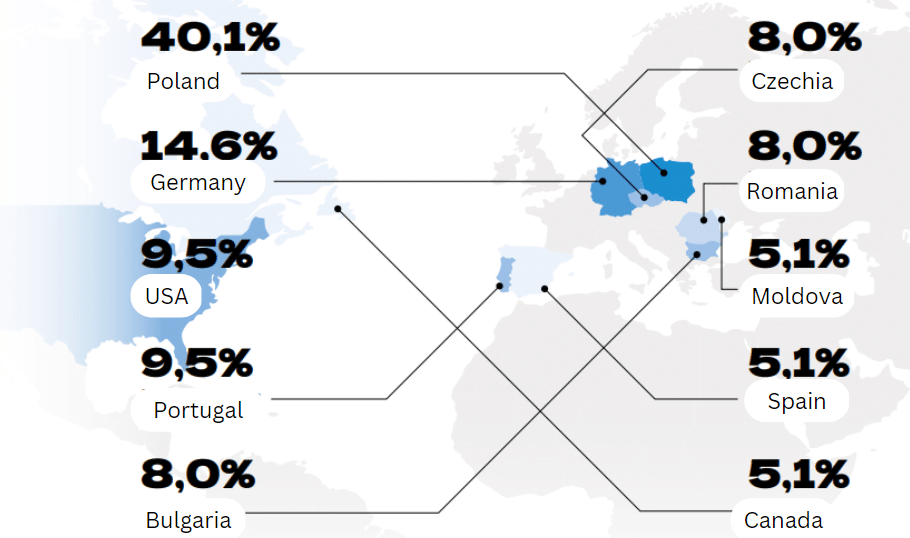 Image source:
Do IT Like Ukraine
survey by Ukraine IT Association
International recruitment
To secure their businesses, many IT service companies from Ukraine decided to diversify their staff and started hiring tech talents in other countries, not only in Ukraine. Moreover, according to Jinni, the anonymous recruitment platform for IT specialists, the share of open positions visible only to residents of Europe has grown drastically compared to the previous years.
As an outstaffing company, MWDN obeys the requirements of its customers and starts searching and hiring software developers and other IT specialists around the globe, particularly in Poland, Hungary, Romania, and Israel.
Blackouts – What does MWDN do to keep its developers online?
Starting from the 10th of October 2022, Russia shells Ukrainian cities, particularly critical infrastructure that provides electricity, heating, internet, mobile connection, and water for Ukrainian families. This became a true challenge for the IT sector, which was, nevertheless, promptly smashed.
Here are some measures most Ukrainian IT companies took:
Purchase of generators

Use of Starlinks

Purchase of gasoline

Compensation for relocation to other regions

Internet providers diversification

Purchase of power banks

Compensation for co-working offices
Moreover, IT societies in different regions and cities of Ukraine started actively helping each other with working spaces, generators, and spare Starlinks. The reason behind such a prominent reaction was simple – the Ukrainian IT sector needed to maintain its international clients to continue bringing money for IT services export to the Ukrainian budget.
According to the Do IT Like Ukraine survey by Ukraine IT Association, thanks to all these methods, nine of ten companies can maintain the integrity of more than 80% of their business processes, notwithstanding the constant blackouts.
At MWDN, we took every step mentioned above. We delivered generators, Starlinks, and power banks to all employees who applied for these tools. We helped those of our employees who decided to move to other regions of Ukraine or Europe. We also continued renting an office in one of the best co-working spaces in Kyiv for our employees in the capital. Now, we can state that blackouts don't affect our employees' performance.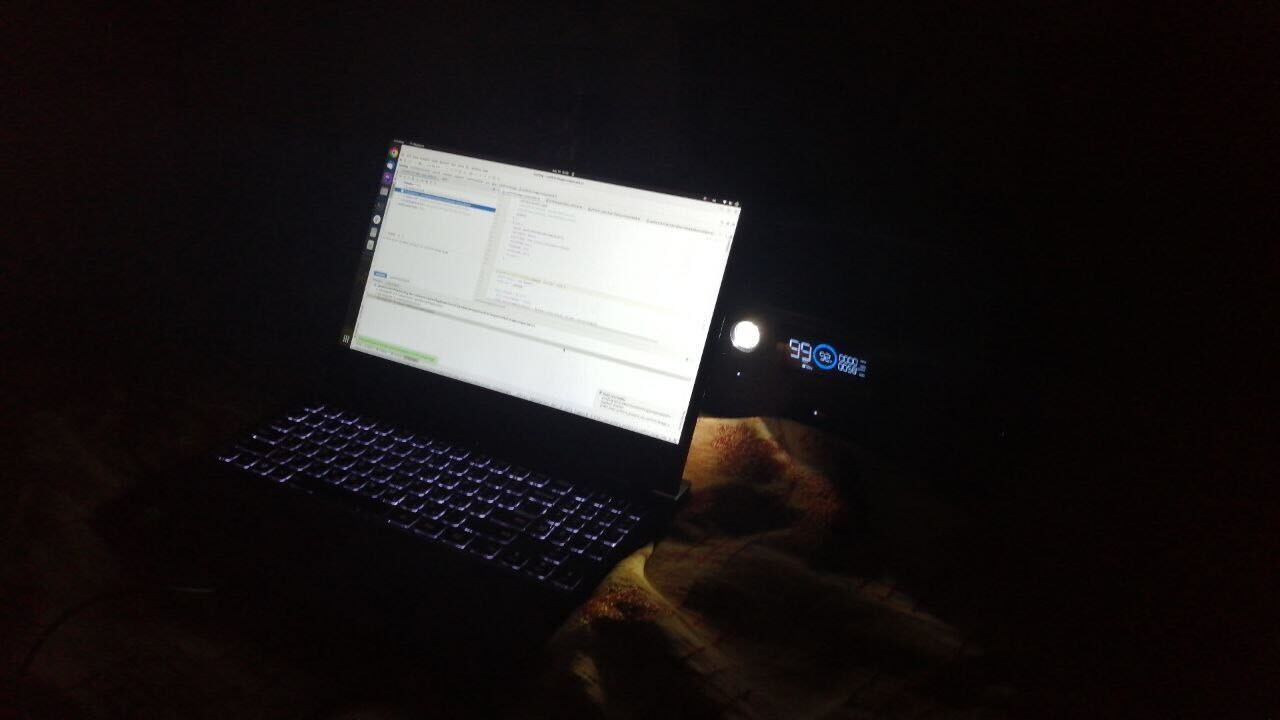 Image: Power banks bought by MWDN for their employees
Reasons why Ukraine is still a top destination for IT outsourcing
The war has changed a lot, but it hasn't affected the reasons why international companies still choose Ukraine over other countries to outsource IT services. Here's a quick reminder.
1. Ukrainian IT specialists have a high command of English
According to the 2019 survey, more than 80% of Ukrainian tech specialists have an intermediate or higher level of English proficiency. We wish we had no such experience, but what we see on the example of refugees is that Ukrainians are quite quick with picking up foreign languages, and most IT companies in Ukraine provide their staff with free English lessons.
2. High-quality education
Only in the largest Ukrainian cities, there are more than 250 institutions of higher education that provide training in computer sciences and other STEM disciplines. What makes 30K+ yearly graduates from these institutes valuable among international companies is that Ukrainian polytechnical institutes provide their students with a variety of basic knowledge most of the European and US colleges have dismissed from their curriculum. The broader spectrum of technologies available to Ukrainian students makes them more successful in the future.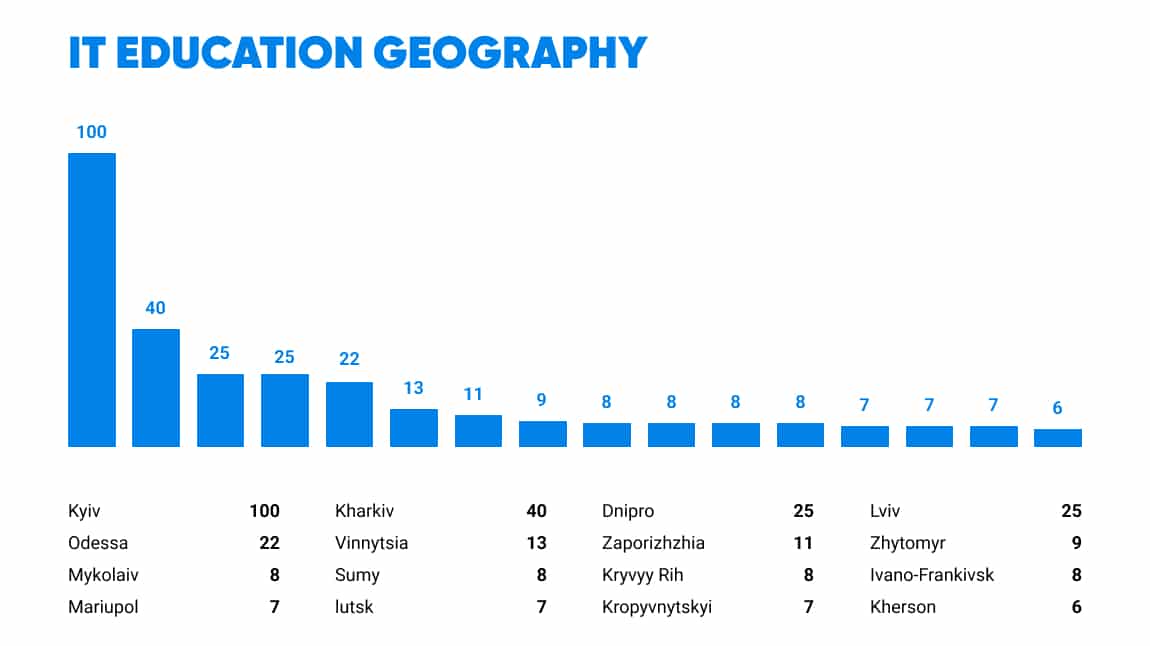 Image source: Ukrainian Tech Ecosystem Overview
These are the 12 most popular languages used by Ukrainian developers:
JavaScript

C#

Java

Python

PHP

TypeScript

Kotlin

Swift

C++

Go

Dart
3. A large pool of specialists
Even though part of the Ukrainian IT specialists have moved abroad with the beginning of the full-scale invasion, there are still more than 220K developers, QA engineers, product managers, business analysts, cybersecurity specialists, designers, etc., working on 2,300+ product, service, and R&D companies in Ukraine.
The stack of technologies known to Ukrainian engineers is huge, and according to some research, Ukrainians are the best in C++ and web security. In addition to this, various research ranks Ukraine among Top-5 talent suppliers worldwide.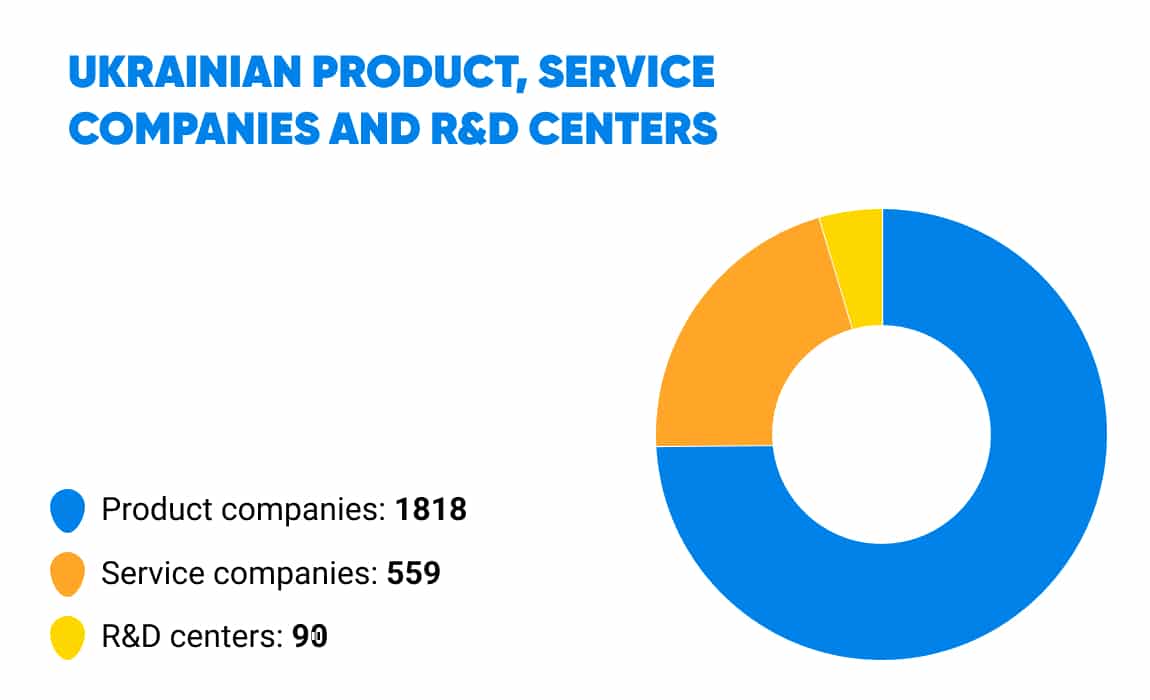 Image source: Ukrainian Tech Ecosystem Overview
4. Cultural background
Ukraine shares European values, so if your company is from Western Europe, the USA, Canada, or Israel, you will find it easy to communicate with Ukrainian companies and show your new remote employees the values of your in-house team.
5. Lower salary expectations
The salaries of Ukrainian developers are not the lowest in the world. However, they are much more affordable than fees in the USA, Canada, Israel, and Western Europe. As of January 2023, the average annual salary of a middle software engineer working with Java in Ukraine was between $32,400 to $56,000, while in the US, an expert of the same level, on average, could claim $99,300 to 132,300 per year.
Median salaries of Ukrainian tech talents in 2023
According to DOU, a major tech community and IT platform in Ukraine, these were the median salaries for middle software developers in December 2022:
Technology
Median salary in product and service companies,
salaries per month
Outstaffing companies,
salaries per month
JavaScript
$2,500
$2,700
C#/.NET
$2,600
$3,000
Java
$2,800
$2,800
Python
$2,700
$2,850
PHP
$2,375
$2,450
TypeScript
$2,600
$2,500
Kotlin
$2,700
$3,200
Swift
$3,000
$2,700
C++
$2,300
$2,400
Golang
$3,700
$3,825
Ruby
$3,100
$3,200
Dart
$2,550
$2,300
The salaries can also vary depending on the domain of the project. Let's take the salaries of JS Middle Software Developers as an example:
| Domain | Salary of a Middle JS Developer per month |
| --- | --- |
| AdTech/Advertising | $2,800 |
| Blockchain | $2,900 |
| Big Data | $2,850 |
| Dating | $1,500 |
| E-commerce | $2,500 |
| FinTech/Banking | $3,000 |
| Logistics | $2,500 |
| Healthcare | $2,400 |
| Security | $3,000 |
| Telecom | $2,900 |
The final price will always depend on other skills and capabilities of a developer, but at least now you know the average fees of Ukrainian developers.
In 2022, 82% of Ukrainian IT companies were going to increase salaries for their tech talents by the end of the year, a Korn Ferry survey claims. However, this prediction has changed a bit due to the new circumstances, particularly massive layoffs in IT tech giants in November 2022 and January 2023.
Worldwide trends and the role of outstaffing in new realities
After the November layoffs in Meta, Twitter, Google, and Amazon, many CEOs repented that the crisis was caused, partially, by overhiring of tech experts during the pandemic when the IT sphere saw unprecedented growth and the predictions for the future were very optimistic. If the staff of tech giants had not been augmented that much back in 2020, there would be fewer massive layoffs today.
Outstaffing and outsourcing could have prevented these problems. These business approaches can still secure companies that want to scale their business and be beneficial for the overall performance and competitiveness of tech companies. By delegating software development or other digital services to third parties, you can:
cut direct labor costs;

focus on core projects;

boost the agility and flexibility of your company;

decrease the workload on your in-house team;

get access to the best tools and practices on the market;

increase speed to the market;

acquire competitive advantage.
We believe that the Ukrainian IT community can get a large share of the software development market for the above-mentioned reasons. Another reason we are sure that the presence of Ukrainian developers will grow is that with the beginning of the full-scale invasion, the international market has lost engineers from Russian and Belarusian IT service companies. Both countries used to have big shares in the market, and both are under strict sanctions at the moment, which immensely complicates their cooperation with the US or European customers.
How can MWDN help you hire a top team of developers?
With more than 20 years of hands-on experience in software development and deep knowledge of particular niches, like Healthcare, Logistics, FinTech, and Banking, we can help you boost your business performance by offering you top tech talents from Ukraine and around the globe.
As an outstaffing company, we focus on

custom solutions

to your needs and hire specialists that correspond to your requirements in full.

As a reliable partner, we guarantee

transparent accounting

and no hidden payments.

As a company with a

good reputation

on the market, we are dedicated to providing cost-effective service of

the highest quality

.

We also keep our fees relatively low as we want to

stay affordable

for as many projects as possible.
Four steps towards the perfect dedicated team of software developers
First, we search for candidates according to your requirements. You receive a short list of best-fitting candidates and send offers to those you choose.
Secondly, we take care of the onboarding of your developers or complete a working unit out of several experts if you've decided to hire a full team to work on your project.
Thirdly, we make sure that your developers have everything they need for efficient work on your product, including the working place, social guarantees, and transparent and legal wages.
Fourthly, we manage your team for you and grant efficient communication between you and your remote developers.
Summing up
The war has brought multiple challenges to Ukraine, its economy, and its IT sector. But it also demonstrated the willingness of Ukrainian companies to preserve their customers and the reputation of an innovative country it worked in for years.
All Ukrainian service IT companies do their best to stay competitive in the market and profitable for their partners, the government support shouldn't be neglected. MWDN is among the IT vendors that managed to survive one year of full-scale war, maintain its clients, and keep the whole staff of its unique tech talents. 2022 made us stronger, pushed us to optimize all our processes, and prepared us for any challenges in the years to come. Let's work on your project together: Now, we are sure that we are capable of absolutely anything!