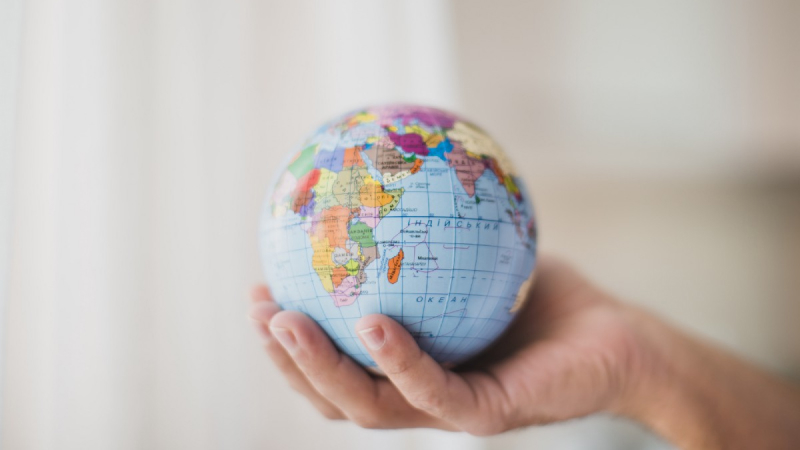 Offshore software development is not about quality, they say. People increasingly feel that it is now more about speed and horsing around as, indeed, we see, observe and try so many products that fall into the category of 'mediocrity'. The concept of 'good enough' is actually not bad itself, but when it comes to the development of software it may become a catch-22.
That's why there is a lot of controversy around offshoring as to, maybe not the best approach in terms of service quality. Amid all the ambiguity, however, in 2022, offshoring has become one of the hottest topics that are on everyone's lips. It's all about money, you say? It always is. However, we have some facts that debunk some of the most common misconceptions about offshoring and showcase it as an option that, in fact, has some perks for everyone.
Offshore Software Development Meaning
Digital transformation is spreading across various industries, challenging service providers with ever more demands on customer satisfaction. Along with this surge, they get a huge amount of data that needs to be managed properly. The biggest challenge here, according to researchers, is the availability of the right talent to begin with.
According to statistics, in December 2020, the global shortage of software developers reached 40 million. It is expected that by 2030 this figure will rise to 85.2 million. Moreover, global companies are likely to lose up to $8.4 trillion in revenue due to a shortage of quality software developers.
Thus, offshoring which means an introduction of specialists from abroad countries to perform certain tasks became a natural response for many businesses. Initially, the main goal of this approach was to reduce costs. However, now this perception fades into the background and businesses are turning offshore primarily to find talented developers abroad since often they experience a shortage of skilled workers in their own country.
How Does Offshore Development Differ from Outsourcing?
The difference between the offshoring and outsourcing models lies in the specifics of the location and delegation of tasks model.
Offshoring
Offshoring provides access to a wider pool of talents for hire abroad. Offshoring refers to moving business processes to another country, either by opening a software development center there or hiring an offshore team. At the same time, a team of professionals is engaged to work on the entire scope of the project: from start to finish. In offshoring, IT companies can maintain complete control over the product development because developers work as a part of the company team. In addition, offshoring enables companies to conquer new markets and establish their new products faster.
Outsourcing
Outsourcing is aimed at finding expertise outside the company and means delegating tasks to external professionals. Businesses often choose the outsourcing business model when they need to complete one-time tasks and parts of the project without hiring a new employee. The client is also not directly involved in the project, instead, they simply delegate tasks and expect them to be completed.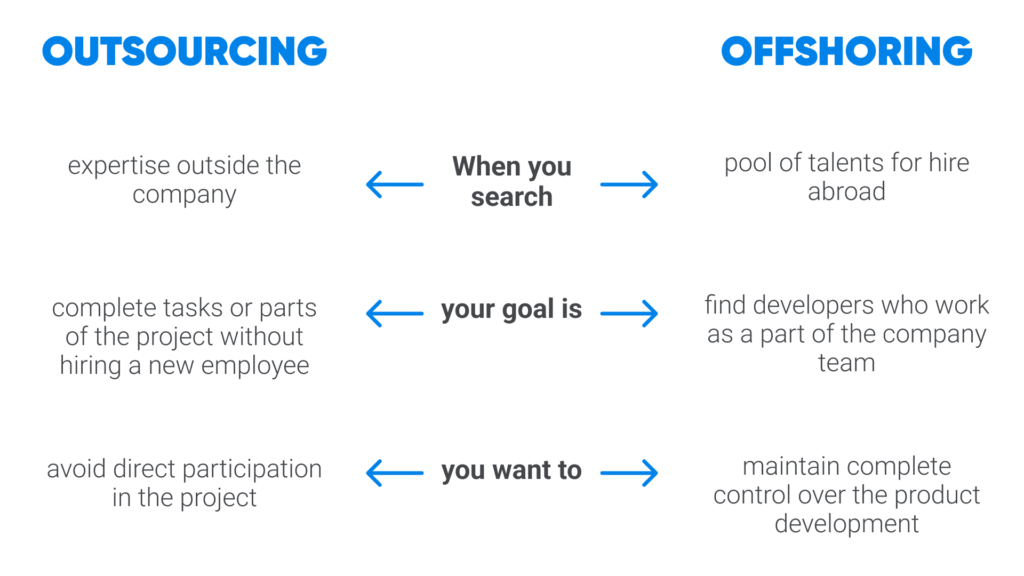 However, in both models, customers save a lot of money on hiring additional programmers and that's what these two models have in common.
Famous Tech Leaders & Offshoring
Why do companies outsource software development? The organization and operations of a development center in the West are very expensive practices. Meanwhile, global trends are urging companies to strive for globalization.
Offshoring leads to a significant increase in the global rate of the country. In addition, this practice contributes to the fact that the company is becoming more economically productive, which in general plays in the hands of both the company's image and the economy of the country. That is why leaders of many industries like:
Google which outsources software development to remote employees across the world including Ukraine;
Microsoft

which has an agreement with Indian company Infosys

Amazon

has R&D offshored to a Ukrainian start-up and call center services to South Africa
All of them have found the benefits of offshore software development. What opportunities do they get?
When is the Best Time for Offshore Software Development Services?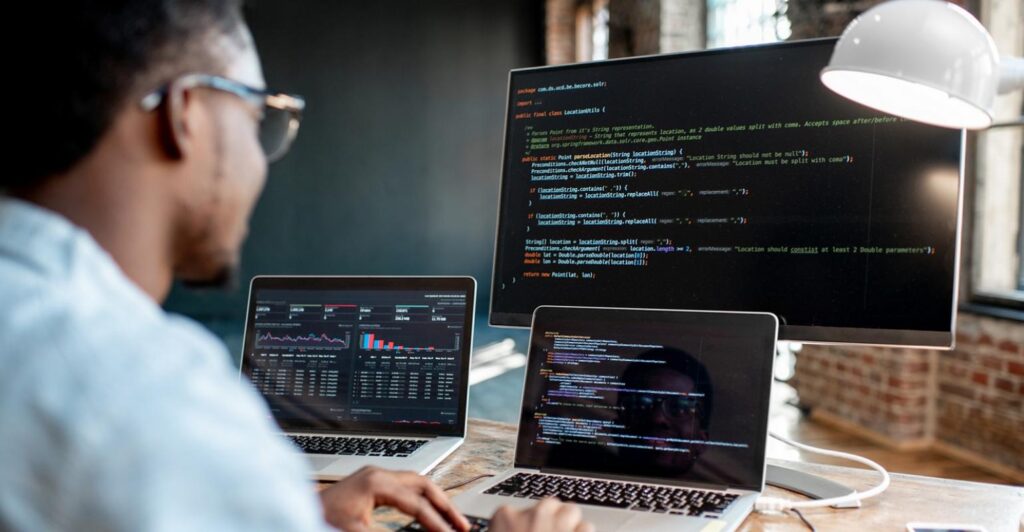 When you search for Cost-Efficiency
According to an estimate by the US Bureau of Labor Statistics, there is expected to be a 22% growth in the period between 2020 and 2030 for offshore developers, testers, and quality assurance experts. The priority of any business is savings. In this regard, offshoring and offshore software development services are effective solutions that may provide even up to 58% savings. Many companies are turning offshore to hire resources at lower rates in countries with cheaper labor instead of adding local specialists with a higher rate to their teams. In addition, the internal hiring of employees requires high costs, which cover health insurance, vacations, and regular review of salaries. The logical question is, why not engage specialists from your country? Well, not everyone can afford it.
You need Extra Access to Talents
Have you thought about why have countries like Ukraine become a mecca for many interested companies? This and many other countries like Poland and other countries offer a high level of quality of service and high English language proficiency, greatly simplifying the process of work. Today, companies realize that the main element they lack today for digital transactions is talent.
The majority of Ukrainian developers are middle — 36%, for example, and indicate the interest in technology as the main reason for choosing their job. While Poland is among 14 out of 35 European countries on the list of the most suitable countries for IT. There are world talents, so why shouldn't we cooperate and exchange experience in order to achieve great results?
If you wonder how to get access to the polls of Ukrainian talents, it is literally just a few clicks away.
Scalability is Your Priority
Going international opens up many opportunities for companies and their owners. Companies working on the offshore software development agreement find it much easier to enter new markets and promote their brand. You can decide which technologies to invest in to keep your competitive edge when you hire remote developers. To stay ahead of the competition, you should keep pace with the market and develop a number of software applications, such as websites or mobile apps. Additionally, as they are full-time employees rather than contractors, you will have a dedicated offshore development team that is able to comprehend your policies and values.
Ethical Side of Offshoring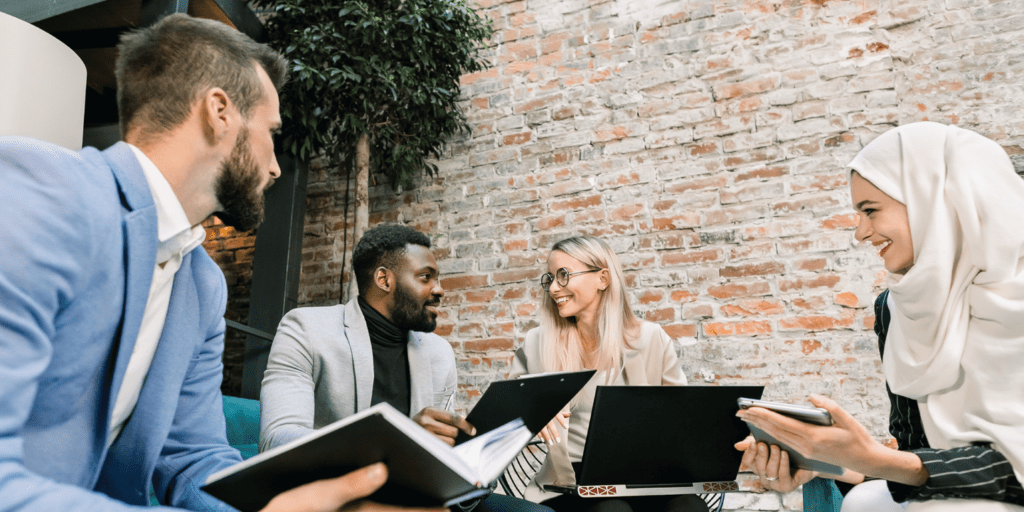 If you opt for outsourcing in general, you must first select whether to hire nearshore, offshore, or onshore workers and consider the effects of your choice. Each of these paths has its challenges in terms of ethics. Opting for a nearshore, for example, you might be accused of trying to take advantage of some small differences in the economical situation of the nearest neighbor. Going offshore, you may face a similar accusation in terms of rocking the economic situation in a certain country and the usurpation of the labor market there. All risks considered, an onshore move might look the safest option as you hire additional resources within your own country, and accordingly, you are not supposed to face the issues of different time zones and language barriers. It might even look like a logical solution, however, with many markets facing shortages of specialists and you might end up on the long waiting list for the required talent, not to mention the early mentioned issue of high rates.
Looking for a trusted offshore development partner? Contact us, we have some tips.
Top Destinations and Offshore Software Development Rates by Country
Best countries for offshore software development are Ukraine, Poland, India, and Argentina. These countries are considered the best option due to the ratio of economic price and wonderful quality. Specialists in Europe and North America have some of the highest wages among developers. Speaking of the developer services in these countries, it may cost about $100-200 per hour. In Asia, for example, it ranges from $25 to $45 per hour, depending on the level of his expertise.

And you are very wrong to think that everything revolves exclusively around money, because Ukraine, Poland and other top countries really have a seemingly inexhaustible supply of talent.

Returning to the ethical side, Ukrainian specialists, for example, are certainly not among the cheapest ones, but only those, who allow to save some money in the development process. At the same time, these specialists gain higher income and, above all, experience of cooperation in an international company, which allows them to build their future on their terms. If at the beginning of the career a developer from China can receive around $12 per hour, in the future, increasing their expertise and lever of seniority, they may well grow in terms of income to $40.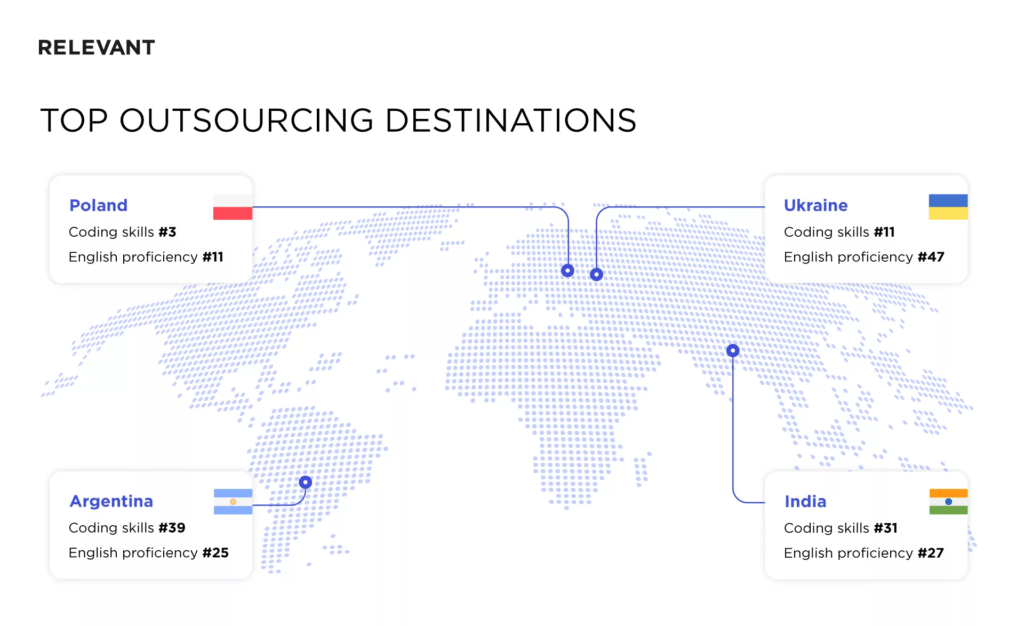 Source: Relevant
How to Offshore Software Development and Manage Your Team?
How to start? Offshoring may look like a simple solution. However, this approach has many hidden hazards. That's why the choice of offshore service provider is always a laborious task. In a perfect world, this should be a team of experts that takes all aspects of the development process from:
recruitment professionals your dreams
In a perfect strategy, customers have an option to decide who is the best fit for their project. The successful team consists of experts with proven experience skills in certain domains, who are aligned in language proficiency, and certain time-zone. In the early stages, the team is aware of the project scope and is synchronized in terms of back-end and front-end functionality, timeline, and other aspects.
MWDN has a team of 150+professionals in more than 20 technologies and frameworks who save around 60% of labor costs for our customers. Learn about our dedicated team model.
establish full transparency over their work
Setting up a dedicated team, you should have a full picture of their workload and the time required for certain tasks to plan project expenses. Additionally, you can have complete control over the project, receive quick reporting, and give updates whenever there are deviations from the predetermined plan.
To make sure the team is aligned with their roles and requirements, it's worth establishing flexible communications channels along the way: setting up meetings with a clear agenda discussing project details along with the corporate values of the customer.
set up salary transparency
Running a project, the team is your most valuable asset. When it comes to the ethics of outsourcing, the take care team is provided with an adequate payment for their services that corresponds to the average market rates. Customers are supposed to be granted with similar transparency to conduct efficient planning. Thus, in the early stages, hourly rates of the team members are supposed to be established and discussed with the customer.
The key to a successful software development team is that it is exactly customized to the customer's business needs and the current level of their digital maturity. They are aware of all technologies and advances on the market and are eager to allow customers to participate actively in the project. Your team allows you to provide quick updates and the possibility to have a clear vision of future scaling. As a result, improved ROI is just around the corner.
Looking for a Trusted Offshore Software Development Services Company?
All of it is in place with MWDN, the trusted software development partner that builds custom-made dedicated development teams from scratch, and introduces a world-class talent retention program around the globe – in Israel, Ukraine,Canada and other countries.

Do you wonder how to run a software development team or are you just about to start with this model? The service model of MWDN allows customers to enjoy full transparency over the process and establish proper communication with the team. Contact us and open yourself up to the opportunity of fast-growing and smart scaling.