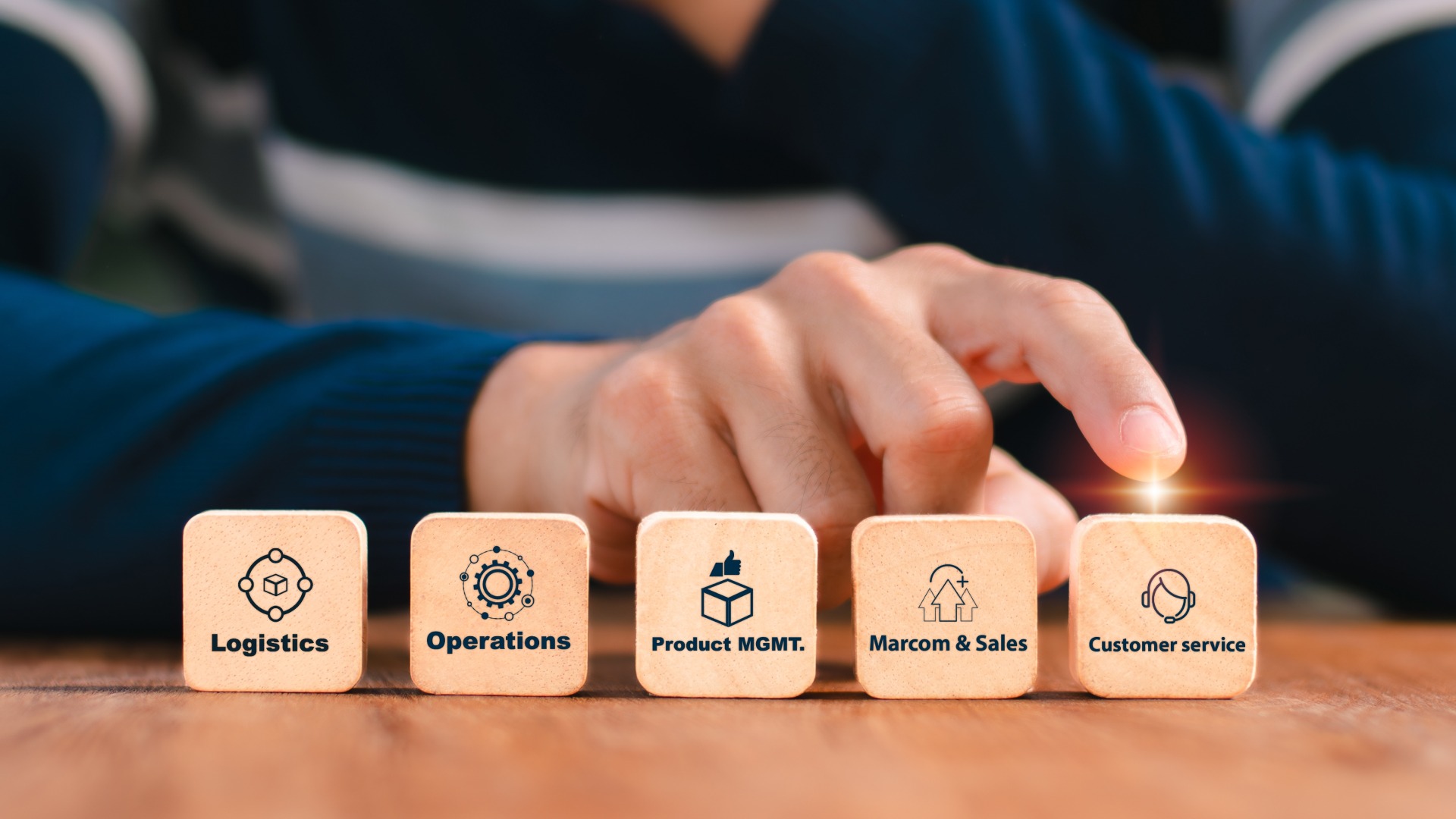 Companies do not always have the opportunity and enough resources to process every communication channel and give each of their customers as much attention as they need – this is where customer service outsourcing comes to the fore. Millions of organizations choose outsourcing customer service as an effective strategy to automate customer care and provide services of exceptional quality. 
How to use this approach with maximum efficiency? Learn more about its potential to boost business processes in our latest article.
What is customer service outsourcing?
When a corporation outsources its customer service, third-party experts are hired to handle customer care on their behalf. When a consumer has a question or concern about goods or services, a third-party team in this situation serves as their point of contact. Any business's objective is to respond to all customer inquiries and fulfill all requests in order to establish an ongoing, reliable relationship with clients. The customer can thereby outsource all or a portion of their support operations to record each of these inquiries.
These teams are often built by outsourcing/outstaffing firms, who meticulously research the client's policy, services, and product before putting together a team. Outsourced teams effectively manage client problems, complaints, inquiries, or feedback throughout the process. Clutch reports that 24% of small firms choose to outsource customer care to boost productivity.
Why is Customer Service Outsourcing Highly Requested? 
Poor customer service can become a breakpoint for any company. When the global pandemic started, it became a powerful impetus to improve customer services since people, as consumers of services, have greatly changed their patterns of service consumption. For example, according to some statistics:
54% more customers have higher expectations for customer service now than they did a year ago.

82% of consumers report that they have made an additional purchase from a company after a positive customer service experience. (Bain & Company)
These facts show how outsourcing has gained momentum, enabling businesses to concentrate on their most successful areas of activity and leverage their skills to the fullest capacity.
Why Is Outsourcing Customer Service Better Than In-House Development?
An internal customer support team would be more familiar with the business and your company's values. However, building one is rather challenging. At the same time, with the introduction of cloud technology and new communication channels, businesses have no other option but to reinforce their customer support efforts. 
When introducing technology into their processes, companies get substantial financial benefits. At the same time, according to Accelerance, the biggest obstacle to the adoption of 64% of developing technologies is the lack of qualified IT skills.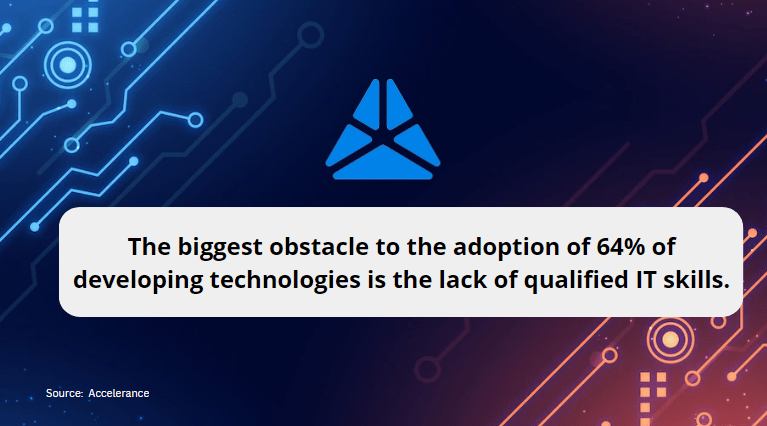 Customer Service Outsourcing | Source: Accelerance
Building a team of skilled IT professionals requires significant initial investment and technical expertise, as well as access to many skilled resources. This includes effective hiring, training of managers, technology setup, quality control, and many others. All of this takes a lot of time, money, and effort. In addition, the majority of companies struggle to hire experts in specialized fields where they lack sufficient experience. 
What is the Practical Value of Outsourcing Customer Service for Your Business?
#1 Concentrate on what you do best
Outsourcing some tasks to focus on what you are best at has been proven to increase customer service and excel at some business operations. In this sense, work delegation is gaining momentum because, according to Fortunly, 54% of global businesses use a third-party support team to interact with customers. According to Accelerance, 34% more project an increase in the use of hybrid teams as a perfect way to support your business as it progresses.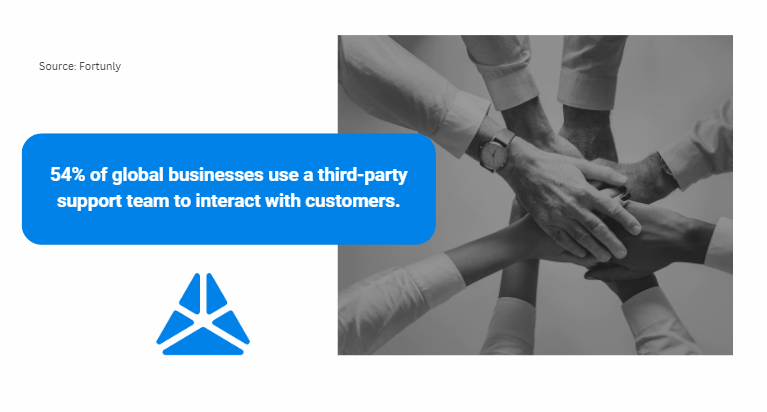 Customer Service Outsourcing | Source: CloudTask
#2 Get access to a proficient team of remote professionals 
Outsourcing not only reduces expenses but also gives you access to a skilled and knowledgeable team that can effectively optimize your vision and produce the desired outcomes within the given time frame. Additionally, since they are knowledgeable about the most recent technologies and have practical experience in each technical subject, outsourced pros are typically the finest choice to get in touch with. Other significant business benefits that the remote customer service staff can offer are as follows:
The team is less likely to burnout because they have more flexible working conditions and don't have to spend much time getting to work every day

The equipment that remote teams utilize is either their own or is given to them by a vendor

Customers needs are taken into consideration when forming the team, ensuring that everyone fits in well and upholds the team's core principles

The vendor controls the quality of the services and is sure their client is receiving flawless service
#3 Efficient budgeting 
Although outsourcing is not only about saving money, it is one of the main reasons why businesses choose it. Depending on your geographic location, industry, required qualifications, and experience, the typical pay for a contact center employee ranges from $9 to $19 an hour, according to Payscale.
When there is no need to spend money on things like office space, materials, training sessions, and employee benefits, it is easier to find and hire the right workforce. The outsourcing provider also takes the burden of administrative tasks such as taxes, HR support, performance monitoring, and more.
#4 Impeccable customer support
Customers want to maintain communication with service providers nowadays and want to do it through multiple channels. However, finding the time and resources to deliver excellent services through all these channels is a great challenge. In this regard, outsourcing customer services is a profitable option. Additionally, because the staff of the outsourced service provider is highly qualified, using their services enables businesses to cut internal expenses while still achieving high-quality work. Being active in terms of customer support can not only improve their interactions with their clients but reveal their preferences, which will improve every subsequent engagement. 
#5 Rapid business scaling 
Businesses that are growing must have a vast network of contact centers to engage with customers and be accessible in any location at any time. It is necessary to have access to a large talent pool because this resource is large. In this regard, outsourcing companies can offer access to native speakers of that country or develop a 24/7 support system with a team of dedicated employees working in several time zones. In this approach, outsourcing promotes business expansion and raises the company's and its product's internal capabilities.
Areas where c

ustomer service outsourcing brings maximum efficiency
#1 Management of devices and inventory
Regardless of the technology used by the company, the practices of its use must be safe and reliable. A managed support team that can analyze all software and hardware data is the best advisor in the way companies use the devices. This practice can save you a lot of money and help with:
Hardware acquisition

Devices Configuration

Monitoring of gadget performance in real-time

Customized security settings
Access to world-class mobile device management (MDM) software that provides advanced remote administration of people, devices, and settings
#2 Administration of servers and networks
Viruses are only a part of the risks and problems a company can have. In fact, there is so much more to this, and therefore, it's essential to monitor your software regularly. It requires setting up a reliable and secure network. In this regard, outsourcing IT support services allows you to:
Make sure all business operations are effective

Manage entire networks remotely

Monitor your network effectively

Reduce the inconvenience and cost that an on-site network failure can cause

Offer hardware suggestions and installation assistance
#3 Cloud management and applications
To become successful, organizations need to maintain control over their cloud infrastructures and applications so that they can function without compromising security. Moving from a local network to the cloud can help reduce upfront costs, which is one of the financial benefits of cloud computing. An outsourced IT support service can be useful as it helps to:
Protect your SaaS apps

Automate and coordinate software deployment

Manage single sign-on (SSO) to provide access to linked systems for you and your team using a single ID and password

Set up and manage file-sharing permissions
#4 Integrity and security
In an effective IT administration method, security is always a priority. It is a decisive factor in minimizing risks and dangers. Here's how an external IT support service can be useful in this regard:
Develop and support firewalls and multifactor authentication

Follow company-wide security guidelines

Provide settings that adhere to best cybersecurity practices

Optimize audit procedures
#5 Disaster recovery and backup
Data loss can have a significant impact on your business, whether it's the result of a security breach, ransomware attack, human error, or natural disaster. Data recovery can take many hours, which could harm your organization, finances, and reputation in the long run. In this regard, an outsourced IT support service can be useful in the following way:
Monitor backup procedures (copying information to keep it safe when, for example, deletion happens)

Develop workable strategies for a successful recovery plan.

Organize disaster recovery, developing plans for quickly regaining access to IT resources, data, and applications in case of a failure
#6 Storage
Reliable data storage solutions improve your ability to effectively manage your business data, increase productivity, save costs, and improve overall security. So whether you're using on-premises servers, the cloud, or a combination of both, this is crucial. In this regard, outsourced IT support service helps:
Build an infrastructure that provides assistance

Make sure the current storage system is working smoothly

Provide product knowledge and services that combine hardware and software
#7 Monitoring and analysis of data
With outsourced IT support, you can get a complete picture of the number and nature of your support issues. There are trends and weaknesses in your business that you can spot and use to your advantage to improve operational efficiency and safety. IT support outsourcing services be useful:
Provide real-time awareness of end-user demands

Recognize weak spots inside your firm

Access the reporting dashboard 
#8 Employee on/off boarding
The employee onboarding process should be simple, smooth, and stress-free. Outsourced IT help can make a complex and time-consuming procedure simple and fast. This includes setting up hardware and all necessary credentials on day one or changing security and access permissions after the project ends. How a third-party IT support service can be useful:
Create hardware and equipment requirements

At the departmental level, access and settings can be changed

From the very beginning, increase employee output

Automatically grant and deny user access
#9 Real-time assistance
Any organization's IT infrastructure must have a help desk, which is a crucial element of any well-organized company strategy. It acts as a source where solutions to any question about IT help can be discovered. An outsourced IT support service can be useful once you need to:
Efficiently manage and track user requests and incidents and rapidly respond to requests

Provide access to a single resource that can be used to solve problems

Manage planned service modifications and service outages

Keep your company operating effectively, saving your time and cash
Top customer support outsourcing companies
Even if your product is excellent and your brand is visually appealing, poor customer communication can negate all your previous efforts. The leading companies on the market immediately understood this and, from the very beginning, started to actively invest in building a network of first-class customer support and achieved notable success along the way. Take a look at a few leaders of customer support outsourcing companies.
1. Sykes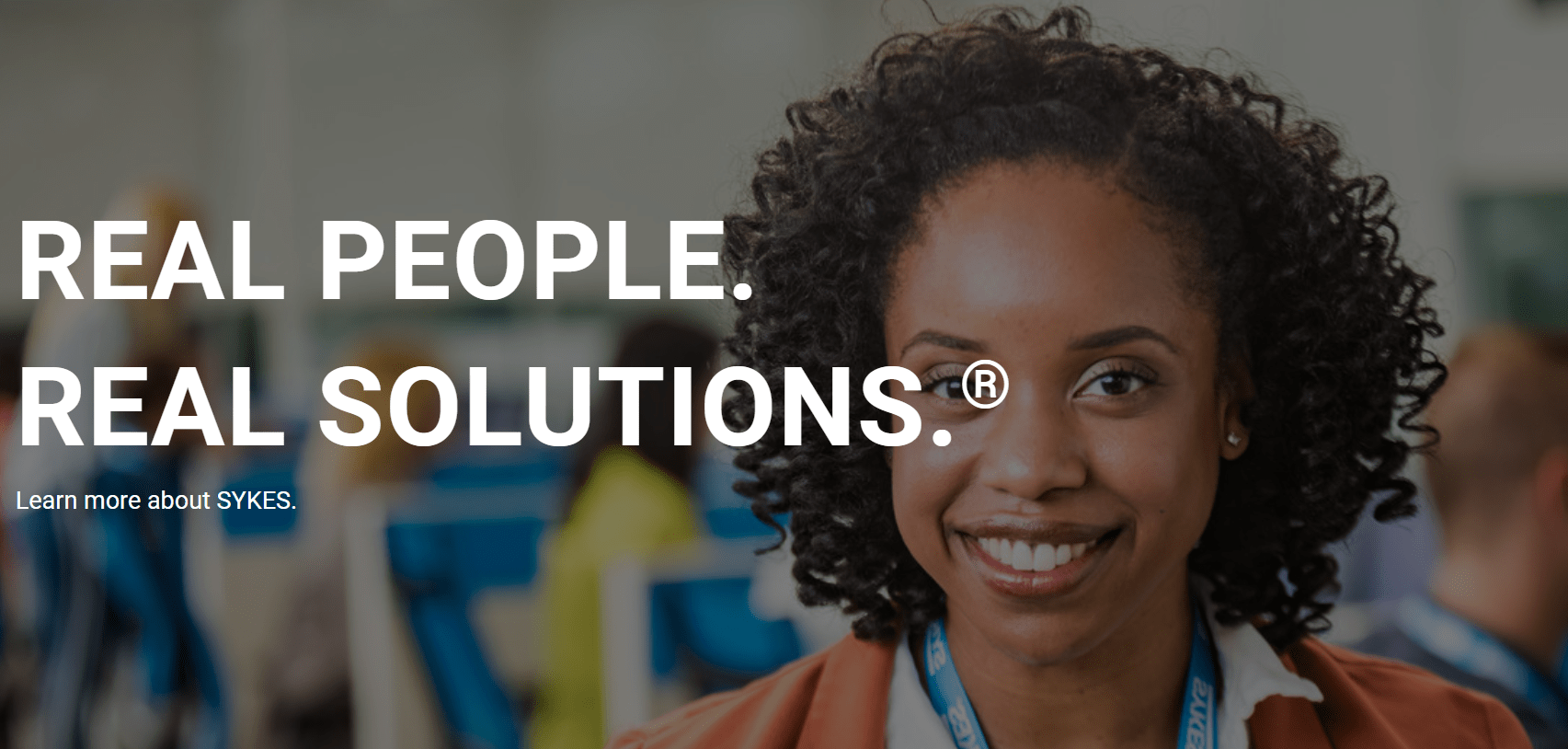 Sykes website
With customers among the top 2000 corporations in the globe, Sykes is one of the top 10 service providers and a market leader in demand generation and customer engagement services. Sykes is known for its awareness of data privacy issues. The company adheres to various privacy guidelines, including HIPAA compliance and Payment Card Industry (PCI) data security certification.
2. Ascensos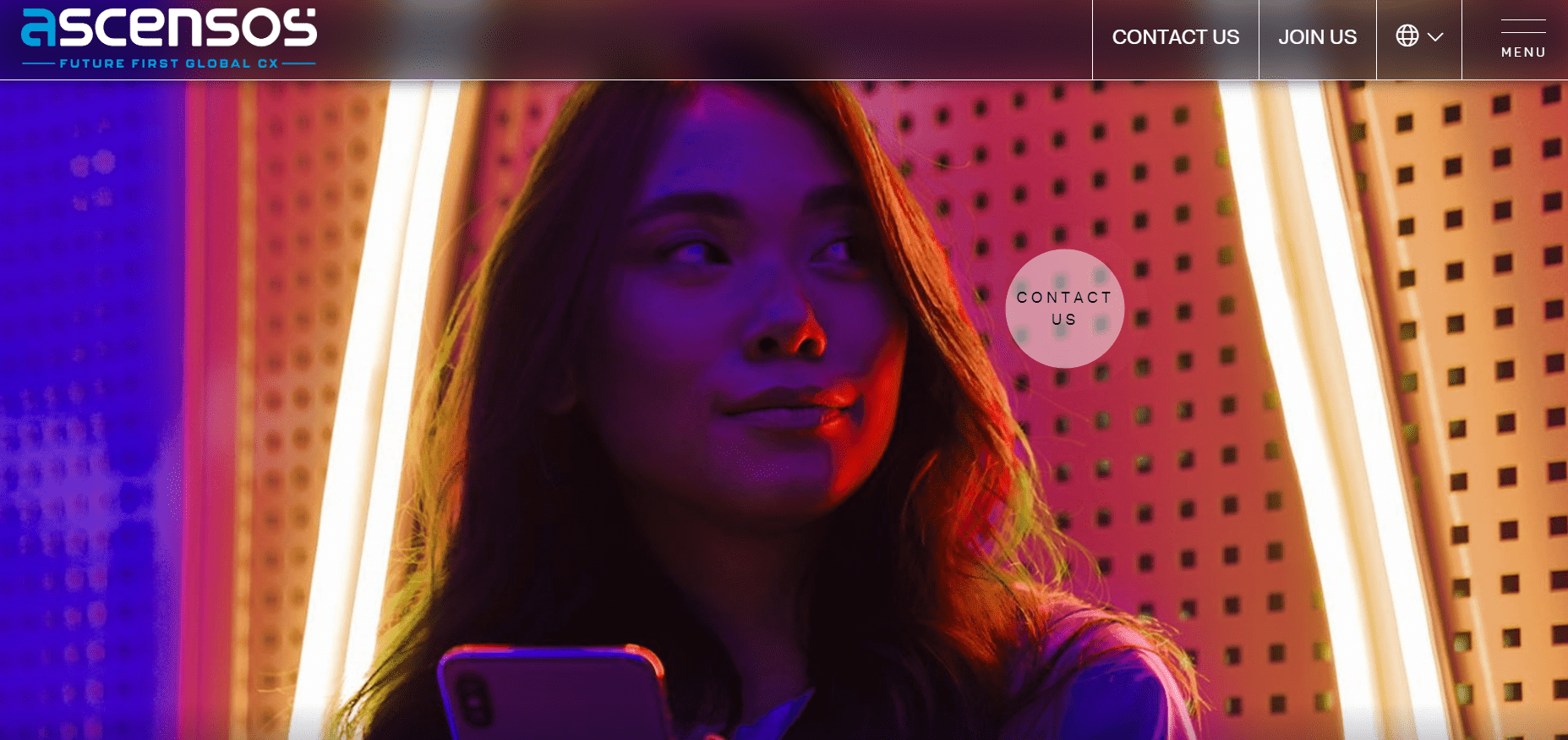 Ascensos website
Ascensos is a top outsourcing firm in the UK, mainly providing nearshore support centers. They assist the client in developing experiences through a digital transformation that closes the gap between brand promises and customer expectations and boosts customer loyalty. The company's goal is to apply a personal touch to customer care. At the moment, Ascensos is Europe's number-one customer support outsourcing company with a wide global presence in Romania, Turkey, and South Africa.  
3.

InfluX
Influx website
Influx is one the most acknowledged companies of its kind, recruiting employees from more than 120 cities worldwide and creating the first remote-only CX team. InfluX creates customized customer experiences while offering assistance and reflects the client's vision, voice, and values. InfluX addresses the typical offshore issue of incongruent time patterns between clients and outsourced organizations by offering help across all time zones.
4.

Skycom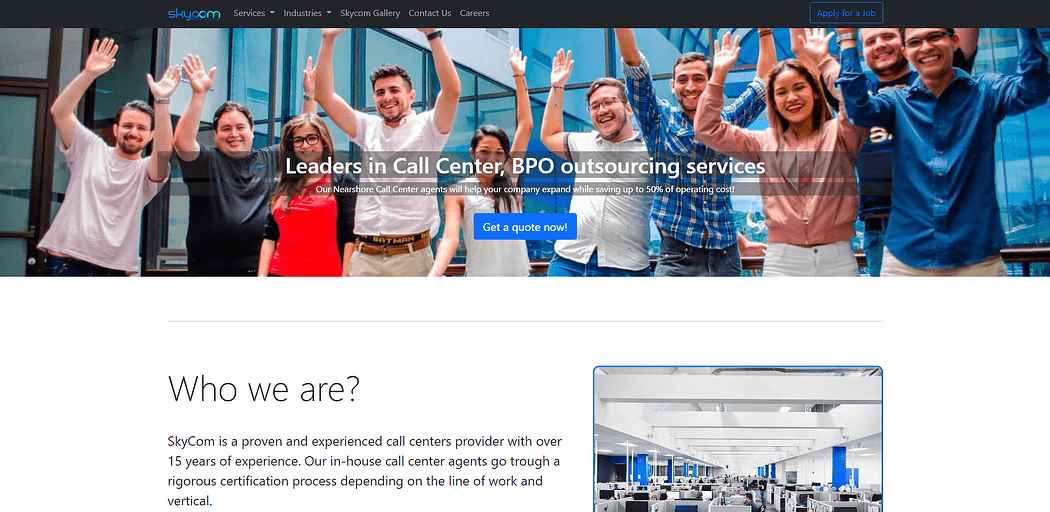 Skycom website
Skycom provides nearshore support services that specialize in multi-continent support services. The organization builds its contact centers with English-speaking employees who have a variety of industry experience. Additionally, Skycom provides a wide range of services, such as business process outsourcing, telesales and marketing, customer service, and healthcare.
5. Helpware
Helpware website
Helpware stands out as one of the top customer care providers in the US and European markets thanks to its many accolades and stellar customer testimonials on Clutch and other respectable review sites. Support specialists at Helpware assist customers in various support areas like back office, technical, and customer support. At the beginning of its journey, Helpware was supposed to provide support to startups. However, over the years, the company has become so established in the market that it can now provide customer service outsourcing solutions for both enterprises and small businesses.
How to ensure customer service outsourcing for your customers?
1. Set clear goals for outsourcing 
The key to success in your plan is to know the objective of what you want to read with outsourcing, whether it is 24/7 support or better customer interaction, or scaling up your business.
Imagine you're a fashion retailer that sells clothes. You have a nice website and a strong social media voice. However, when you decide to make it more vocal, add a popular chatbot to your website and hire a few people to handle support requests. Over time, however, you've noticed that your social media posts are filled with overlooked questions. It turns out that your team is struggling to keep up with support requests, and you need more support through multiple channels.
Hiring an in-house team can be quite expensive, so choosing the right goals and finding a flexible third-party customer service platform is key to reducing headaches and happy customers. Remember that your outsourcing partner should meet all your business needs and you should be provided with transparency over the entire process of customer service.
2. Define which type of customer service outsourcing you need
Along the way, there are several options for customer service outsourcing you may use:
Email support:

Email support is one of the safest and most flexible communication channels for those just starting to outsource customer support. Email as a channel does not require the team to give an instant response but gives a time reserve of 24 hours to investigate the problem and provide the best help to the client.

Call Centers:

This might be a good option when you have interacted with the customers a lot and processed a huge number of requests. In this way, you can cover requests that even the in-house team could not cover since it usually has fewer agents than the outsourced team. According to

Time Doctor

, a call center with 40 agents can reach an ASA (Average Speed of Answer) of 15 seconds faster than a call center with 20 agents. In addition, in this way, you will be able to provide a better quality of service, since professional agents, as a rule, pass serious training and have a degree in certain fields.
Social Media:

Today, customers increasingly want to communicate with service providers via social networks. Today, customers want to communicate with service providers via social networks, making it one of the most popular communication channels. With this channel, one can easily establish contact with customers and quickly provide the necessary information. However, it's with mentioning that this channel requires an instant response to the client, so the support team must be very well-versed in the client's services and the culture of the particular organization.
    3. Get support from a trusted customer support service provider
Determine a set of quality standards.

At the very beginning of cooperation with a potential service provider, determine a set of quality standards for the work performed and make sure that the vendor's vision of cooperation matches your business needs.

Establish a link between your internal staff and your contracted team.

Engage a member of internal staff whose job it is to promote communication. This employee can help with message passing or keep both parties updated on the situation. Employees that act as a point of contact can also assist in avoiding misunderstandings regarding protocols, performance, expectations, and training.

Create a shared knowledge base for the remote customer service team.

These can be product instructions, training videos, rules of interaction with customers, answers to FAQs, etc.

Hiring an internal team gives you more free space to concentrate on your core tasks.

However, it's important to monitor to ensure the team is doing a job. This way, you can identify communication gaps like missed calls, repeated contacts to customer support for the same issue, or other service problems and make sure you have data or metrics on the process.
Costs of outsourcing IT support
Most of the issues related to the outsourcing of customer support are related to the price of such a luxury. This number is somewhat difficult to determine since each organization has its own needs first of all. However, most businesses start with a basic service package that includes things like a help desk, remote monitoring, upgrades, purchases, server management software, basic cybersecurity protection, and more. 
Sometimes, organizations may have more complex requirements, such as complex cybersecurity requirements, cloud hosting, dedicated on-site support, and hundreds of other technical specifications.
Depending on the service plan selected for the company and the number of employees, the customer pays an average of $150 per user per month.
Additional one-time fees for emergency site visits or strategic planning meetings may also be included in the total. The price can also be predicted in advance by assessing how the company is expanding and what new initiatives it will pursue over time that will require additional efforts.
However, it is a necessary expense because the success of your business depends on how well your technology works and supports your daily tasks. Having the right third-party IT support team at your side will help keep things running smoothly, saving you time and resources. MWDN's proactive customer support and predictable cost model for IT support services is ideal for all types of businesses. MWDN provides first-class IT support that meets the best industry standards.
Why MWDN is the best choice of provider 

With IT support, you can avoid costly staff expansion by an in-house IT department that requires training and significant initial investment. However, when choosing a service provider, it is important to be sure that you are working with knowledgeable and competent IT experts. The right provider will give you access to qualified specialists without exceeding your budget. For over 20 years, MWDN has been providing support teams around the world and increasing business productivity with experienced IT staff. Learn more about our expertise in customer support.