November 18, 2019 – Clutch included MWDN to the top of B2B Development Service Providers. This is the second year in a row that Clutch has honored MWDN with this prestigious award.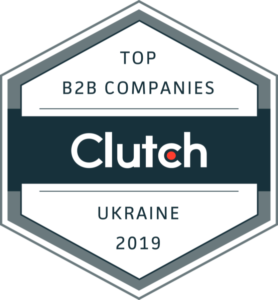 Every year, Clutch, a reputable B2B ratings and reviews website, creates a list of the best development outsourcing resources in its annual report. Their team of business analysts takes in several factors to evaluate each service provider, including market presence, proven project success, and leading industry research. One of the key criteria for ranking, however, is verified client reviews.
Clutch's team of business analysts conducts independent interviews with actual service provider customers to prepare in-depth reviews. These reviews give prospective buyers greater insight into the full lifecycle of a project.
At the time of publishing this press release, MWDN has received 6 positive reviews from customers on Clutch, which can be found below.

"MWDN is an experienced company that understands our needs." — COO, Swiftic.io

"It's great to work with MWDN both on a personal and professional level." — Co-Founder, Software Consultancy Group
Positive customer feedback allowed MWDN to be featured on Clutch's child sites as well. For example, Manifest, a data-driven business guide, named MWDN the best outsourcing company, while Visual Objects – a creative portfolio platform included MWDN on the list of the best developers in Eastern Europe.
About MWDN
MWDN is a global outstaff/outsourcing service provider that builds top-notch dedicated remote teams around the world for companies of different sizes. The company recruits and onboards professionals around the world with top tech destinations like Israel, Ukraine, the USA, and Canada. The mission of MWDN is to find and hire a dedicated team of different professionals, depending on the needs and based on our client's business needs, technology stack, and cultural fit to the core team. Typically, a team includes:
Front-end and back-end developers with significant experience and knowledge of all technology stacks

DevOps engineers

Testing experts, QA engineers, and developers (black-box, white-box, unit testing, automated testing, pen testing as per requirements)

AI Engineers
"It's an honor to be appreciated for our efforts in developing technical business solutions, especially by a reputable source like Clutch, which uses an intensive scoring methodology in a ranking process. The core principle of MWDN, when building the team, is to provide quality over quantity and be sure that the success story of our clients becomes a part of our reputation" – says Natalia Myakinkaya, VP of Business Development
About Clutch
Clutch is a leading resource that rates and reviews leading IT, marketing, and business services companies. The Clutch team interviews clients, collects unbiased reviews, compares competitors, and helps businesses find a trusted company for their next project. The platform acts as an all-in-one data-driven field guide that helps to tackle market challenges and make wise business buying decisions.
Looking for a seasoned software development provider? MWDN helps to find both full-fledged dedicated teams and individual specialists for the project. With expensive expertise in a global outsourcing market, MWDN has built a solid marketing reputation and customer trust. MWDN's portfolio includes more than 200+ web, mobile, and healthcare products that enjoy great success on the market. Drop us a line to set up a meeting to discuss details of potential cooperation.