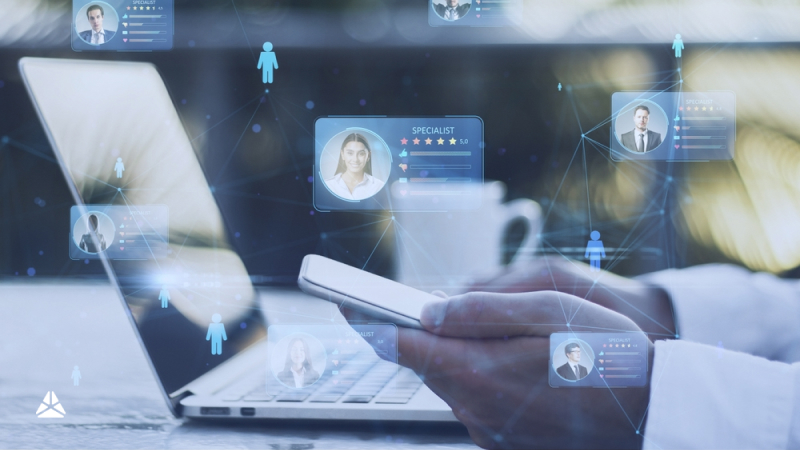 A huge number of global software product companies use IT recruitment services, why? Is it just about savings?
The reason is obvious – alongside digital technologies, a successful team can boost any business, increase the workforce, and get a never seen competitive edge.
However, the further, the more expensive and laborious the hiring and onboarding becomes, especially in the IT sector, where an average cost of new employee onboarding is around $4,100.
What IT recruitment addresses the challenge of finding IT talent? How does this strategy pay off? And, most importantly, how to choose the right model when the time comes? All the details are about to be revealed here.
IT Recruitment for Software Product Company: In-House, RPO and Outstaff
In-House Hiring: Why Do People Outsource Instead?
Challenging recruiting environment
In a world, where the cost of a vacancy is on average 15–40% of a specialist's annual income, the recruiting environment becomes extremely complex. Within this environment, companies should successfully navigate a competitive labor market, become experts in a range of advanced technologies, and thoroughly onboard and train hiring managers and candidates.
In-house hiring makes it extremely complicated for companies to keep it up and cover a sharp increase in hiring volumes especially when a company doesn't have its own strong recruiting forces to close positions. Meanwhile, unsuccessful hiring has an extremely negative impact on the company's budget, resulting in a loss of 30% of the employee's first-year earnings.
Challenge of attracting quality hires
76% of hiring managers admit finding IT talent is their greatest challenge. This way, the search and attraction of the right specialists require more practical and cost-efficient approaches. Also, the reasons behind bad hiring are that the employer cannot objectively assess the applicant's qualification level and further provide a further quality onboarding. According to statistics, 88% of organizations don't onboard well.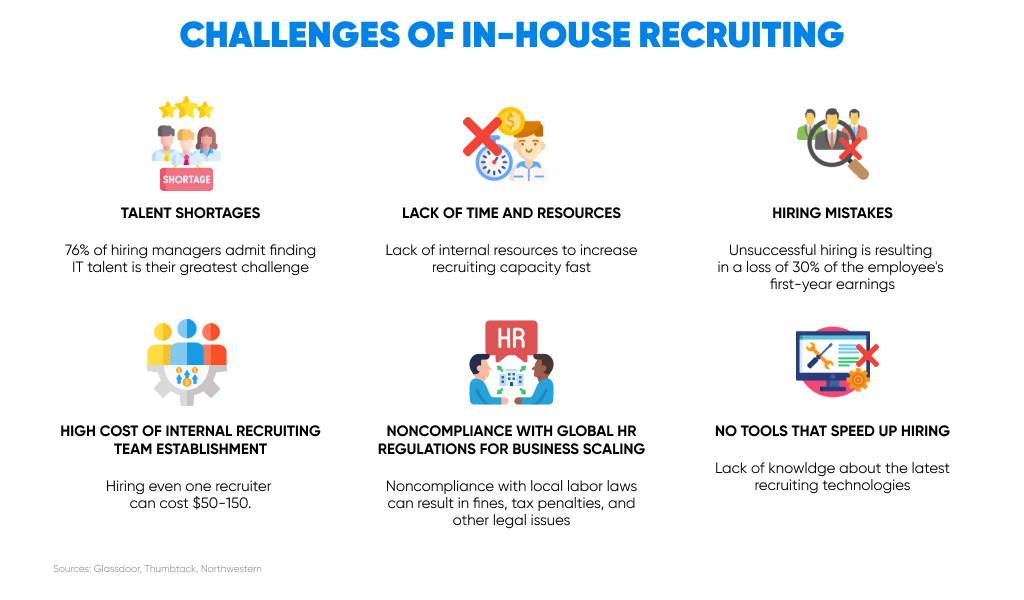 Challenges of in-house recruiting
The above-listed challenges create a whole spectrum of problems that can result in not only the loss of money but also the best business opportunities and growth.
In this regard, 66% of staffing and recruitment professionals view globalization as an opportunity in 2020 (Bullhorn, 2020). The concept of globalization in the recruiting tech market is primarily related to recruiting outsourcing and outstaffing which means hiring third-party specialists from the global pool of talent.
IT Recruitment Process Outsourcing (RPO): Why Do People Like This One
Recruitment process outsourcing (RPO) is a subtype of business process outsourcing (BPO) where a customer outsources all its recruitment processes to a qualified third-party talent provider.
RPO is a good option when there is no need or time to build an internal recruitment team and figure out the process.
Companies also use recruiting outsourcing to focus on their core business functions, cover the gap in quality recruitment specialists and instantly respond to changes in market requirements.
By 2026, the global IT outsourcing market will be valued at $425.19 billion, predicts Worldwide Newswire. The global recruitment process outsourcing market was valued at USD 8456.30 million in 2021 and is anticipated to grow to USD 25379.40 million by 2028 at a CAGR of 17:00%. According to other sources, the RPO Market is expected to reach nearly US$ 27.43B by 2027.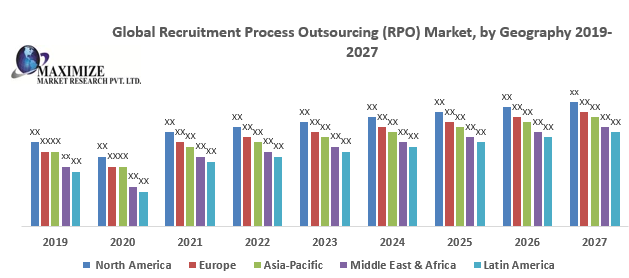 The Global Recruitment Process Outsourcing Market by Region | Source: Maximize Market Research
Drawback: RPO providers ensure rapid hiring but are not perfectly aware of the project details and customer's job requirements because they do not work alongside the internal team.
Global Outstaffing: Is It the Best Way to Hire Software Developers?
IT outstaffing is a type of IT recruiting service that means the hiring of dedicated professionals who provide the best IT staffing services remotely or as a full-fledged part of a customer's in-house team. This option is essentially a compromise between in-house hiring and RPO.
Responsibilities Of Business Process Outsourcing (RPO) And Outstaffing Partner
Both during RPO and outstaff recruiting provider handles the entire candidate hiring process that includes:
sourcing & screening

screening

negotiation

background check

on-boarding

workload planning
One of the greatest advantages of this approach is that outstaff specialists can be easily into the team's in-house team, which ensures their rapid integration into the company and its projects. Outstaff specialists are perfectly aware of the project details which ensures not only speed but also quantity of hiring.
Why are RPO and Outstaffing Popular?
Market Proficiency and Access to a Vast Talent Pool
Talent acquisition is the core competency of RPO and outstaff service providers. The dedicated specialists have the resources to increase recruiting capacity to meet hiring demands, are familiar with the recruiting landscape, and stay up to date with the latest recruiting technologies. They bring people, technology, process, and metrics into a talent acquisition process. In addition, these specialists are competent in the different areas of development, can analyze market changes, and conduct experiments to achieve high performance.
Recruitment Expertise and Candidate Quality
Sometimes it is easier to choose a company that provides outsourcing recruitment services than to search for an employee because you can rely on industry ratings, reviews, portfolios, etc. in the process. Such a recruiter takes over all communications with candidates, which saves the customer's time. In the process, they use all technical means of recruiting (paid use of LinkedIn, access to databases, and other professional tools). This is especially relevant for companies that do not have a recruiter at all.
A recruiter can also act as a client's business partner who can help build the company's recruitment process. The agency recruiters work on and provide confirmed quality of work that ensures the delivery of the most qualified staff in the required field of development.
Cost Efficiency
Hiring an entire staff of recruiters can be extremely expensive. According to average estimates, hiring even one recruiter can cost $50 and $150. However, when working with professional recruiters, the entire set of necessary services for the client is provided in one place and the need to hire and pay for additional staff is eliminated. Statistically, working with an RPO partner significantly lowers the average cost of hire, often by more than 50%.
Compliance with Global HR Regulations and Fast Scaling
Each country has a different system of labor legislation. RPO and outstaff are useful options when scaling a business and the company needs a permanent or temporary recruiter in a certain region to assemble a team of developers in a new region. An important part of expanding the business into other countries is knowing and following local labor market regulations. This also applies to work visas, permits, and other credentials that allow workers to work in a particular country. Noncompliance with local labor laws can result in fines, tax penalties, and other legal issues.
In this regard, recruiting professionals know local legislation to attract qualified candidates for open positions faster and better, following corporate rules, best practices of global hiring, and local legislation.
Improved Turnover Rate
Earlier in our blog, we discussed the ever-relevant issue of employee retention and the highly negative impact of a high turnover rate inside an organization. With RPO and outstaff companies can address high turnover rates, get better-fit qualified candidates, and set up a better recruiting process from the very beginning. Analyzing data from different sources, one can conclude that RPO and outstaff approaches to hiring improve the retention rate of companies by an average of 20%.
RPO vs Outstaff: Which Option Is Yours?
Startups
The main priority of startups is rapid scaling. Small companies, as a rule, neither have an internal recruiting team nor enough time for growing internal recruiting resources. That's why in-house hiring is not the best option for them. By delegating the whole recruitment process to RPO providers, startups can focus on priority business areas and growth.
Enterprises
While startups are more focused on speed, established software product companies are more focused on market compliance and software quality. Often their priority is business continuity and an uninterrupted software development process without significant spending and sacrifices. Therefore, finding highly qualified IT specialists is their top priority. In this regard, outstaff can meet this demand by providing enterprises with access to the most qualified specialists in the top locations in the world as MWDN does. This way, they get both expertise, a fresh take on their business, and quality.
Job Seekers
Job seekers have their own good reasons to work as no other but a third-party professional.
Working on the RPO or outstaff providers, a job seeker can pick up some great advantages and career opportunities for fairly rapid growth. Above all, it is an opportunity to participate in the growth of the most promising and innovative projects in the global IT market. In addition, working on an outsourced project, a worker can avoid routine duties, each time, working with different tech stacks and diverse projects.
Hire the Best IT Talent With MWDN
Partnering with a quality IT staffing firm, businesses can get business edges. When it comes to hiring, outsourcing can become your lucky ticket to rapid growth and the pool of the finest talents to implement your most ambitious projects.
For 20 years, MWDN has delivered the best talents to the market and provides IT recruitment for software product companies. Recruiting in the top talent destinations globally
(the US, Canada, Israel, Ukraine, Poland), we implement the most innovative projects of our customers. Our IT talent acquisition specialists carefully study each company and provide quality IT recruitment services to our customers, ensuring a stable pipeline of technology-savvy staff once it is required.
Working in various industries (healthcare, traveling, hospitality, and others), we have a good share of experience in setting up a team of different sizes and technology compositions that are behind more than 200 successful projects.
Contact us, tell us about your company, project, and job requirements and get the team of the finest industry minds in the shortest time frame.