Why we are raising the topic
Here, at MWDN, we are focusing on the customer's goals and hiring professional developers for the long-term cooperation with a client and not for the sake of simply filling the position. Working with startups from the USA, Israel, and Europe, we do our best to attract the right specialist to the right project. This is especially important when recruiting staff for health-related projects. So, how did we come to this?
Selection, Hiring & Recruitment Process
Recruitment process is the main focus while starting a business. Professional staff is a key factor to achieving success. Let's take a brief look at our talent acquisition internal process:
First and foremost, we create scorecards and mixing some of the financial and non-financial data items to fully understand what kind of employee our customer needs;
Then analysing all the data received and creating a job advertisement;
After the step above we initiate the next step – candidates shortlisting and skills check;
Then we proceed to the most interesting and heart-pounding moment – the interview. At first, we are trying to build a constructive dialogue within a phone call and next (in case both we and the candidate are willing to continue future communication) initiate an office HR and technical interview;
After the successful passing through all the stages and aptitude tests we introduce the candidate to the client – so if it is necessary or desired, our client can get the candidate's CV and conduct their own interview to ensure that they are the right one;
Finally, we give all parties time to make a decision, because we understand that some projects may require specific skills and gifts.
In order to select specialists and form a team properly, we need to know the main input data because the productive team starts with the right conditions. What we need to know to start the recruiting process:
Team size. Before creating a team, it would be nice to know its size, right? Therefore, the first thing we try to find out is the staff headcount;
Technologies. The second, but no less important, is the necessary technology stack that will be on the project;
Skills. To recruit the right candidate, we need to clearly understand what tasks the person will solve and what skills required;
Experience. We are convinced that in this case both the general work experience and experience with a particular technology, framework or programming language are important. At this stage, the understanding of the threshold values matters (e.g. what minimum experience needed);
Seniority. Junior, Middle or Senior, that's the question;
Project background. When hiring a person for a particular project it must be understood what challenges to deal with and what kind of responsibilities the candidate will have to take. Therefore, it's important to have some information about the project.

How to find the right developer?
Almost every team leader has experienced this dilemma: one has an idea or plan of a project but does not know any developers. It is a real challenge to find a person in whom an employer may be confident and to work with whom will be comfortable. So, how to find the right developer?
There are several options:
address an agency providing such services,
look for a developer by yourself.
Сompanies, obviously, have a list of experienced developers. They are experienced professionals and guarantee best results together with customer service. However, this option is expensive enough, that`s why many people choose searching for a freelance developer by themselves.
Supposing, you have decided to collaborate with a freelance developer. Several important questions appear immediately:
where to look for a suitable candidate?
which criteria and skills should be paid attention to?
how to negotiate and agree on terms of cooperation?
Read also: Should You Choose Ukraine as an Outsourcing Destination?
3 Steps to Find the Perfect Developer
Step 1. Before you start looking for a developer, you have to determine who is the target audience of the project, which main features should be implemented and which technologies will be used in the process. Having a clear idea of all the above, you can easily determine what do you expect from a developer's work. Now you have a list of requirements and the image of your perfect candidate.
Step 2. The simplest and most effective way to make sure that the selected developer is competent in the necessary areas is to get acquainted with his portfolio. Look for something similar to what you are going to order for yourself. If the freelancer has experience with similar projects and you like them, the risk of collaborating with an incompetent employee is noticeably reduced. If your project involves the usage of additional technologies outside of HTML and CSS (for example, jQuery, PHP, Ruby, etc.), ask if the freelancer has the necessary knowledge and skills proven by previously completed projects or recommendations.
Step 3. Make a list of potential candidates. Communicate with each specialist from the compiled list of candidates, setting a technical task (which means to describe all your requirements in details). As a rule, a freelancer who is really interested in your offer will respond quickly. A professional developer will show examples of his previous work, listen carefully and express his opinion on any part of the project that requires improving or processing.
Want to know how to hire the best developers?
It's a well-known fact that services of professional developers are very expensive. But the quality of work is much more important than a price, isn't it? There is a proverb: miser pays twice. So, why risk hiring unknown workers, even if their work is cheaper. Hire the best developers and be sure as for the future of your business. Do not forget that these persons are experienced specialists in their field, therefore, they can see what you can't and their advice can bring your project to a qualitatively new level.
In the recruiting era, tech talents have become like diamonds: it's hard to extract them and moreover, everyone desires to attract them.
There is a strategy that may be useful while recruiting software engineers:
1. Create your employer brand.
2. Start your search by knowing where to look (for example, you need Java developers in the United States). You may draw a talent pool report for that sphere and start creating a plan: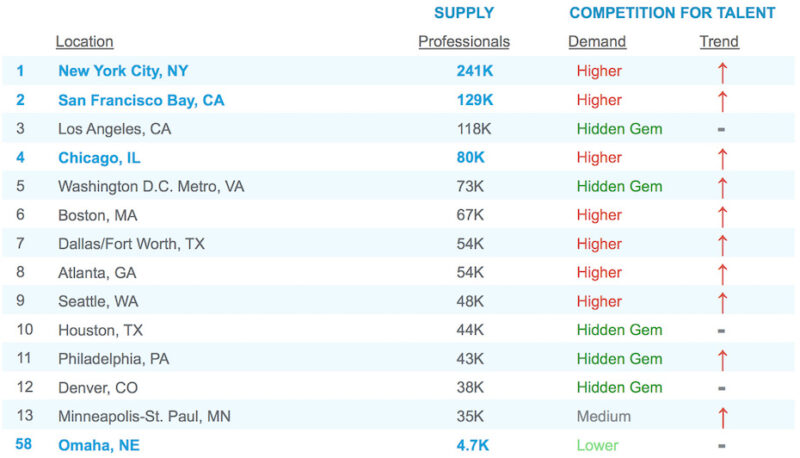 3. Interview all the candidates to tell talented software engineers from just good ones.
4. Develop your business together with the elected software engineers. After recruiting software engineers, create comfortable work environment which contributes to staff happiness and retention.
Process of staffing: 9 Important Steps involved
Staffing is one of the most significant managerial functions. It helps to obtain and fulfill numerous positions in the organisation with the most appropriate and skillful people. It involves the following stages:
1. Estimating Manpower Requirements
2. Manning
3. Selection
4. Placing and orientation
5. Teaching and Professional growth
6. Performance Evaluation
7. Promotion
8. Compensation
9. Division
The process of staffing is very difficult one. But only a professional staff will lead to profitable business.
To sum up, while employing personnel, we try to take into account both wishes of our customers (in fact, it can be difficult sometimes, especially when a person with specific knowledge is needed) and the candidate, trying to make working conditions more comfortable. We believe that it is possible to build an effective team in such a way when each of the parties is interested in long-term cooperation.