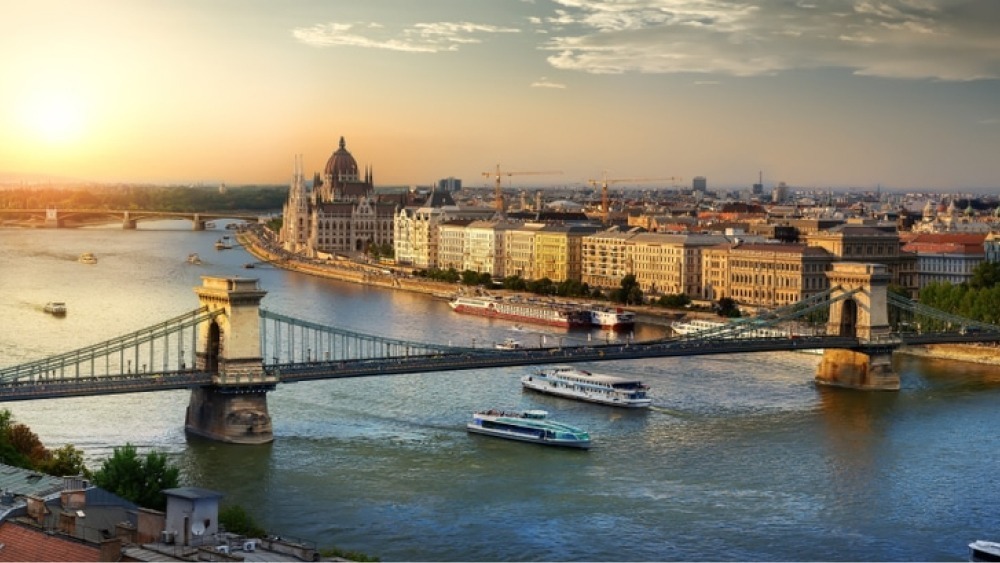 Before speaking about how to hire a remote developers team in Hungary, it is worth mentioning that there are several major tech hubs in the world of outsourcing. They include gifted minds that stand behind the products of leading corporations. Within their countries, they introduce high-quality products and create a favorable climate for product development for quite reasonable prices. These countries also have a large number of top-notch specialists with rich educational backgrounds in technology and a high level of English proficiency. 
All of this is in place with Hungary – 5th country with the best developers worldwide, according to Budapest International College. It's not yet the first among software development countries in the world but certainly not the last in terms of digital innovation and rapid growth. If so, what holds it back? We continue researching the most promising countries for hiring software developers and moving to Hungary – the spot that shouldn't slip away from your attention.
Why Hungary: All Benefits of Development Here
It's not an easy task to hire a remote development team in any country and a client needs to do research on all development aspects before the start. To make this task simpler, we've analyzed the key criteria for choosing a country as a development destination and compiled them into a clear and concise list.
Rapidly Growing IT Market
Hungary is actively developing its digital potential and technological infrastructure to become a lucrative place for outsourcing. Hungary has seen significant growth and progress in IT and software development over the past few years. In 2020, revenue from the export of IT services in Hungary reached $2,531 million, and since then, it further grows by an average of 14% every year.
The Hungarian software development market shows stability and reliability, being 14th among the 26 total EU countries as of 2018. According to research by IBISWorld, in 2023, the market revenue of the software development industry in Hungary is equal to €1.7bn. The study also forecasts the stable growth of the Hungarian software development market in the future.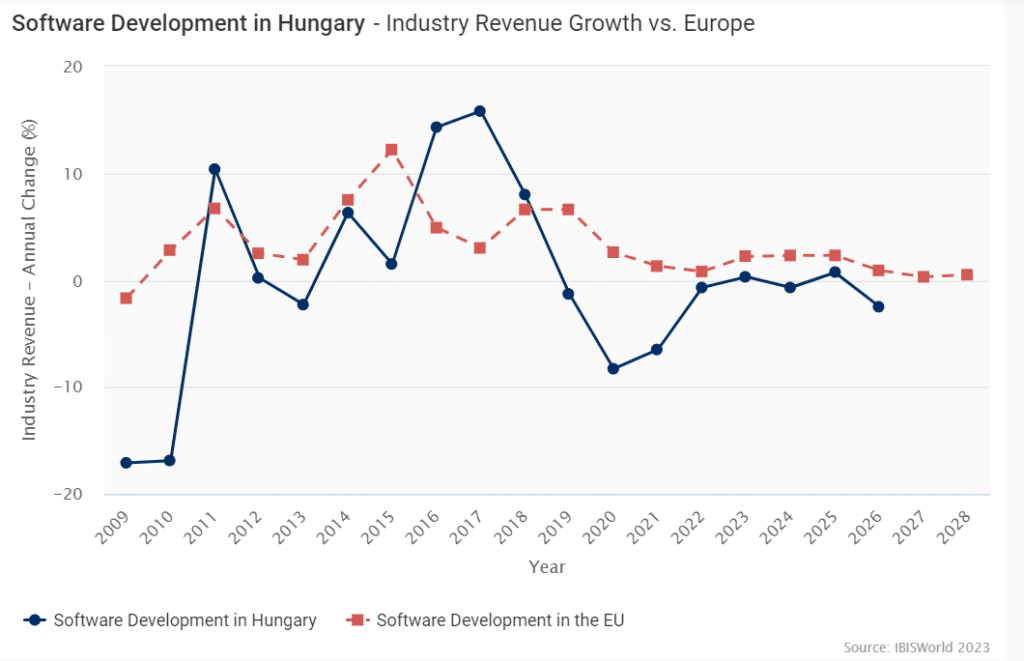 Revenue of software development market in Hungary and EU | IBISWorld
Favorable Economic Climate 
Hungary's economy has shown significant growth over the past few years. Particularly significant dynamics are observed in the field of IT outsourcing. Software development in Hungary makes a significant contribution to the country's economy, making up about 6% of its GDP. 
In many ways, this is ensured by nimble economic prerequisites and a smooth transition to a free market economy. Hungary maintains an IT-friendly policy, and its government provides financial support for R&D practices. This systematic work of supporting the IT industry ensured the arrival of Siemens, Microsoft, Deloitte, Nokia, and other leading corporations to their market and the creation of many research centers in the country.
An equally important aspect is the fact that Hungary is part of the EU and its labor legislation fully complies with European laws and standards. It's especially beneficial for companies in the region. However, if you want to hire people in Hungary for a project in a country that is not a member of the EU, learn more about its tax system, as this inevitably affects your project cost.
Reasonable Rates 
IT outsourcing in Hungary also has its drawbacks, as local companies are usually asking a pretty penny for their services, and local specialists have higher rates compared to neighboring countries. According to Accelerance 2023 Guide to Software Outsourcing in Eastern and Central Europe, the average rate of senior developers in Hungary is $75 per hour, Senior QA (manual) asks $55 for its services, Project Manager – $65, Business Analyst – $55.
Convenient Time Zone 
Hungary is in a relatively convenient time zone, which is 6 hours ahead of EST. If your company is from Western Europe, it's even easier. In this case, you can enjoy not only the almost complete absence of time difference but also the opportunity to visit your team and get to know them better.
Developers from Hungary fit well into international teams as well as possible because the population of Hungary is well-integrated into the European environment. Hungary also has a high level of proficiency in the English Proficiency Index (593 on an 800-point scale) with English widely spoken in the country's business circles.
High Level of Technical Education in the Country 
According to the European Commission, ICT Specialists account for 4.9% of the workforce in Hungary (3.7% in the EU). The Daily News Hungary reports, there are 53 universities and colleges in Hungary and 287,018 students, over 20,000 of which study Information Technologies. Hungarian universities annually graduate more than 3,000 IT specialists who, as a rule, find a job very quickly, or work during studying. The state promotes the employment and internship of young talented graduates. For example, the Ministry of Technology and Industry in Hungary recently launched a program to provide financial support to companies or public institutions that offer part-time employment to students from 16 to 25.
IT Outsourcing in Hungary vs Poland: What Is the Better Choice?
Earlier in our blog post dedicated to software development in different countries, we mentioned Eastern Europe as the region that holds its position as the top location for software development. However, global competition for the right to be called the best tech hub in the world exists not only among regions but also among countries within them. Some states, especially in Eastern Europe, are becoming highly competitive in the software development arena. 
The most popular destinations for software development, not only in their region but also globally, are Ukraine and Poland. However, Hungary, the Czech Republic, Bulgaria, and Romania begin to slowly nip at their heels. The difference between development in these countries lies not only in price but in many aspects. To make things clear, let's compare Hungary and Poland and see why Poland, for example, is now slightly more popular in software development tops.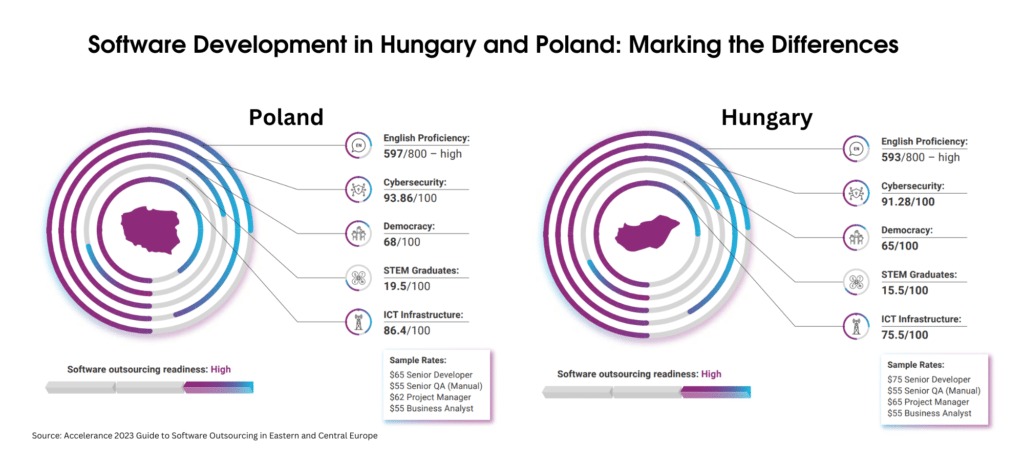 | County | Number of IT outsourcing companies | Pool of developers | Average rate in the county |
| --- | --- | --- | --- |
| Poland | 569 | 254,000+ | $55-$65 |
| Hungary | 68 | 80 000+ | $55-$75 |
Source: Clutch, International Trade Association, Infoshare, Accelerance
IT hubs and companies: Hungary is a relatively small country with only one major development center – Budapest. Accordingly, customers have few options to explore in terms of location. The number of companies in Hungary is also much lower than in Poland – 569 to 68. 
The number of software development specialists: Hungary has a fairly large resource of qualified developers and can compete with many European countries (80 000+), but clearly not with its Eastern European neighbors like Poland, which has more than 254,000 developers at its disposal, or countries like Ukraine (~100,000-150,000) or Romania (~60 000). 
Software development rates: In the comparison table above, you can see that the rates of developers in Poland and Hungary are almost equal, and this factor often plays against Hungary. Along with high-quality services, Poland also offers a larger pool of talents who work with the trendiest tech stack like JavaScript, Java, Python, and Typescript. 
Language proficiency: Accelerance's data reports practically an equal level of English proficiency in both regions. At the same time, it can hardly be ignored that customers sometimes complain about the lack of sufficient language skills among Hungarian developers. It means that despite the high score on the English Proficiency Index, some clients may experience a language barrier hiring in Hungary.
Top IT Staff Augmentation Companies on Hungarian Market
We've already mentioned that Hungary has a relatively small number of outsourcing companies in the country and only one major IT hub – Budapest. There are more than 50 Hungarian IT companies listed on Clutch, but just three of them employ more than 250 specialists, and none have more than 1,000 workers. However, it looks like the number of companies that deliver both outsourcing and outstaff services is even smaller. Even though the vast majority of these companies are very young, they already have a fairly high reputation in the market and good customer feedback.  
dyrector.io
Average hourly rate: Undisclosed
Employees: 2-9
Founded: 2021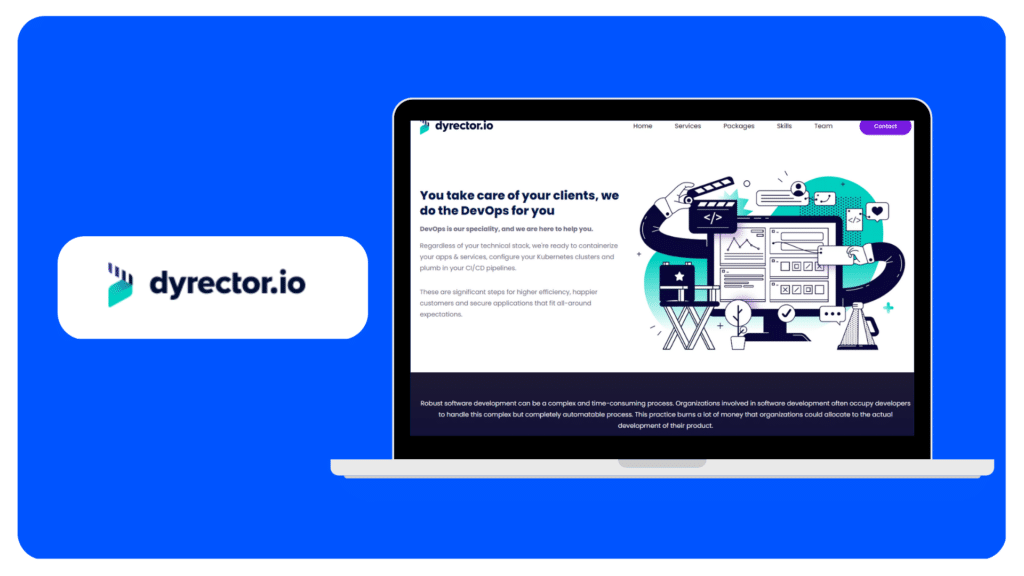 dyrector.io is a Hungarian company located in Szeged that delivers DevOps to companies and helps them to reinforce their digital transformation. The company also delivers consulting services allowing its customers to concentrate on strategic aspects of their business. Despite its small size, the company has great reviews on Clutch and is on the list of the top 70 service companies in Hungary.
Apter

Average hourly rate: $50-$99/hr
Employees: 2 – 9
Founded: 2020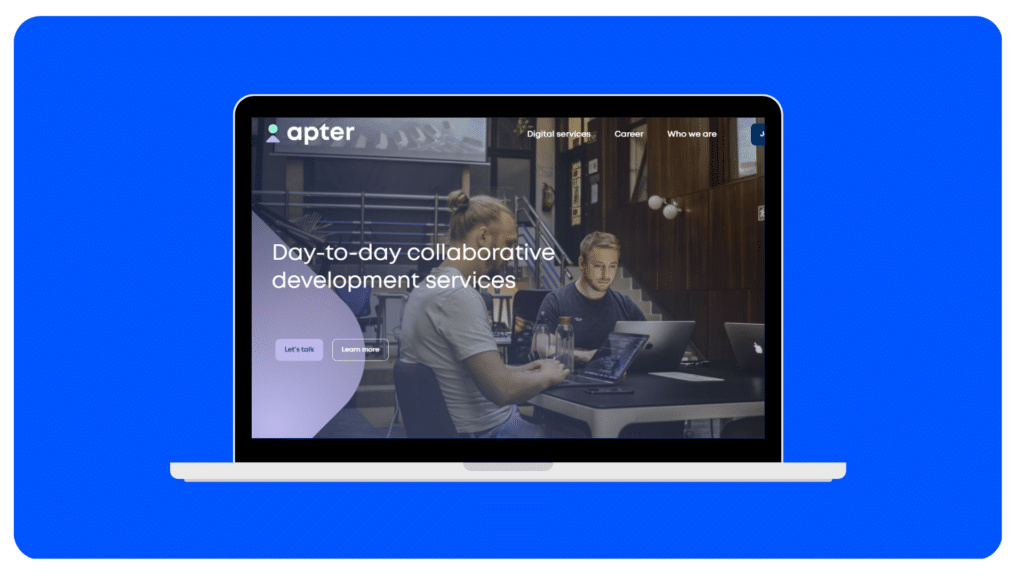 Aprer is a company from Budapest that offers collaborative cloud, web, and mobile development services for startups with the help of dedicated developers, engineers, and other professionals from the local market. Aprer offers companies MVP and product development services based on popular technologies across the complete software stack and believes in doing business with good faith.
MWDN
Average hourly rate: $25 – $49/hr
Employees: 50 – 249
Founded: 2002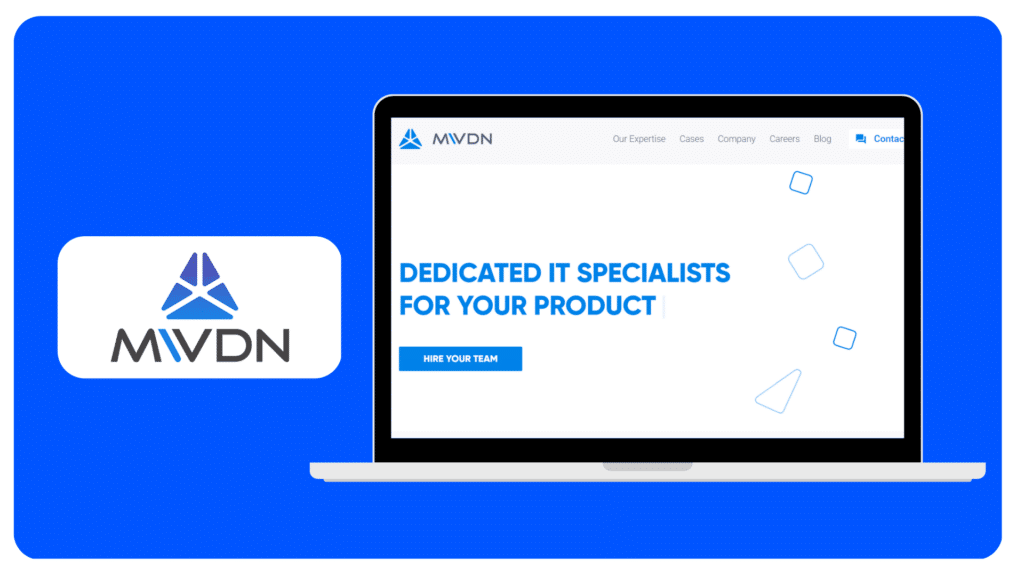 MWDN is a Ukrainian IT and outstaff company that is just starting its way into the Hungarian market but has already developed a solid network of professionals necessary for the most effective recruitment in Hungary. Alongside Ukraine, Poland, Israel, and Canada, MWDN has 20 years of expertise in the software development market and a profound knowledge of IT recruiting. The company is ready to deliver the best talents at reasonable rates on the local market. MWDN chooses exactly those specialists with exactly that expertise, who will be suitable for the project of a specific customer, thanks to the wide network of talents around the world. 
Learn more about MWDN expertise in the global market and our major IT hubs around the world.
How to Hire Remote Developers Team in Hungary
Speaking of software development, we can imagine a typical situation when a certain company is about to develop a new solution for their customers and scale it into several counties. Here the company may come across several options and different outsourcing models in each country. Whatever the choice is, it should match the requirements and goals of the project. Below we look closer at each model.
Traditional Outsourcing
Traditional outsourcing seems to be the first thing that comes to mind. This option is only suitable for projects where you need to create an entire team from scratch. However, this approach has several drawbacks that are hard to ignore. In traditional outsourcing, the client is almost not involved in the development of the product and has little influence on the process. The client also does not participate in the hiring process and cannot engage the necessary specialists for the project. Perhaps the biggest disadvantage is that during traditional outsourcing, specialists can be involved in other projects, and have higher rates. Thus, the project will cost more than, for example, with outstaffing.
IT Staff Augmentation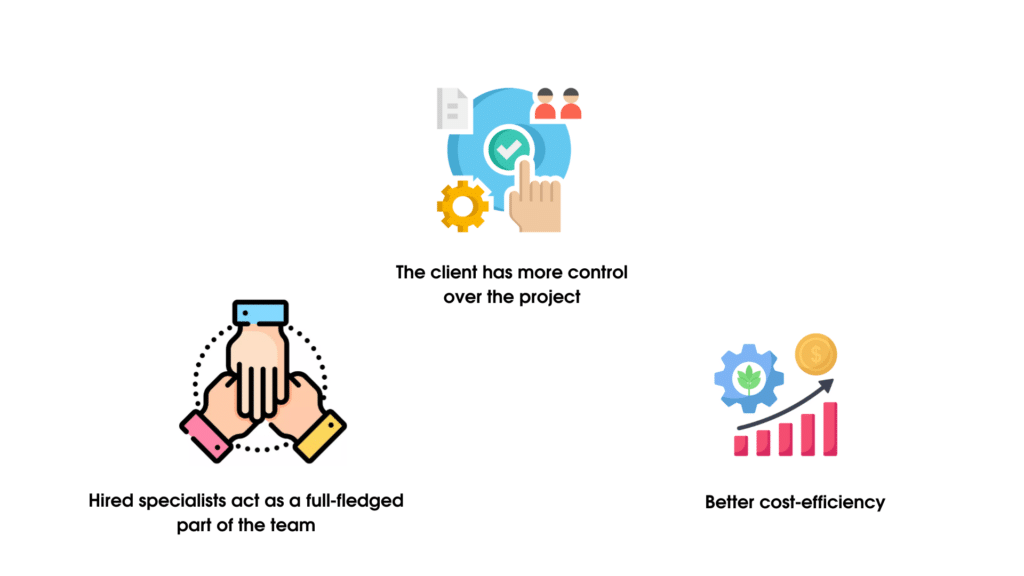 If the company has a strong in-house team but lacks some extra capacity with proven expertise in the domain, the wiser option is to involve professionals with specific industry knowledge instead of establishing a new team.  
Among the different software development models, IT outstaffing stands out as an approach that allows the client closer cooperation with the professionals they hire. IT staff augmentation companies allow one to hire a team in neighboring countries which is called nearshore staff augmentation; or choose professionals in any county of the world.
An IT outstaffing company gives the client more control over the project and access to skilled developers, engineers, testers, and other resources. All of them act as a full-fledged part of the team. Among others, outstaffing is a perfect option for clients who need to: 
scale their product fast and cover the talent gap

reach cost-efficiency 

engage local specialists with profound knowledge of the local market and its labor legislation
The client who chooses MWDN as a service provider gets a ready-made team in just a month. Our teams consist of professionals with proven experience in the required field. We select them based on the client's business needs, technology stack, and internal culture to be a perfect fit for the core team. From day one, the remote team is integrated into the client's business and therefore has a higher retention rate. The success of our customer is our success.
Dedicated Team From Scratch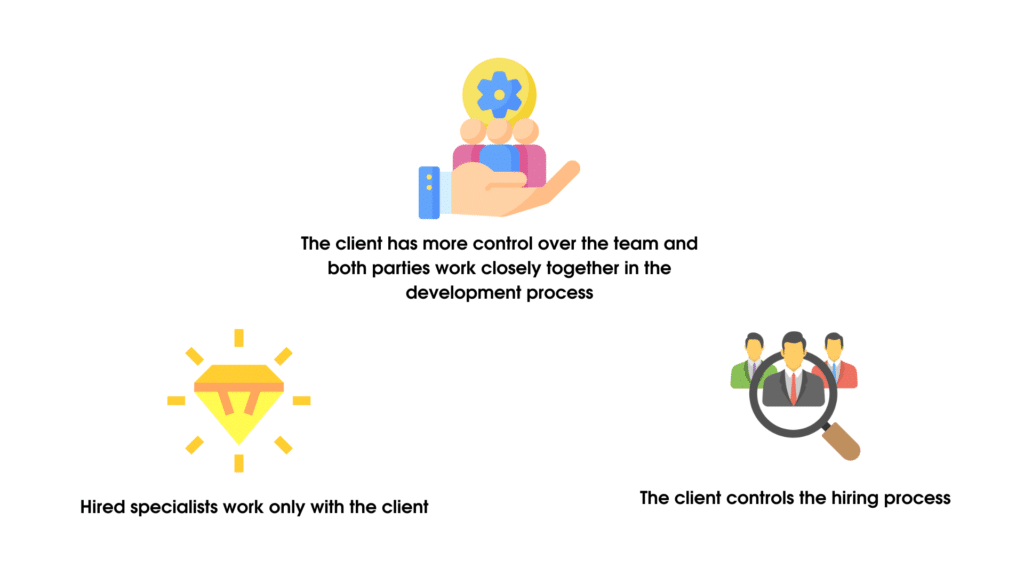 A dedicated team is a collaboration model that can be useful for those who want to build a team from scratch. However, unlike the traditional approach to outsourcing developers, dedicated teams do not work on multiple projects from different clients. With a dedicated team, the client also has more control over its remote employees and both parties work closely together in the development process. 
DT is ideal for long-term projects that may have unclear requirements. A dedicated team, by definition, is better in situations where there is a long-term collaboration ahead that requires the participation of many specialists and a large amount and expertise to be accumulated.
How to Find Tech Talent Provider in Hungary
Even in such a seemingly small market as Hungary, it is necessary to navigate well to avoid unsuccessful hiring. This requires a deep understanding of the market, its opportunities, and the skills that prevail in the region.
The vendor must have rich expertise (preferably in the global market) and a vast portfolio of staff augmentation projects behind their shoulders.
Over 20 years in the global market, MWDN provides IT staff augmentation services with the deep expertise in dedicated team development and team augmentation.
What are the steps of cooperation with MWDN?
Cooperation begins with a short consultation with the client to fully understand the requirements of the project. Next, there is a process of identification, contact, pre-selection, and interview with candidates for legal, operational, and other support, including competency development and benefits management and other HR processes such as team building and performance appraisal.
We engage the most seasoned professionals from our talent pools in different spots globally (Poland, Ukraine, Hungary, and Israel). Contact us once you need resource and staff augmentation for your project and expand the existing team with the best talents on the global market.
Key Takeaways
Hungary is the fifth best country with the best software developers in the world. (Budapest International College)

Hungary has over 150,000 IT professionals (developers, engineers, QAs, project managers, etc.) (Daily News Hungary)

The average rates of software development specialists in the county are as follows: 

$75 Senior Developer $55 Senior QA (Manual) $65 Project Manager $55 Business Analyst (Accelerace)

Hungary is a member of the EU, and as such, its labor laws comply with European laws and standards.

Сlients may face a language barrier despite the high score of Hungary on the English Proficiency Index.

Hungary has a short list of 50 IT companies on Clutch with a low number of employees.

More than 3,000 IT professionals graduate from Hungarian universities every year.

In Hungary, 4.9% of the workforce are ICT specialists.

The biggest development center in the country is its capital, Budapest. 

Hungary is in a convenient time zone – 6 hrs ahead of EST.
Let's augment your in-house team with Hungarian IT experts.