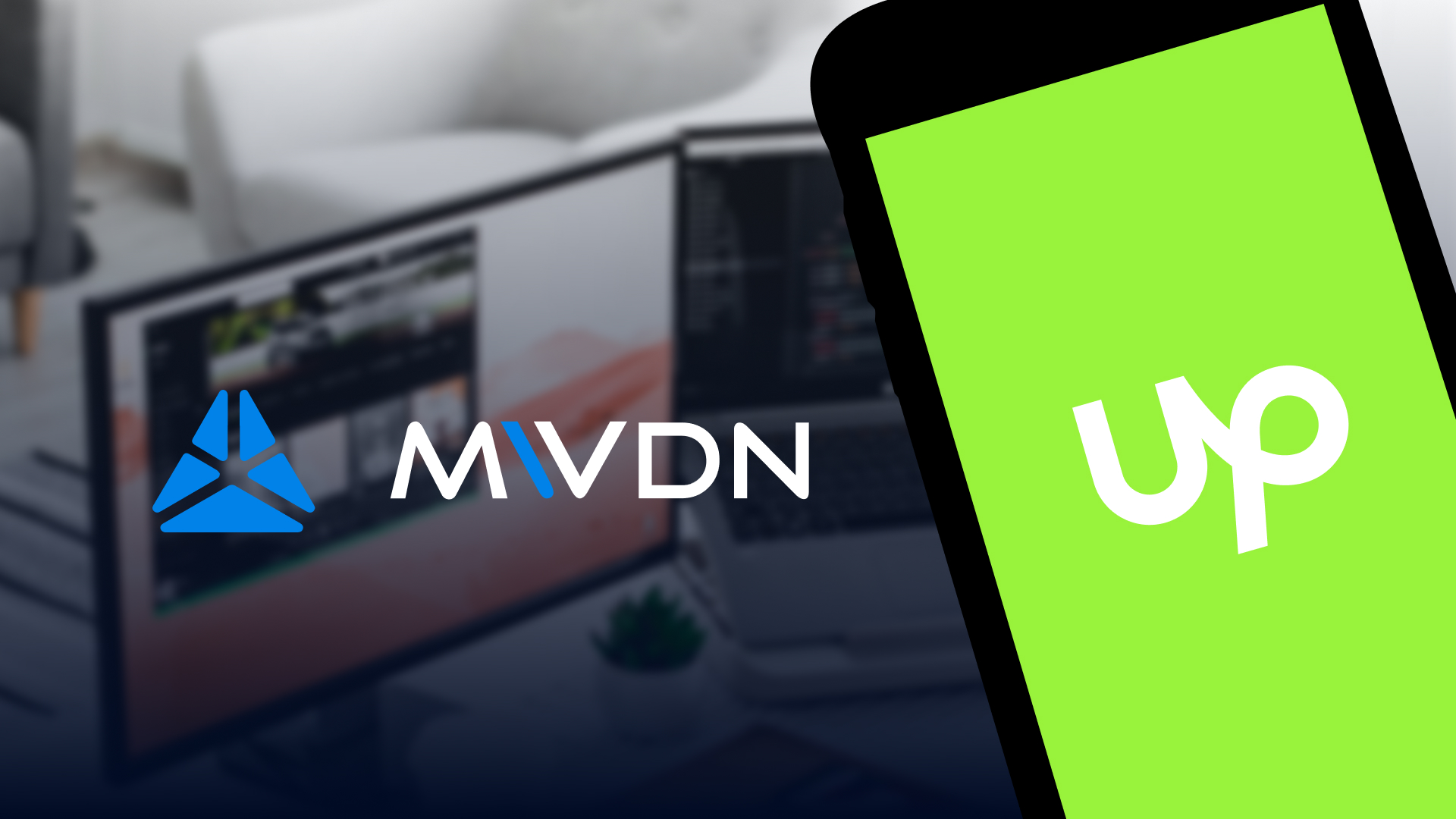 Being in the IT outsourcing and IT outstaffing market for over two decades, MWDN saw the rise and fall of hundreds of marketplaces that connect freelancers with customers. They are national companies focused on finding an employee in your city, platforms that work with particular specialists only, and websites where you can hire a person for a 5-dollar job – we gathered all the popular ones in 2023 in one list to show you the alternatives to Upwork. 
Content: 
Upwork review

MWDN vs Upwork

TopTal

Freelancer

Fiverr

Dribbble

99Designs

Credo

Guru

PeoplePerHour

Turing.com

FreeUp

SolidGigs

Outsourcely

WorkHoppers

Summing up
Before we get to the list of the safest and most efficient tools to find an employee, here are a couple of words about Upwork. It is the leader in the segment. It does have a reputation and is considered quite reliable. However, it is not perfect.
Upwork review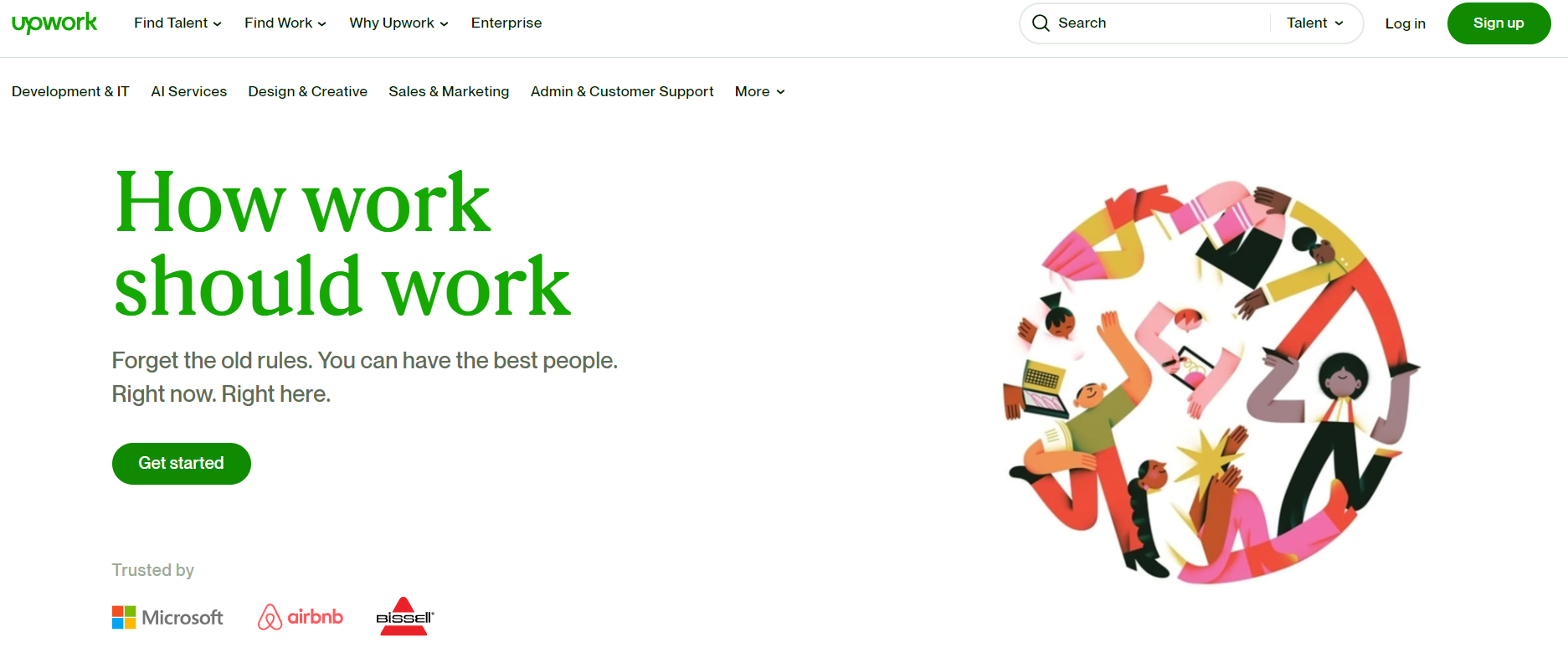 Upwork's core peculiarity, which is considered by some to be its benefit, can also be a pivotal counterargument to using it. Upwork has a bidding system. 
Yes, you can get the cheapest offer, but you will have to spend hours choosing a freelancer.
Yes, you can get a job done in the shortest time limits, but since there is no proper vetting algorithm, you cannot be sure you will get the expected result. 
Yes, Upwork is a good place to get a particular task fulfilled, but you will rarely find someone ready for a long-term commitment. 
Another aspect of Upwork is that, due to its popularity, it became a favorite spot for frauds. The platform does its best to keep its customers and freelancers safe from each other (for example, all payments go through Escrow), but whenever you face an unusual type of sham, Upwork's support is unlikely to help you out.
IT specialists who value their time and skills (but haven't been working on their Upwork profiles for years) will face another drawback of the platform. Upwork is an incredibly competitive environment. In 2023, the platform is a working place for over 18 million freelancers from all around the world. Many of them opt for predatory pricing to get clients. This practice leads to unique talents capable of innovative solutions, losing the chase for customers, leaving the platform, and searching for Upwork alternatives for developers. 
MWDN vs Upwork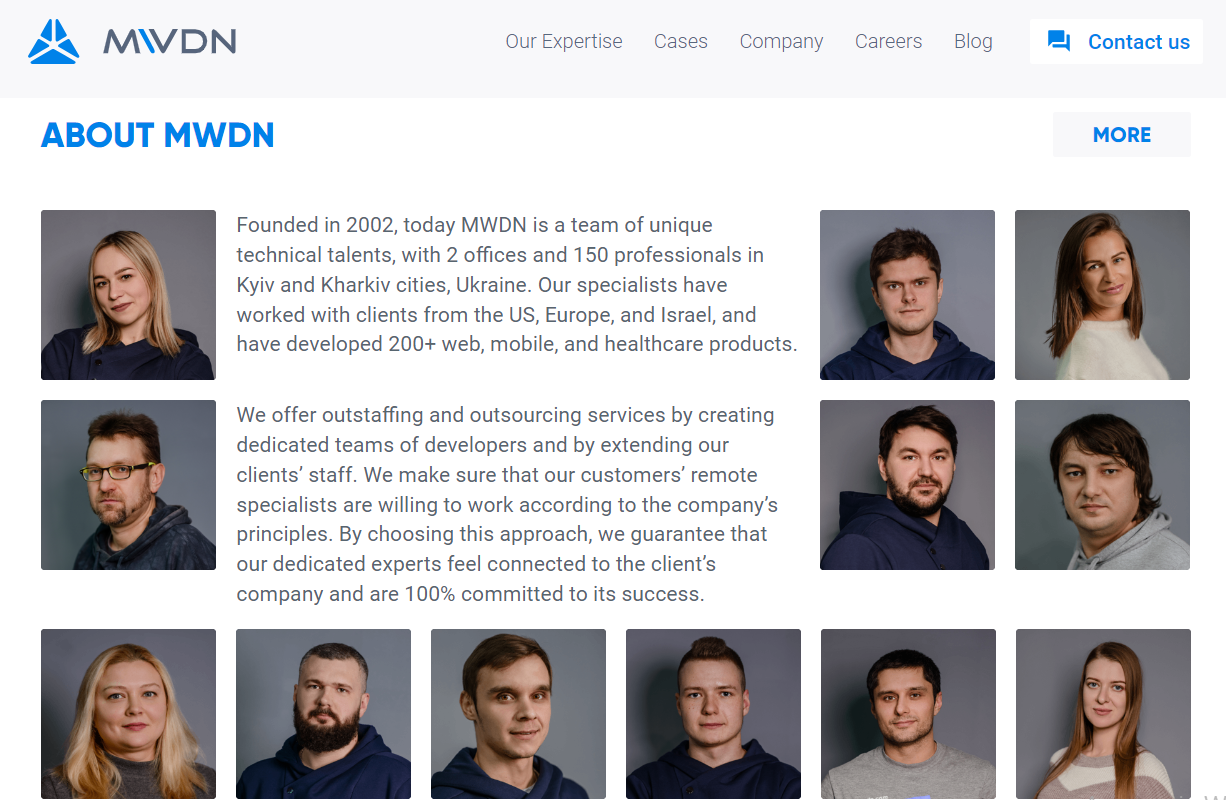 MWDN is an outstaffing company that helps you find, hire, and manage unique IT specialists. It has a very different approach to recruiting – let's check if it suits your business needs. 
MWDN finds

dedicated teams

that work only for your project, abide by all the NDAs you have, and guarantee unique expertise that can reinforce your existing in-house team.

MWDN selects only the best candidates who fit perfectly into your open positions. Along with screening and interviewing, we can go through a person's records and previous work experience.

MWDN doesn't have bids but a fee

. A fee for hiring and taking care of all the monthly operational and administrative issues you might have with your new remote employee. 

MWDN is a strategic partner – when we look for your perfect applicant, we check the person's commitment and motivation. Our goal is to make your business grow, as your growth is a key factor in our success.
MWDN will be your best alternative to Upwork in the following cases: 
You have an in-house tech team, but it lacks some

specific, unique skills.

You need a new remote employee to be

fully committed and dedicated to your project.
You want to spare time

on recruitment, onboarding, and organizational tasks.

You're looking for ways

to cut direct labor costs

by hiring people from different countries. 
If that IT outstaffing approach is not exactly what you're looking for, here are some other notorious alternates to Upwork.
TopTal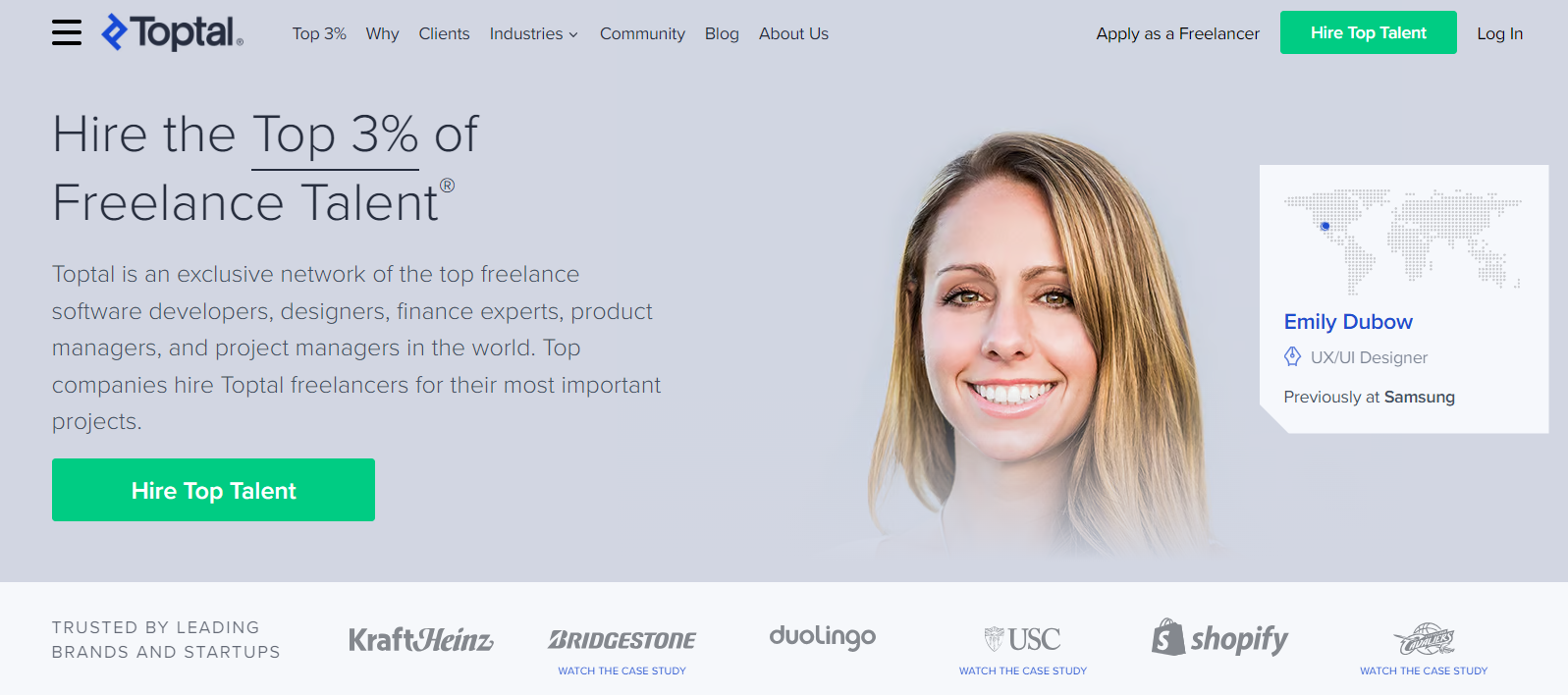 TopTal is something in between Upwork and staff augmentation services by MWDN. The platform claims to provide its customers with the "top 3% of freelance talent," and it keeps to its promise by following the rigorous algorithm of its freelancers' validation.
Unlike Upwork, TopTal offers

highly vetted candidates

who've been through tests and screening.

Unlike Upwork, TopTal has a

genuine support department

that helps you find and select the best candidate for your project.  

Unlike Upwork, TopTal f

ocuses on the quality of candidates

rather than their quantity or price. 
Unfortunately, the price is what lowers TopTal's popularity among business owners. Unique specialists, high-quality support, and candidates' validation will cost you a $500 deposit (this does not include the payment for the job) vs. a 3% fee on each transaction you would pay to Upwork.
Overall, TopTal is your #1 choice if you're looking for unique, highly-skilled, expensive specialists to help you with a short-term project.
Freelancer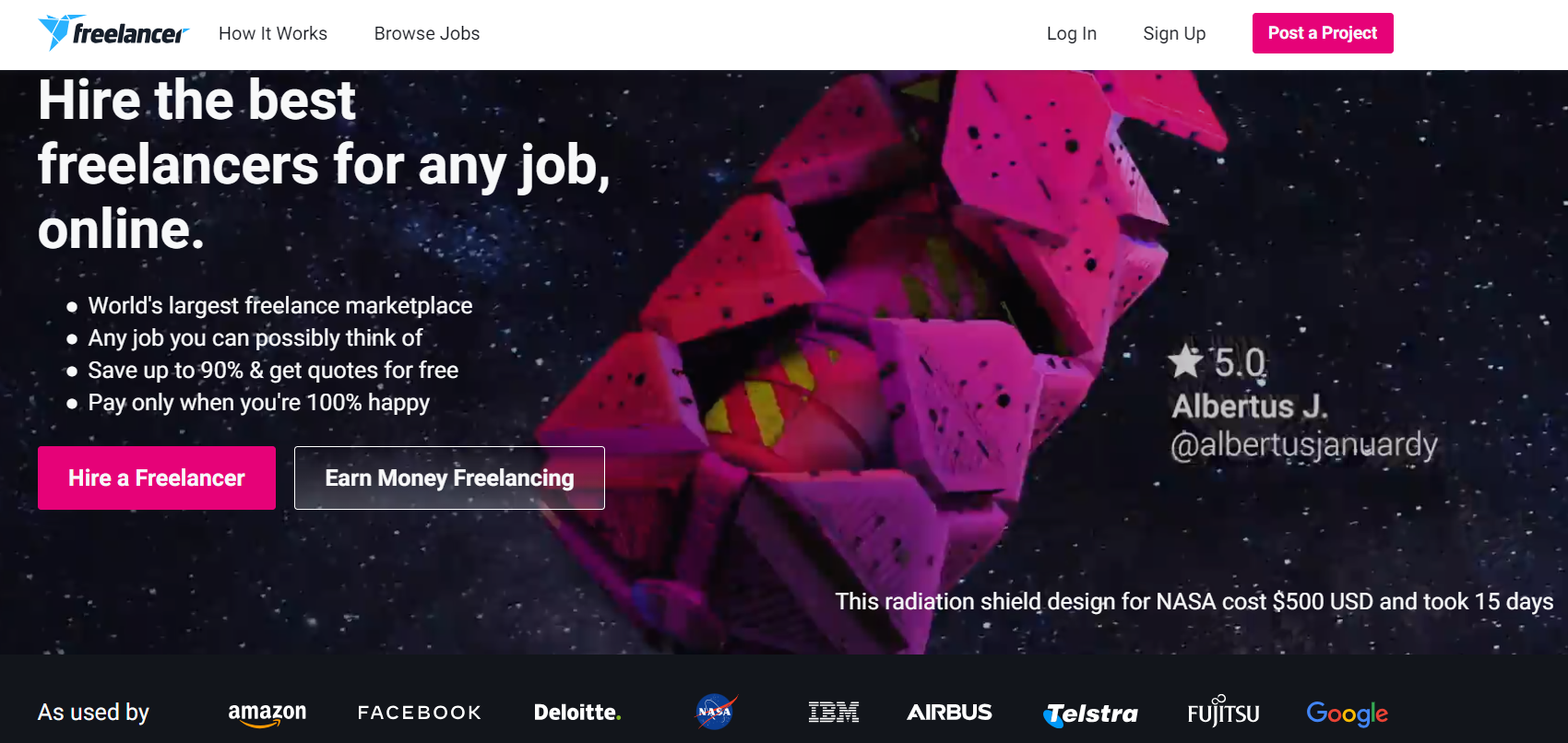 Freelancer.com is a previous generation of marketplaces – it's older than Upwork and less prone to innovations. According to feedback you can easily find online, one of the key drawbacks of Freelancer.com is its absence of vetting. Such a careless approach to letting workers in has led to the growth of scammers and spammers among freelancers who use this platform.
Another issue that annoys many is that Freelancer's pricing is not transparent. With Upwork, you pay for a premium version and receive all possible perks as a bundled service. Freelancer will charge you separately for every additional service you want to try. For example, to make a freelancer sign a non-disclosure agreement, you will have to add $19 to the final price of a service.
Overall, Freelancer.com, which used to be The platform for freelancers, steadily gives way to Upwork and other competitors. 
Fiverr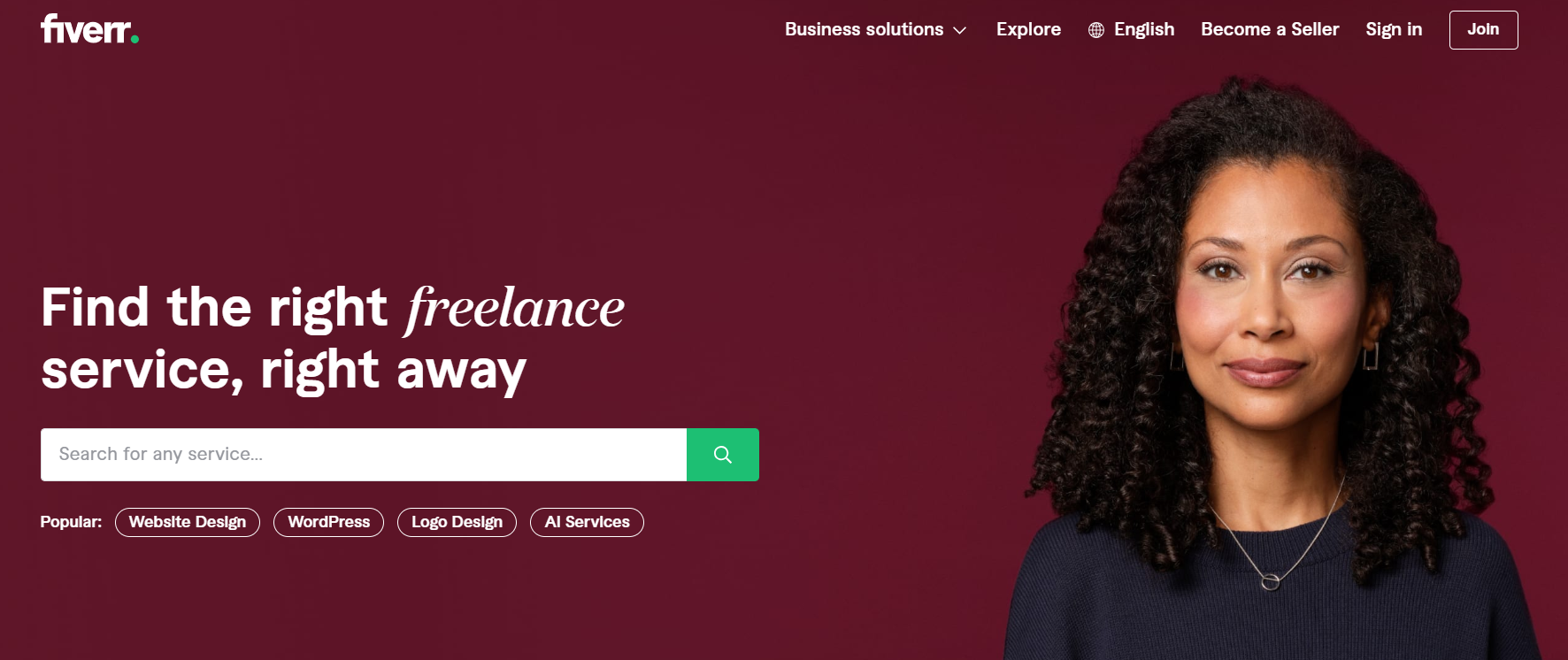 One of the most popular Upwork alternatives is Fiverr. Its uniqueness compared to other marketplaces is 5-dollar gigs, meaning most jobs you will find there only cost five bucks. 
Overall, Fiverr is a good place for hiring designers (most freelancers on Fiverr are content creators) for very short-term projects and simple tasks.
Dribbble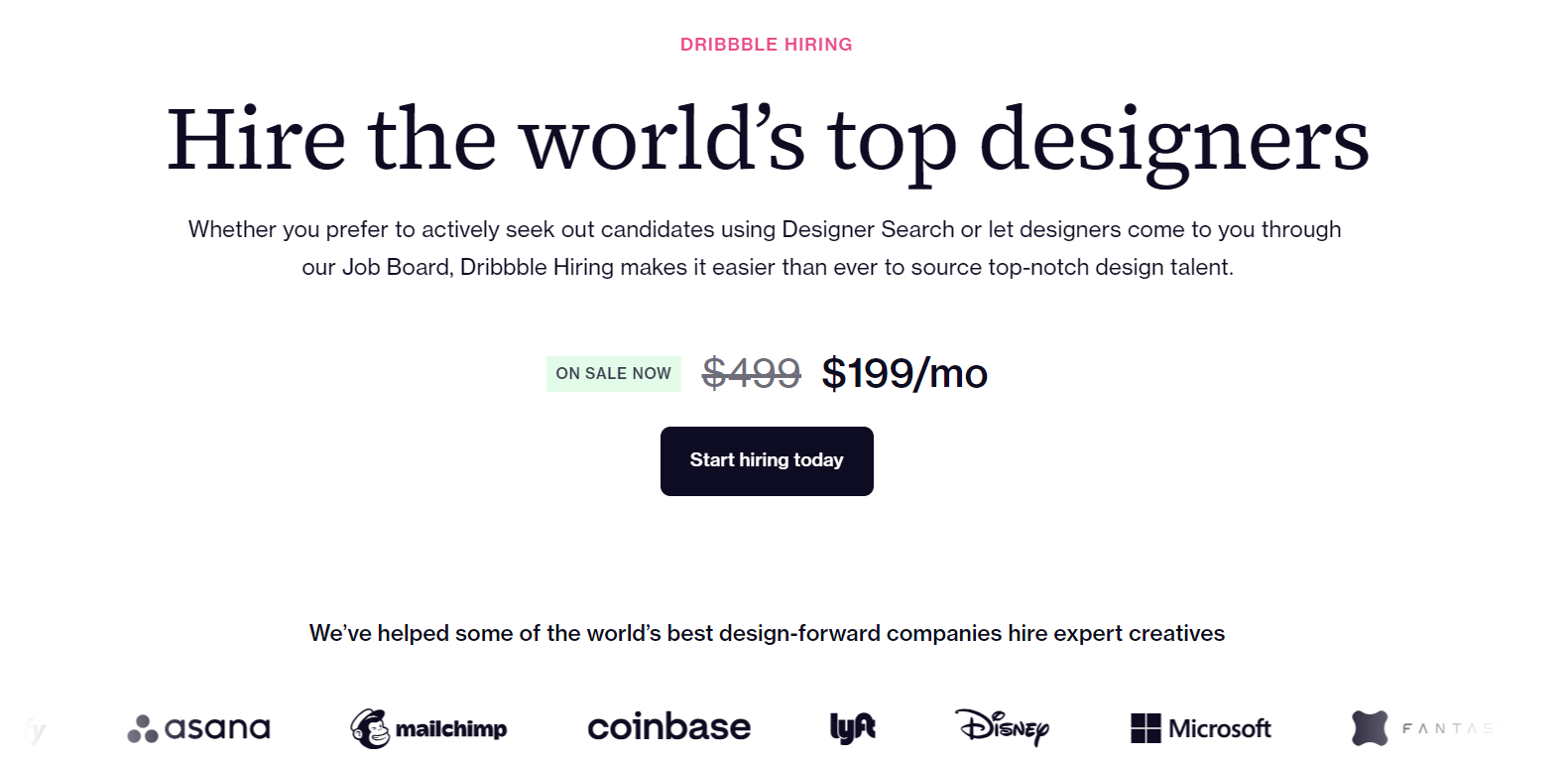 Dribbble and Fiverr are platforms that cater to different needs within the creative and design communities. Originally, Dribbble was conceived as a platform for designers to showcase their work, share snapshots of their designs, and receive feedback from the community. Over time, it also became a place where people hire designers for freelance work. Its community largely consists of professional designers and creatives. Many of the world's top designers share their work on Dribbble.
Since Dribbble is more of a showcase platform, there isn't a standard pricing system in place (unlike Fiverr's $5). If a client wants to hire a designer, they negotiate terms directly.
While on Fiverr, the key factor that makes you an attractive customer or freelancer is a rating and review system, there's no formal review system for transactions on Dribbble. However, here, you can view designers' portfolios, which can give a sense of their quality and style.
Overall, Dribbble is a perfect place for design inspiration and high-end projects. If you want to hire top-tier designers for a critical project, opt for Dribbble. 
99Designs
Another designers' marketplace that offers quite a unique approach to hiring freelancers is 99Designs. It is a contest platform where clients provide a brief, and multiple designers submit their designs. The client then selects the best one. 
On 99Designs, customers set a budget for a design contest, and pricing varies based on the design category (e.g., logo design, web design). It's generally more expensive than Fiverr but offers multiple design options. Due to its contest model, clients receive multiple design concepts from different designers to choose from. If unsatisfied, there's a money-back guarantee.
Overall, if you're unsure of what you want and would like to see multiple designs before deciding, 99Designs offers this flexibility.
Credo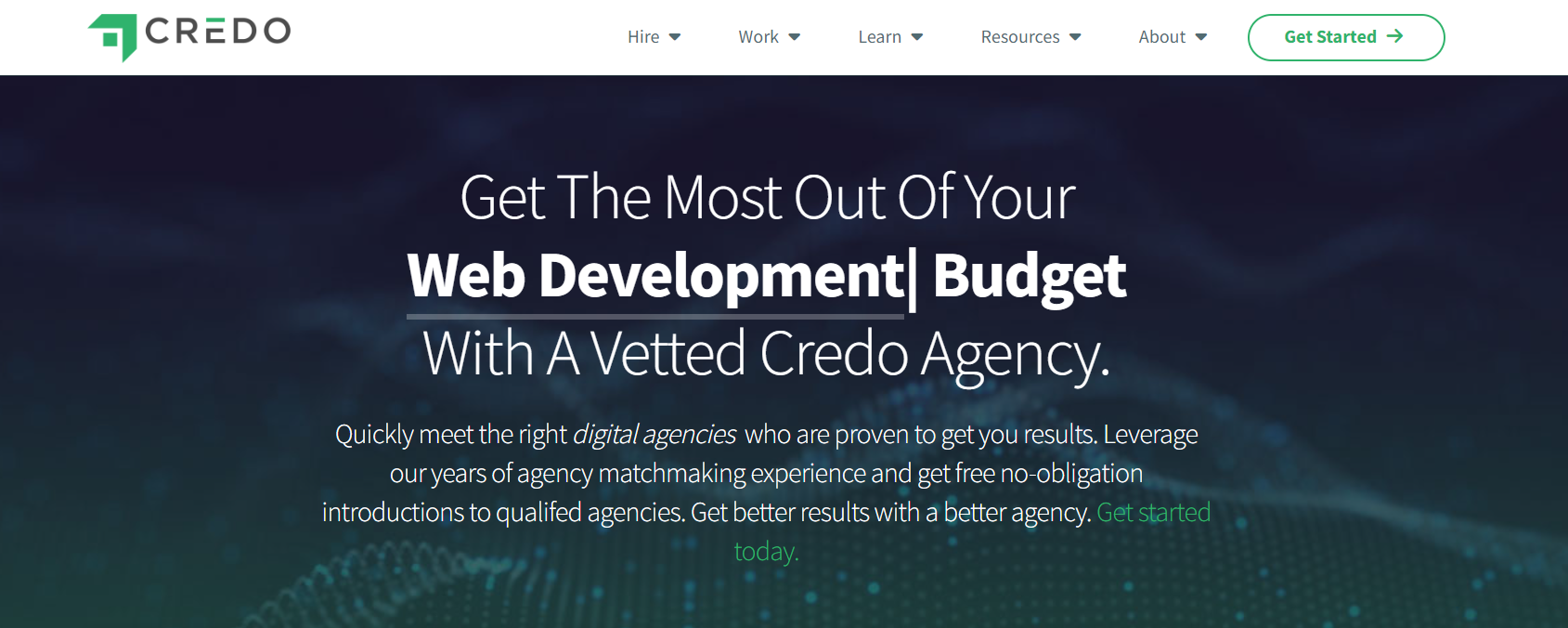 Credo is primarily focused on connecting businesses with vetted digital marketing professionals and agencies. It specializes in areas like SEO, paid advertising, and content marketing. Credo prides itself on its vetting process. They claim to validate each agency or professional carefully before allowing them on the platform to ensure quality. Since Credo focuses on digital marketing, which can be a high-ticket service, the projects often come with a more substantial budget compared to some of the tasks on Upwork.
Overall, you should try Credo if you're specifically looking for freelancers or agencies providing digital marketing services.
Guru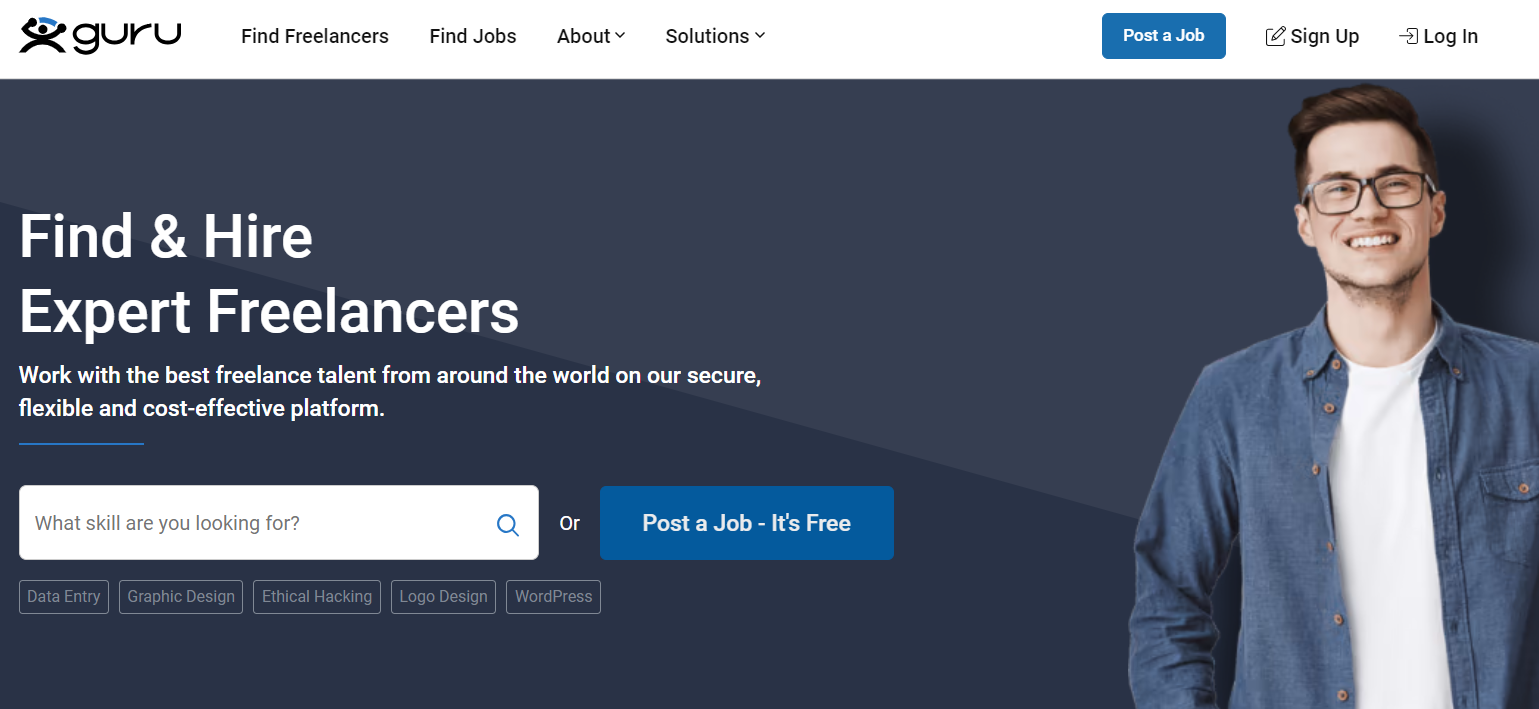 Founded in 1998, Guru is one of the oldest platforms in the freelance industry. It has a significant number of freelancers, but its community is smaller compared to Upwork. Another advantage of Guru is that it offers support through various channels, including phone support, while there are a lot of claims towards Upwork's support team. 
Overall, Guru can be called the best alternative to Upwork, as choosing between the two often boils down to personal preferences and past experiences on these platforms.
PeoplePerHour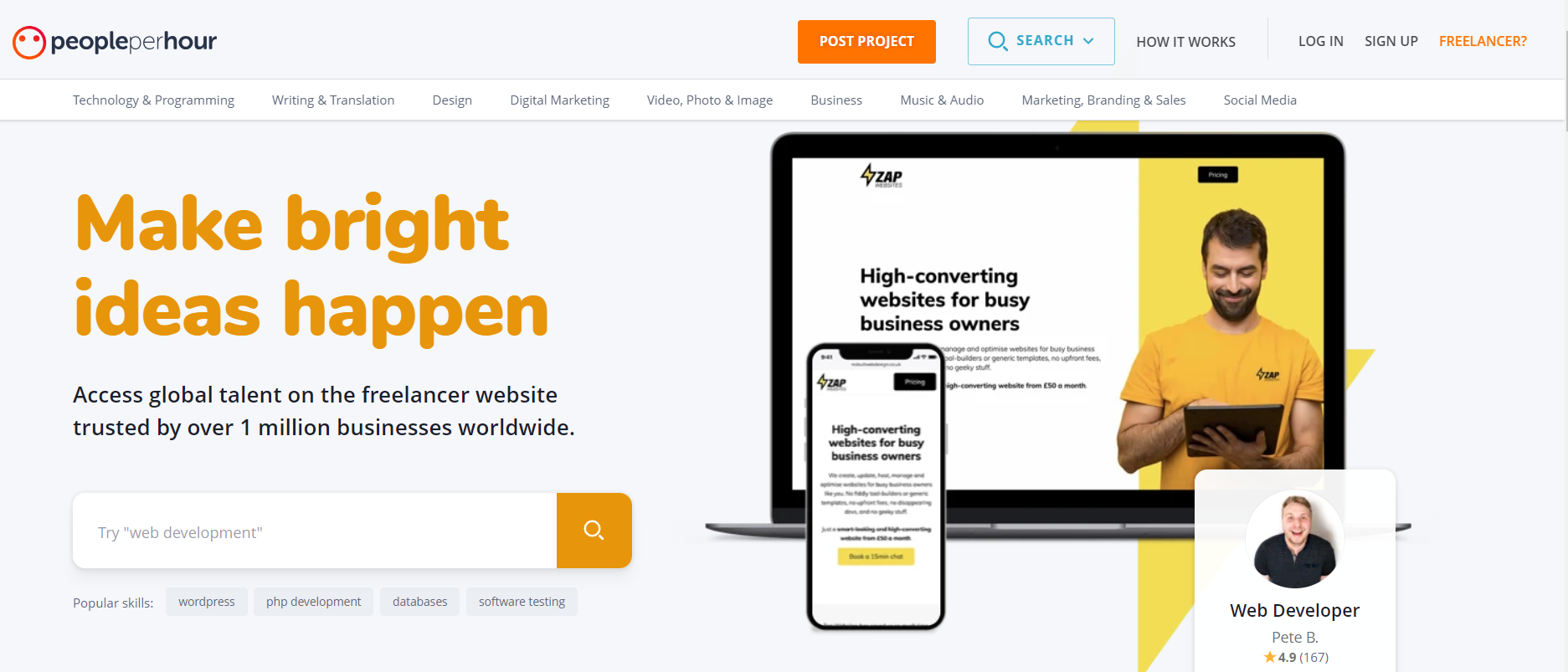 The name says it all. PeoplePerHour is where you buy "Hourlies" – fixed-price offers for specific tasks or services. Originating in the UK, this is a popular freelance platform in Europe. It tends to focus more on creative and professional services and has a vetting process where freelancers need to be approved to join. This process aims to maintain a standard of quality for clients.
Overall, PeoplePerHour is a legitimate choice for pre-defined tasks or projects. If you're looking for a straightforward process where you can buy predefined packages or "Hourlies," you should try PeoplePerHour instead of Upwork.
Turing.com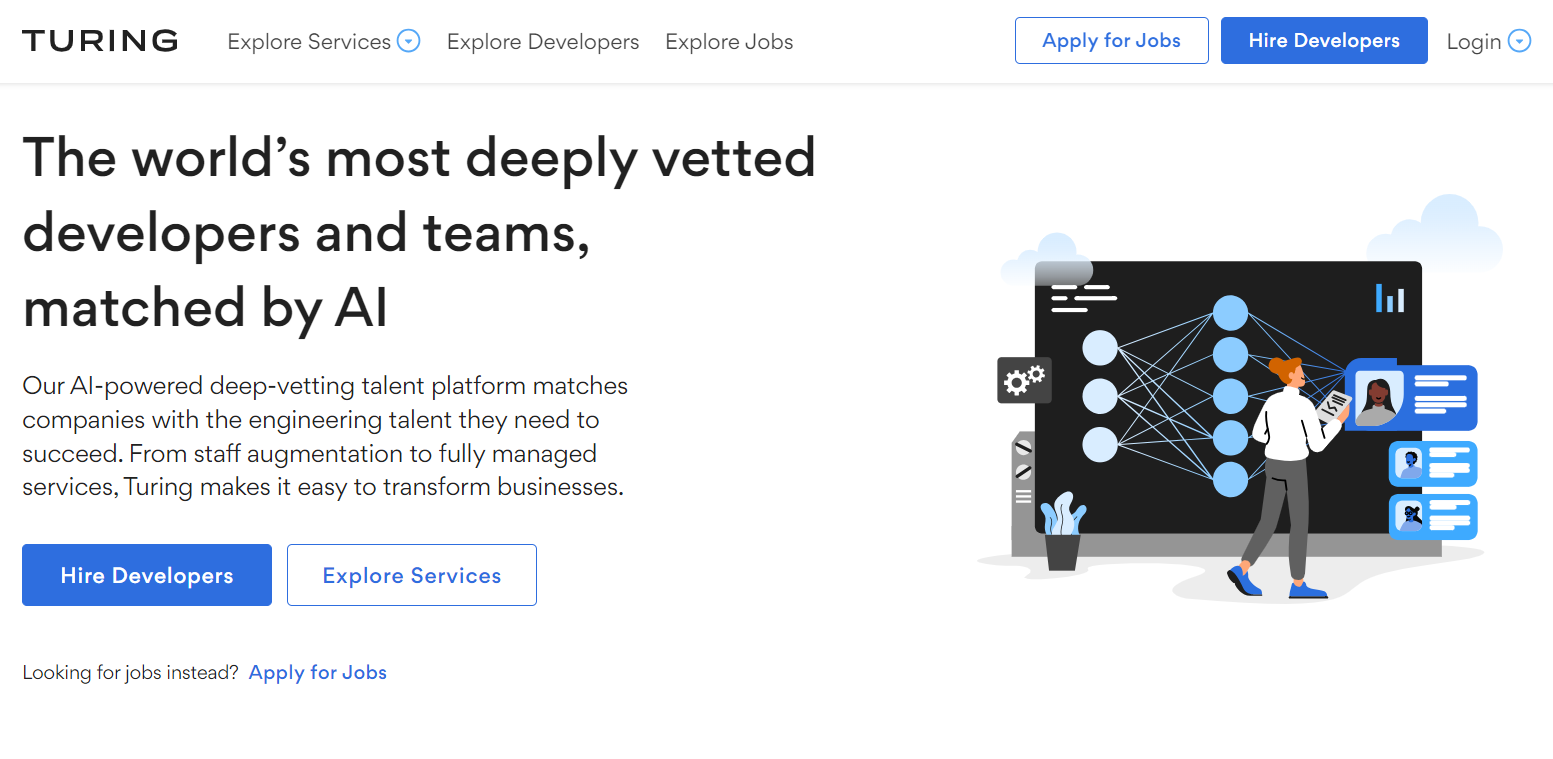 Turing specifically targets the software development sector. It uses a rigorous vetting process to identify top software developers worldwide, including coding skills, problem-solving, and language proficiency. Turing claims that the platform accepts only the top 1% of developers.
The website tries to simplify the recruiting process by matching businesses with developers who fit their requirements. The emphasis of the platform is on reducing the hiring timeline. 
Turing typically offers longer-term engagements suitable for significant projects or ongoing work. Given its niche focus, the platform also provides tailored support to help businesses onboard developers. Its drawback is that hiring from Turing can be pricier than the average rates on broader platforms like Upwork. 
FreeUp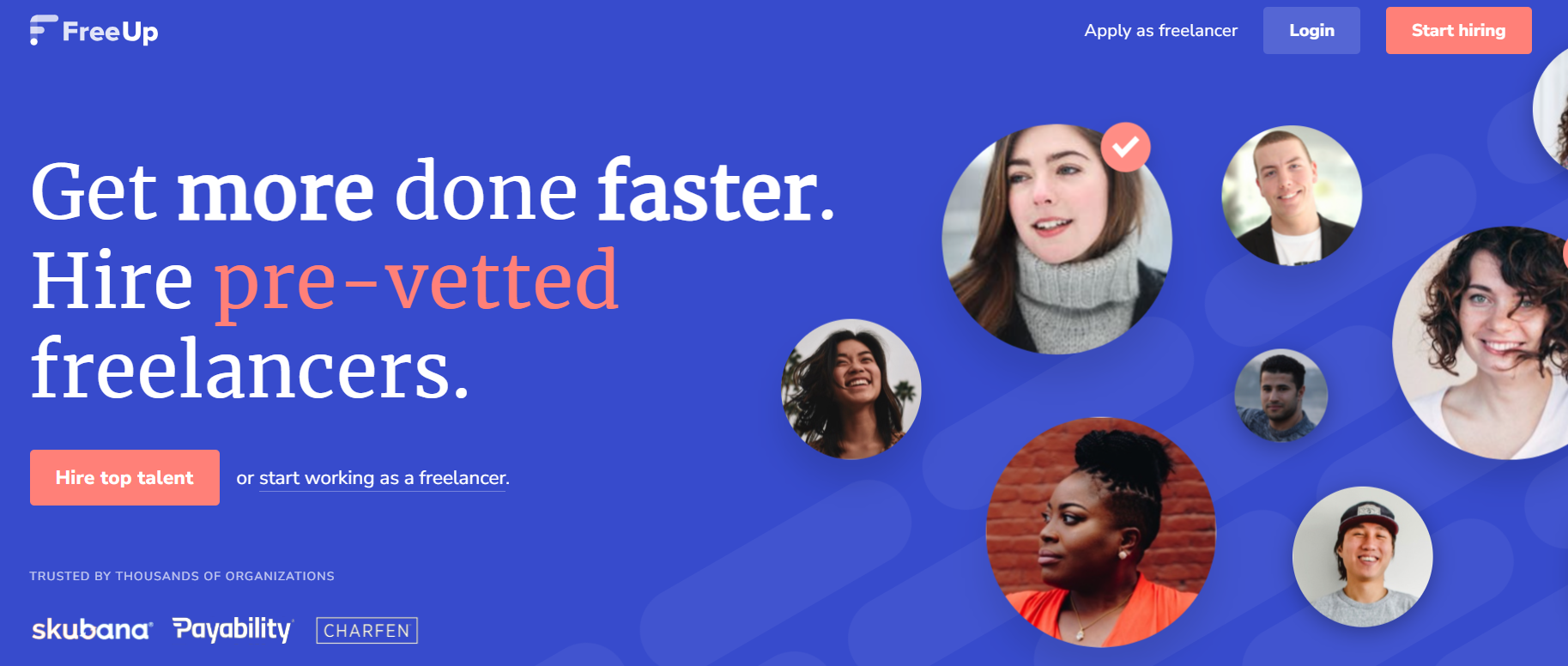 FreeUp's main peculiarity is its pre-vetting process. The platform claims that they only admit the top 1% of applicants (if TopTal takes 3% and FreeUp and Turing get 1%, where does the rest go if not to Upwork?). 
FreeUp focuses on eCommerce and digital marketing. As FreeUp's key focus is on pre-vetting and quality, its rates might be higher than Upwork's average rates. On the other hand, the platform ensures that clients are getting top-tier talent for the price. After submitting a request, clients typically get introduced to a suitable freelancer within a day. 
Overall, if you prioritize speed and quality and want to avoid sifting through numerous proposals, like on Upwork, you can benefit from FreeUp, which offers a more streamlined process with pre-vetted talent.
SolidGigs
And now to something completely different.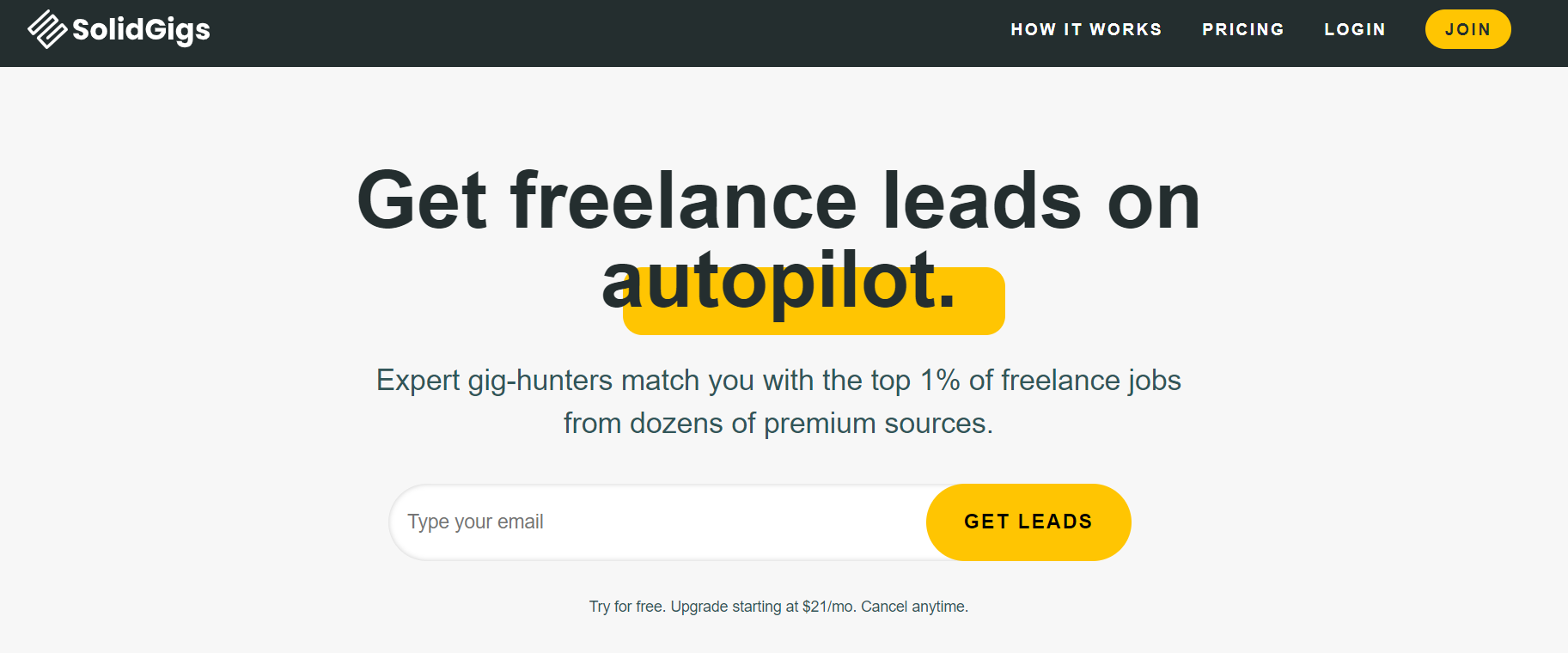 SolidGigs is primarily a curated job listing service for freelancers. It is focused on freelancers only – there's no direct engagement between employees and customers on the platform. For this reason, SolidGig is considered one of the best alternatives to Upwork for freelancers.
Every day, the SolidGigs team sifts through dozens of job boards and sends the top 1-2% of jobs straight to their subscribers. The main aim of the website is to save freelancers the time and effort of job hunting. 
Apart from curated job lists, SolidGigs also provides courses, templates, and other resources for freelancers to grow their businesses. It charges a monthly subscription fee to freelancers for access to their curated job listings and resources.
Outsourcely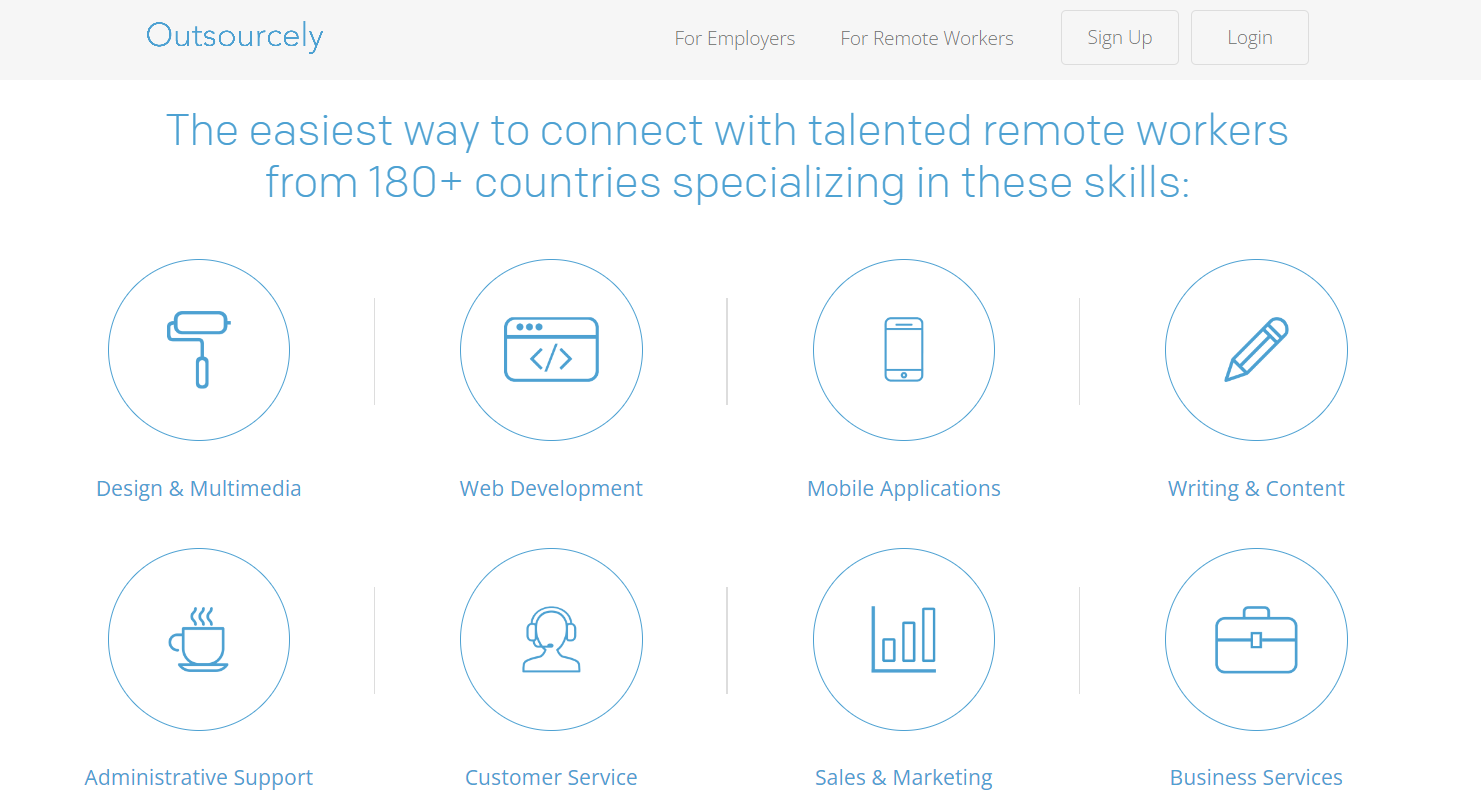 Unlike Upwork, Fiverr, and similar marketplaces, Outsourcely targets businesses looking for long-term remote talent or full-time remote workers. Here are some other peculiarities of this platform: 
No commission on earnings

. Outsourcely charges businesses to access its talent pool but doesn't take a cut from the remote workers' earnings.

Direct communication

. Outsourcely provides tools that allow businesses to communicate with potential hires directly, be it through chat, voice, or video calls.

Flexible payment

. Rather than using an Escrow system or taking a cut of the payment, Outsourcely leaves the payment terms and methods up to the businesses and remote workers to decide.
WorkHoppers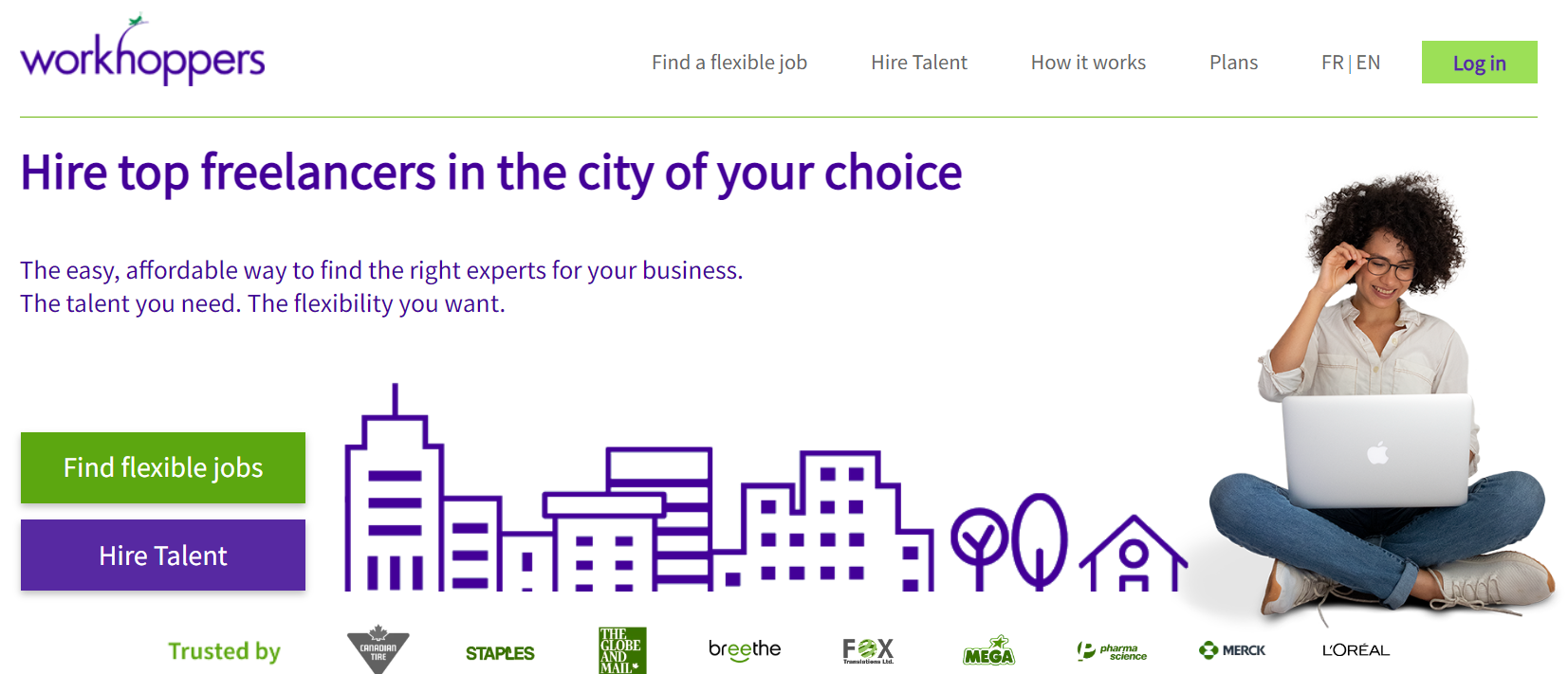 WorkHoppers focuses on connecting businesses with local freelancers for part-time, gig, temporary, and freelance jobs without the mediation of an agency. Their unique proposition is about local connections and in-person collaboration when necessary. The platform acts more like a matchmaking service. Once businesses find a suitable freelancer, they can directly negotiate terms, manage the project, and pay outside the platform. 
On WorkHoppers, customers pay to post their jobs or to contact freelancers directly. Once the connection is made, there are no additional fees or commissions. 
Overall, if you're looking for local talent for roles that benefit from face-to-face interactions or on-site presence, WorkHoppers might be your best alternative to Upwork.
Summing up
There is probably no such thing as "the best platform," as your choice of contractor should mainly depend on your business needs. Here are all of the websites above, described in one phrase each.
Upwork

– a versatile, popular platform with a large community.

MWDN

– IT outstaffing company that helps you with hiring and management of remote employees.

TopTal

– an expensive place for truly unique, highly-skilled freelancers.

Freelancer

– Upwork's grandpa.

Fiverr

– a platform for cheap and simple tasks mainly connected with content creation.

Dribbble

– a designer's community where you can check designers' portfolios and find the best fit for your project.

99Designs

– a contest platform where you choose and pay only to the best service provider.

Credo

– a place where you can find digital marketing specialists and agencies.

Guru

– almost identical to Upwork, but 25 years old.

PeoplePerHour

– a place to buy Hourlies – fixed-time and fixed-price offers.

Turing

– a freelance marketplace focused on software developers.

FreeUp

– an expensive platform that claims to offer only the best-vetted specialists.

SolidGigs

– a job listing service for freelancers only.

Outsourcely

– a website with a pool of talent where you pay only to put a hand on experts' contacts.

WorkHoppers

– a website to find local freelancers.
These 14 websites and platforms must be the best Upwork alternatives. Among them, you will find cheap and costly service providers, marketplaces for software developers, designers, and digital specialists, and websites focused on local or international search. Choose wisely, and we wish you the best experience with any platform you opt for.