On the grounds of personal experience in healthcare, MWDN knows that the absence of proper medical billing and coding software in a medical facility is often the reason why customers face payment and billing issues and a high claim denial rate. In poorly automated revenue cycle processes, there is always room for a costly mistake, and yearly it comprises billions of dollars. In the US healthcare system alone can save $16.3 billion by fully automating common transactions.
This is why the medical market has a high demand for cost-effective and efficient healthcare billing solutions.
The trick here is that one cannot simply purchase an ideal solution that would support all the necessary functions and be compatible with all the in-place systems. Thus, may eventually opt for the development of solutions that would dance around their organization's needs.
Today we're going to walk you through the step-by-step process of medical billing and coding software development based on experience MWDN developed for 20 years in the healthcare market.
What Software is Used for Medical Billing and Coding
Medical billing and coding software is used by medical facilities to create and manage invoices for the services they offer. The idea of medical billing and coding software is to reduce the number of errors and denials in claims and minimize the possibility of billing problems.
In addition, medical invoicing varies according to patient diagnostic, treatment, and health care coverage. Thus, this type of software requires industry-specific billing features to ensure accuracy in the process.
Medical billing solutions also help healthcare medical insurance billing and coding specialists improve the accuracy and speed of billing processes. Sophisticated features of this software also cover revenue management and profitability analysis capabilities.
Also, medical billing software helps healthcare facilities to comply with numerous healthcare regulations, such as the Health Insurance Portability and Accountability Act (HIPAA).
Global Medical Billing Software Market size & share revenue is expected to grow at 12.3% annual CAGR during the forecast period of 2021-2026.
In addition, various case studies show that software automation improved patient bill payments by 154%, increased revenue by 24%, and improved claim turn-around time by 75%.
Features of Medical Billing and Coding Software
The lack of automation in medical billing and coding makes it a complex process that is prone to many coding errors, rejections, uncollectible balances, and other issues that can cause payment rejections.
In this regard, dedicated software introduces powerful functionality that allows healthcare facilities to streamline the process of data entry and management and help users with the:
patient registration and management

claims management

billing and invoicing

scheduling

insurance management

patients follow-up activities

patient accounts management

workflow management (patient journey from A to Z)

business intelligence reporting

Features of Medical Billing and Coding Software
What Challenges Medical Billing and Coding Software Helps to Overcome
According to statistics, low payments are the top practice challenge for 83% of small to medium-sized practitioners, while proper communication of patient payment accountability is the second-highest challenge for 81%.
Some daily issues that medical billing and coding software deal with include:
Data inaccuracies
When entering patient information into the billing system, even a minor error such as a misspelling of a patient's name or mistakes in the date of birth can be critical. That is why medical institutions receive hundreds of rejections from insurance companies every day. It is estimated that approximately 20% of physicians' income is lost due to health billing errors.
The medical billing and coding software helps to automate this process, initially populating the patient bill based on the verified information received from the patient. It also scans claims before they are submitted to ensure there is no missing information, blank fields, or duplicates, reducing the chance of mistakes and potential denial.
Improper Coding
Incorrect medical coding is one of the most common and time-consuming errors that result in claim rejection. When it comes to coding, errors can occur for various reasons, including the use of outdated code books, over and under-billing, mismatched codes, missing codes, etc.
The dedicated software can easily reduce invoicing time, leaving no room for error by automating the coding process along the way. The system uses only relevant and updated information to meet the latest coding requirements, can list codes specific to each health insurance carrier, and helps easily search for diagnosis and procedure codes.
Noncompliance
Medical billing rules and regulations change regularly. Keeping up with these changes is a difficult task.
The dedicated software has medical compliance functionality and can help one comply with some or all of these medical compliance standards. They introduce an intuitive dashboard that ensures monitoring of each client's payment compliance and provides instant access to real-time data and reports that contain information on their compliance with federal regulations and best practices.
Best Medical Billing and Coding Software
The best medical billing software revolves around the needs of a particular institution — that's why off-the-shelf solutions are often less popular than custom solutions built around specific business needs.
The proper solution automates and streamlines scheduled appointments, cutting down paperwork, creating smooth digital workflows for critical processes, and automatically entering patient information during doctor visits. A good example is Kareo Billing — the solution for efficient scheduling, claims management, billing, payment, revenue management, etc. Another is Cure MD which provides easy updates of a patient's data and fosters automation of repetitive, time-consuming tasks.
One of the most acknowledged solutions is also DrChrono which includes configurable medical forms, e-prescribing, scheduling, and more with no need to download additional modules.

Example of claims eligibility status and appointment details in DrChrono
The usage of these solutions can improve one's credibility across insurance companies. Above all, however, the best software provides a bird view of your medical facility with detailed reports and analytics.
Medical Billing and Coding Software Cost
Speaking of how much is medical billing software, there are two types of medical billing and coding software: hosted and cloud-based. Opting for on-site servers, the size of your business, the number of appointments, and the number of doctors using software affect the overall cost. Also, depending on the size of the bill, the software provider may take a commission.
Considering the specifics of both, the prices of hosted and cloud-based software are different. Although, cloud-based medical billing software is considered less expensive than hosted software.
Hosted medical billing and coding software is a choice of organizations that decide to build their server, data center, and related software on-site at their location.

According to Cronj, the overall start-up medical billing and coding software

cost for hosting in-house systems are between $3,000 and $8,000.

With

cloud-based

(or web-based)

solutions

, a software provider hosts the server at their location, and users can connect to it remotely. The medical facility, in this case, is not dealing with different IT issues, on the other hand, however, they have less direct control over issues like scaling up or down, and more. Cloud software operates on off-site servers and can cost

as little as $26 to $112 per month

.
Why Outsource the Medical Billing and Coding Software Development
The software can be integrated into your existing system or developed from scratch – both options are valid. However, organizations often opt to involve third-party specialists as eventually, it requires fewer sacrifices.
For example, when choosing an outsourcing company, you can delegate as much of your managing functions as you wish. You can also vary the level of your engagement with the technical issues of the project. The size of the worldwide medical billing outsourcing market was estimated at USD 11.1 billion in 2021, and from 2022 to 2030, it is anticipated to increase at a CAGR of 12.0%.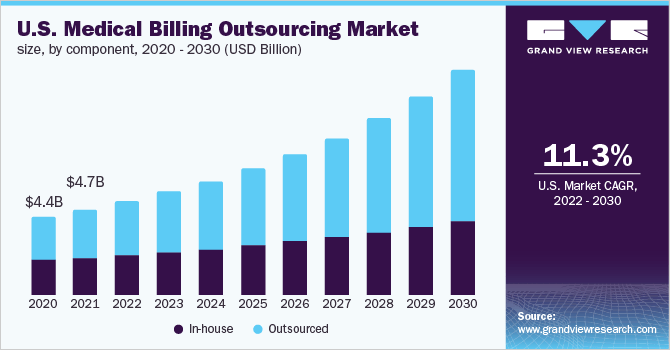 Medical billing outsourcing market | Grand View Research
In addition, medical billing software that is not tailor-made for one's practice creates bottlenecks in the billing workflow. Thus, providers should have second thoughts anytime they come across software that claims to be an all-in-one solution or works for all specialties.
When there are seasoned professionals in the market who are aware of all intricacies of healthcare product development, sometimes it's wise to outsource the job. And this is what many organizations eventually do.
Medical Billing and Coding Software Development
With several projects in healthcare behind our belts, we can definitely say that software development in this industry is a complex process that requires proper planning.
Thus, medical billing and coding software should include many functions: from data analysis, and storage to user-friendly interfaces and compliance with the industry's regulatory requirements.
Key Features of Medical Billing and Coding Software
Above all, however, there are several pillars of medical billing and coding software – billing, claim management, accurate medical coding, secure data storage and reporting. These are critical features that should work coherently in order to provide a seamless transmission, retrieval, processing, and submission process.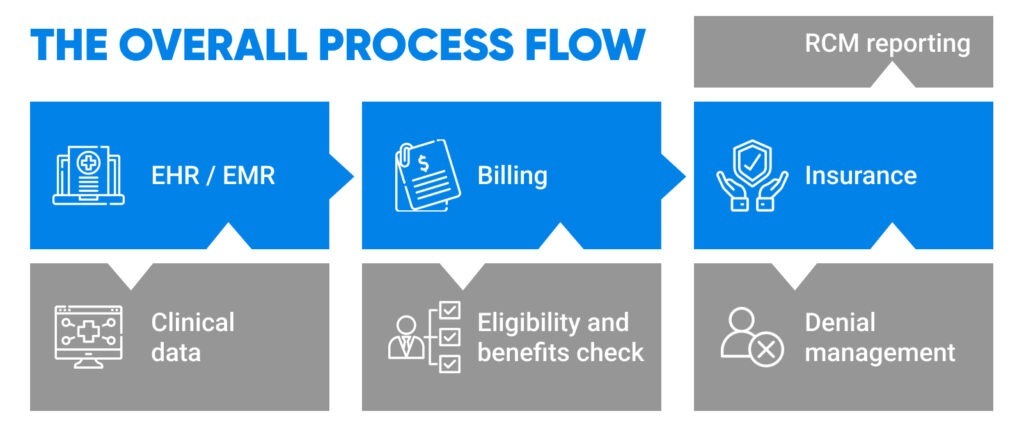 How medical billing and coding system processes claims
Medical Billing
Once there is a need to bill for medical services, the EHR/EMR system sends all the services provided to medical billing software. One of the main functions of your software is invoicing customers. The software is used to process and track payments, keep track of invoices and payment transactions, and manage all associated billing data for appointments and treatments received. The billing software also automatically notifies patients when their insurance is about to expire or about unpaid payments. Automation of this process saves a lot of time for medical facilities. Healthcare providers or businesses spend 30 to 40% of their revenue on the billing process.
Medical Coding
We have already mentioned that the correct medical coding system is a key point in receiving payment. Medical billing, however, is prone to mistakes and can be challenging even for the most seasoned certified outpatient coder. That is why a digital solution should include a function to search for codes using numbers, keywords, acronyms or abbreviations. Each code should include a detailed description to ensure you select the correct code before including it in to claim.
Claims Management
With this feature, the software can automatically send, receive and manage claims (including resubmissions). The latter provides a review of all changes and manages rejections and errors in real time. This feature also ensures a higher acceptance rate, scrubbing your claims for HIPPA, LCD, and CCI.
Insurance Verification
Usually, specific individuals or an entire department check whether patients have the necessary insurance coverage. Medical billing software should also perform insurance verification automatically. For this, it must integrate with the networks of insurance operators. This will speed up the admission of patients, and reduce the percentage of refusals.
Secure Data Storage
Data security is a backbone when it comes to the healthcare industry. Medical billing software stores sensitive data such as personal patient and insurance information, billing and banking information, medical records, medications, transaction history, and more. Data storage of this information must be secure and comply with HIPAA or GDPR standards. Therefore, before developing software, it is important to make sure the software provider knows the ins and outs of healthcare information security.
Reporting
One of the most crucial features of proper software is also an analysis of operations and identification of aspects that need improvement. Make sure your solutions generate real-time data and include convenient interactive tools that will allow you to capture information and finalize in a form of reports that will reflect the practice's financial trends, areas, and opportunities for revenue growth.
How to Create Medical Billing and Coding Software: Step-by-Step Guide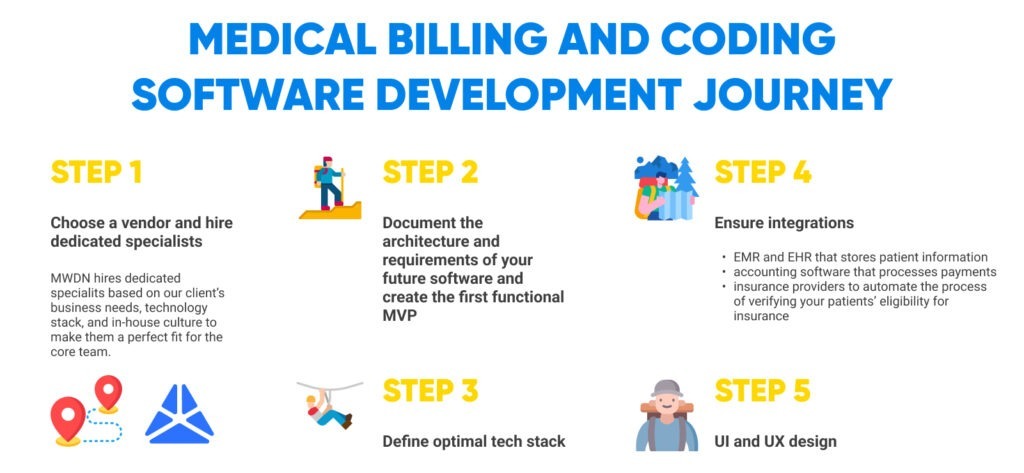 How to Create Medical Billing and Coding Software
Step 1: Choose a Team of Dedicated Specialists
The initial stage of creating software for medical billing and coding is to find seasoned software developers. A quality provider takes care of customer assistance, ongoing maintenance, customizable billing tools, and reporting while on-site help is provided throughout the deployment. Simply put, one individual cannot solve all the problems, hence to create your first functional MVP, you will need a team of seasoned developers.
The project should consist of a pool of talented people who will cover the need for the development, design, and testing of the quality product:
Quality Assurance specialists (QAs)

UI/UX designers

Graphic designers

Project manager (PM)

Business analytics and other specialists
The healthcare industry has its own specifics. Thus, it's better to rely on a vendor with rich experience in the field. MWDN has successful healthcare projects in its portfolio, including the noninvasive monitoring program for NIMedical. Reveal more details about our healthcare expertise by dropping us a line.
Step 2: Document Architecture and Requirement to Your Future Software
After a successful selection of external or in-house developers, your next step is to analyze the budget and set up the requirement for the future product.
Along the way, it is necessary to determine immediately what the cost of development is, whether the available resources are sufficient for this and whether additional funding will be required.
Next, you should record the software's needs and mandatory features. These should revolve around your business needs. For example, sometimes a system doesn't need to be developed from scratch – integration of some innovative features will be enough to solve potential problems or provide additional value to your customers. Anyway, the task of your developers is to help you decide how to get the best result with optimal costs.
Step 3: Define Optimal Tech Stack
Once you've decided on the features your software should include, it's time to think about the technologies it will be built on. Choosing the optimal tech stack requires careful analysis and understanding of how your product will be distributed. The basic tech stack we use for creating medical software consists of MySQL for storage, Angular, React, and Vue for the front end, and Ruby on Rails for the back end.
Step 4: Ensure Integrations
In the beginning, we mentioned that integrations are a key stage in the functioning of your software. When it comes to medical billing software, it should include a wide range of integrations with other systems:
EMR and EHR that stores patient information

accounting software that processes payments

insurance providers to automate the process of verifying your patients' eligibility for insurance
Mind that it's easier to add third-party tools or required functionality to extend an existing one than to build an entire system from scratch. The latter contains patients' medical information and helps healthcare providers to organize and prioritize practice workflows.
Step 5: UI and UX Design
Technology and medical software are ever integrated into the modern healthcare industry. Such solutions often analyze complex parameters and scientific metrics, so there is an urgent need for the data to be translated to the user in an appropriate, easy-to-understand format. As medical coding technologies are a daily part of workflow, they should have simple navigation and intuitive menus. The user experience is also influenced by the color scheme and text readability. In addition, each billing and medical coding system should be tailored to the needs of the target audience that work with it (doctors, nurses, patients, etc.). According to statistics, every $1 invested in UX results in a return of $100 (ROI = 9,900%).
When developing healthcare software, an impressive design is often one of the most requested parameters the MWDN team gets. A real-world example is a design for NICaS – a non-invasive assessment and monitoring system for hemodynamics and fluids management that works perfectly, introducing an impressive yet clear design for medical personnel.
Medical Billing and Coding Software Development with MWDN
The functionality of medical billing and coding software goes far beyond just classification and search. This complicated organism makes your organization act more accurately and precisely, remain more compliant, and generate the expected revenue. The development of such, however, requires seasoned professionals who have a deep understanding of the healthcare industry and have similar projects behind their belts.
The MWDN team has spent most of its 20 years in the market building impressive solutions for the healthcare market. In our portfolio are forward-thinking solutions that simplify the daily workflow of our customers and allow them to concentrate on vital things instead of paperwork.
In Israel, Ukraine, Canada, and other top destinations, MWDN hires dedicated specialists based on our client's business needs, technology stack, and in-house culture to make them a perfect fit for the core team.
Drop us a line to translate the vision of your product into the first working MVP and create a modern solution that will simplify the administrative burden.