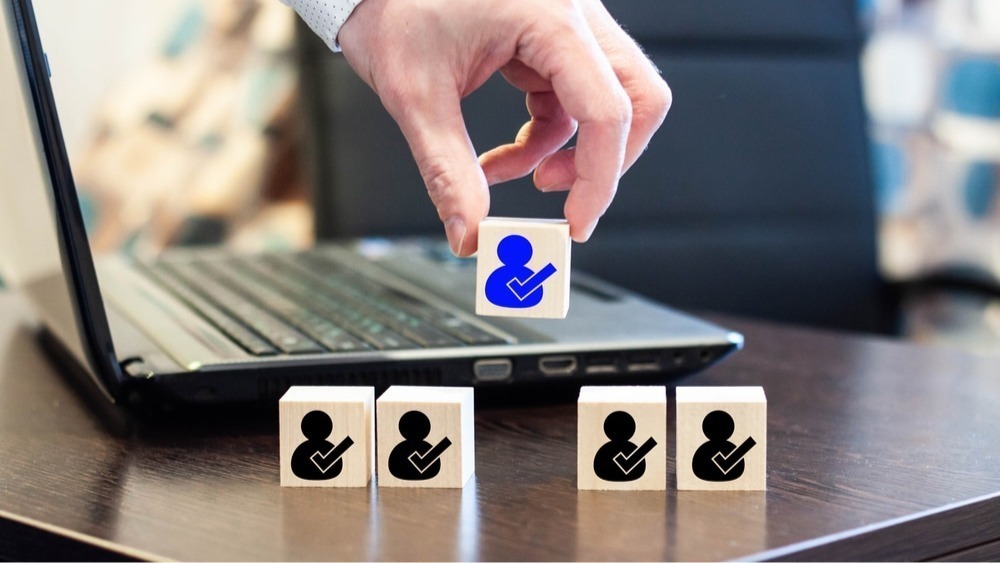 Recently, technology advancements have once again spurred the debate on whether technology can replace humans as workers any time soon. That's a long discussion.
For now, one thing is sure – the human brain is still the most sophisticated invention on Earth. And despite the rapid development of technologies, People are still a major link between high ROI and business efficiency. That is why the demand for good talent is not decreasing.
Finding and hiring them, however, is still a headache and a financial burden for companies – especially the IT market newbies who need to achieve positive dynamics right from the jump-off start. Therefore, startups and tech companies continue to investigate strategic options like outstaffing. Today, we will talk about how this approach can boost your business at the early stages and establish an efficient tone for its further smooth expansion.
What is IT Staff Augmentation: Why it Gains a Momentum
Outstaffing is a popular model of delegating business services that means hiring full-time employees that act as full-time members of a customer's team, but their official employer is a staff augmentation company that delivers the talent and takes care of administrative HR issues.
Many people confuse outstaffing with outsourcing and believe that it is essentially the same thing. However, staff augmentation is, in fact, a relatively new type of delegating business processes, which presuppose more targeted hiring, i.e., increasing the staff of those qualified specialists that the organization needs at this very moment. Although these experts are not officially part of the company's administration, they contribute to the company's overall goals. Employees who join an international corporation as outstaffing members work directly in the client's team, but their official employment office is the outstaffing company.
The majority of questions that people usually have about outstaffing are related to how the interaction within this model occurs. It is simple and complicated at the same time. The client, the customer, and the employee cooperate in a triangle where each party has its responsibilities. It looks as follows:
| Customer | Vendor | Employee |
| --- | --- | --- |
| Directly participates in the candidate selection process to find the most suitable fit for the project | Provides the customer with access to a pool of talent to choose from | Gets familiar with both sides and learns about the company's culture and job description firsthand |
| Passes the job description to the vendor, directly communicates with the team, and sets its workload | Further delivers the job description to the team | Works out number of hours specified in the contract alongside the client's team |
| Manages a team to achieve results in line with business objectives | Takes care of administrative issues (vacation, taxes, sick leave, etc.) | Acts as a full-fledged part of the team, either remotely or on customer's premises |
What Are the Major Benefits of Staff Augmentation Versus Your In-House Team?
There is a lot of debate among companies about whether it is worth hiring an external team or, on the contrary, growing a company's internal capacities. This issue is especially relevant for those who are at the critical stage of laying their business foundations – startups.
The accumulation of in-house experience is always relevant and considered an ever-important business practice. On the other hand, strategic minds also understand that this process is quite expensive and, above all, time-consuming. Reinforcing internal capacities with new specialists, companies need to take into account not only developers' rates but also look at the broader picture. The total budgeting should include the total cost of engagement, hourly rates, taxes, medical care, pension plans, vacations, etc. 
In this regard, strategies like outsourcing and outstaffing urge not only fast and stress-free scaling but other significant perks that can hardly be ignored. In the 2020 Deloitte Global Outsourcing Survey, 70% of companies claimed their primary intention to outsource was cost reduction. The no less important points are flexibility (40%), speed to market (20%), access to tools and processes, and agility.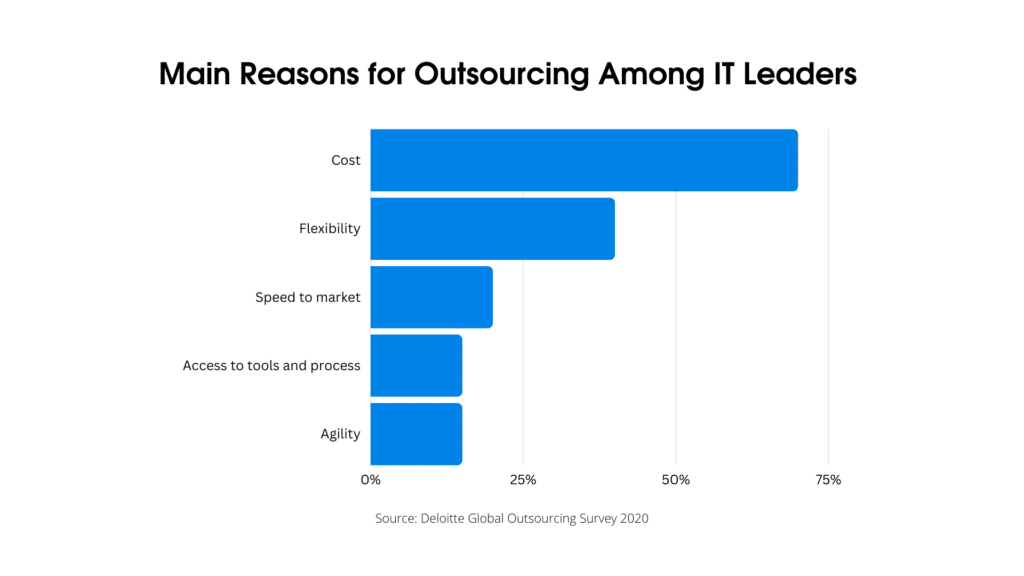 During pandemics, globalization has been urged by 500x times. Given the fast pace of today's market, slow internal processes can be a fatal factor that will stop your company's growth at some stage.
With outstaffing, many of these issues and internal costs are eliminated. In their 2023 Report, Accelenrace compiled a simple and clear table of new employee engagement in both models. The data includes salary, benefits, and operating costs and demonstrates the total cost of the new hire.

IT Staff Augmentation Services: Working Models
Dedicated team
A dedicated team is a great option for anyone who wants to create a team from scratch. 
Dedicated developers are available to your company and become the extension of your team like your remote workers. For the full cycle of product development, the vendor usually forms a team that includes: 
project manager

business analyst 

UI/UX designer

team lead

front-end 

back-end developers

DevOps 

QA engineer
Dedicated teams don't work on numerous projects from various clients as is in the usual methods of outsourcing developers. The client also has better control over its remote workers, and both parties collaborate closely during the development process. In every way that is directly relevant to the task itself, the team also performs as an integral part of the larger client organization.
A dedicated team is also perfect for complex projects with vague requirements and in situations when a long collaboration is ahead. The latter requires the involvement of numerous professionals as well as the accumulation of significant knowledge. 
Extended Team Model 
The extended team model means hiring one or a couple of unique specialists who will share their expertise only where necessary, eliminating the need to inflate the staff. 
The extended team is not about replacing the internal employees – complementing them, filling the gaps in the core team, and increasing its overall potential. In this way, you can strengthen your company's development capacity with the best professionals,  while a vendor will provide management and onboarding. 
The client also fully controls the hiring process and actively participates in all levels of recruitment, training, etc. The extending team may be selected and hired both offshore (distant country or different continent) or nearshore staff augmentation (in a neighboring country). The members of the internal and external teams share tasks and responsibilities equally. Yet, the core in-house staff still handles project management.
IT Staff Augmentation Services in Startups
After passing the first critical stages in its early days, any startup faces the challenge of growing the IT team for further scaling.
Startups initially spend the majority of their time on core business functions, but over time, face a lack of digital-savvy professionals required for further expansion in new markets. The common problem they encounter is the loss of a lot of time needed for the search for new professionals.
Along the way, they face many internal recruitment problems, bottlenecks, or lack of sufficient funds and resources. In these critical days, any startup strives to save as much time as possible and that's the reason why they choose outstaffing at this point.
This strategy remains the most flexible, cost-effective, and effective way to save time and money for startups. Let's see precisely in what ways.
Why are IT Augmentation Services a Great Choice for Startups and Tech Companies?
1. Cost Reduction
Outstaffing is not primarily about money, but it is also one of the main reasons why businesses choose it. Average rates of developers vary greatly depending on the software development region, industry, and required skills. According to Accelerance, the average rate of developers in 2023 is as follows: North America is $135, Central and Eastern Europe $60, LATAM $65, South Asia $44.
Compared to average spending on things like office space, supplies, training sessions, and employee benefits, outstaffing looks like a simpler solution to finding and hiring the right workforce. Outstaffing vendors also take care of the administrative aspects of the process, such as taxes, HR support, performance monitoring, and others. All these significant expenses disappear from the table with the choice of outstaffing.
In addition, vendors have access to highly qualified staff, enabling businesses to cut internal expenses while achieving high-quality work.
2.  Agility
One great benefit of outstaffing is that it provides companies with more freedom to implement their business strategies according to agile methodologies and move faster from one prototyping stage to another.
More flexible development strategies allow developers to adjust their approach on the fly and better adapt it to customer needs, ultimately creating more flexible and efficient product cycles.
3. Speed to Market and Quicker Adoption of New Technologies
Speed to the market is the key aspect that can make or break any young company or startup. In this regard, outstaffing allows companies to make product releases quicker. Thanks to access to a wide pool of specialists who work with various technologies, the company can rapidly implement all its strategic ideas and projects and constantly expand its expertise.
4. Focus on Your Core Business
Outstaffing also allows companies to focus on core business areas and long-term strategic processes. This is quite an important factor considering the fierce market competition. The availability of an outstaff team also allows businesses to develop the necessary capacities and elevate their market reputation to leave many of their competitors behind. 
5. Business Scaling 
When expanding their business, companies need to create a wide network of touchpoints globally. This allows them to develop their product in any region and stay accessible to their clients at any time. The latter, however, requires large resources and access to a global talent pool. With outstaff, the company can easily strengthen its global presence and create a solid network of centers with dedicated employees in different time zones. Thus, outstaffing stimulates business growth and increases the internal capabilities of the company and its product.
Why is MWDN the Best Partner for Staff IT Augmentation?
At MWDN, we prioritize custom approaches tailored to each client's needs. There is no one-size-fits-all model when it comes to staff augmentation projects, and we recognize that every client will benefit from different approaches to outstaffing, outsourcing, and augmentation. Based on our 20+ years of experience in various industries, we carefully design the collaboration model to draw from our talent pools in Ukraine, Israel, Poland, and other countries. Drop us a line to ensure the perfect software development staff augmentation for your project.