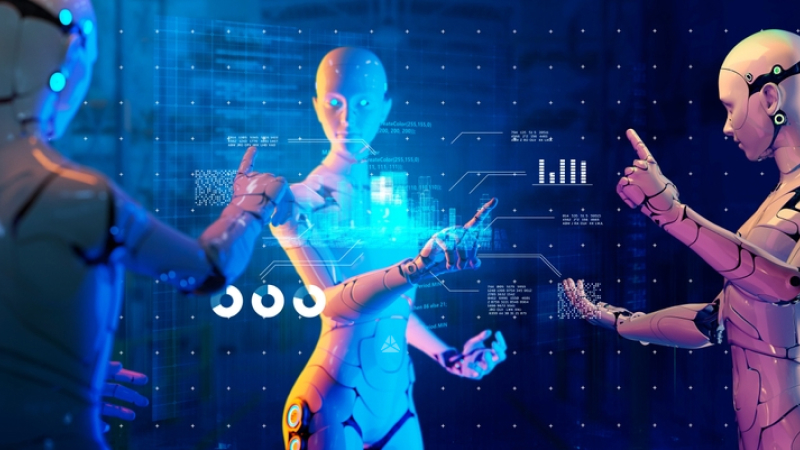 Like any other trendy notion, digital services with distributed teams started to get surrounded by myths. Today, MWDN decided to play MythBusters and check out the legends and illusions about working with distributed teams from the point of view of a customer and an IT vendor.
Content:
The definition of distributed teams
Busted myths about digital services outsourced to distributed teams
1. Collaboration equals collocation.
2. The partnership is the same as the vendor-customer relations.
3. A cross-functional team equals cross-functional engineers.
4. Outsourcing digital services to distributed teams help customers achieve colossal cost reduction.
5. Tracking the time of your distributed team is the only way to get value for the money you pay.
6. Working with multinational distributed teams has more cons than outsourcing digital and other services.
7. The corporate culture losses its importance when you start working with distributed teams.
8. It's hard to find a trustworthy partner when choosing an IT vendor.
Summing up
The definition of distributed teams
Judging by the way the phrase "distributed teams" is used even in professional circles, it may seem that the concept is exceptionally vague. It is used as yet another synonym for a remote team. However, even though these notions are similar, they are not exactly the same.
Unlike a remote team of in-house employees, whose members, as a rule, have the opportunity to meet at least periodically, as they are located within the same city or country and have some kind of regional office, members of a distributed team often live in different countries and often – time zones.
Busted myths about outsourcing digital services to distributed teams
Due to the benefits of hiring a distributed team, customers usually opt for this option when they require digital services or want to transform their businesses digitally. To keep you fully informed about this new trendy opportunity, we searched for misconceptions and misunderstandings that customers and IT vendors have. You should stop believing these top eight myths about working with distributed teams.
1. Collaboration equals collocation
Physically being in the same space to work together used to be the ultimate way to maintain the high efficiency of all your employees. However, two years of forced experiment during the Covid pandemic has demonstrated that it is not the case. Moreover, the International Labor Organization claims that the hourly productivity of people through multiple industries and various countries almost doubled in 2020 compared to the previous 2005-2019 years.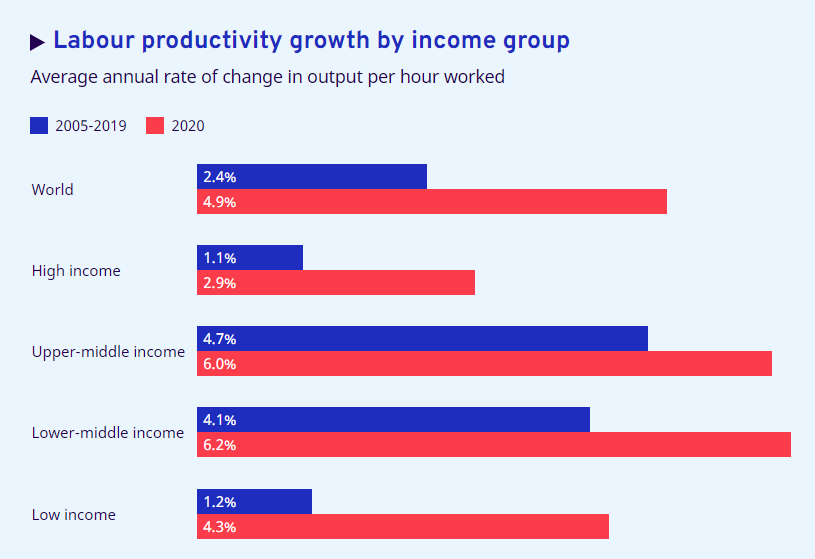 Image source: International Labor Organization modeled estimates,
ILOSTAT
Which just confirms that collaboration doesn't equal collocation and that your employees can work as a team and stay productive even if they don't spend 40 hours a week together, sitting in the same room.
2. The partnership is the same as the vendor-customer relations
We often misuse the word partner by calling all our contractors, vendors, distributors, suppliers, and customers our partners. Unfortunately, this is not always the case. You're not a partner to a grocery store where you do shopping. In the same way, you can't call an IT vendor with a fixed-bid or request-for-quote business model your partner.
Partners care about the further success of each other and see each other as strategic allies. They often sign a partnership charter or a "soft" contract to stay flexible and be able to react to any changes in each other's business needs as fast as possible. Apart from that, having a caring business partner is a priceless investment in the future.
3. A cross-functional team equals cross-functional engineers
Cross-functionality is a necessity for a project-oriented agile team. However, this doesn't mean that all of your employees have to be cross-functional. What you need are the representatives of all departments that might be involved in the project.
For example, to deploy a website you might need these specialists:
Front-end developer

QA engineer

UI designer

Marketing specialist

SEO copywriter

Representative of the customer
In other words, when composing a team, you need to form them across and not within their functions. Moreover, sometimes you might need the expertise of a particular specialist with a unique skill set that you don't have in-house – it's exactly the case when you might consider forming a distributed team. Use experts to accumulate your transformation while they help you build an app or other software.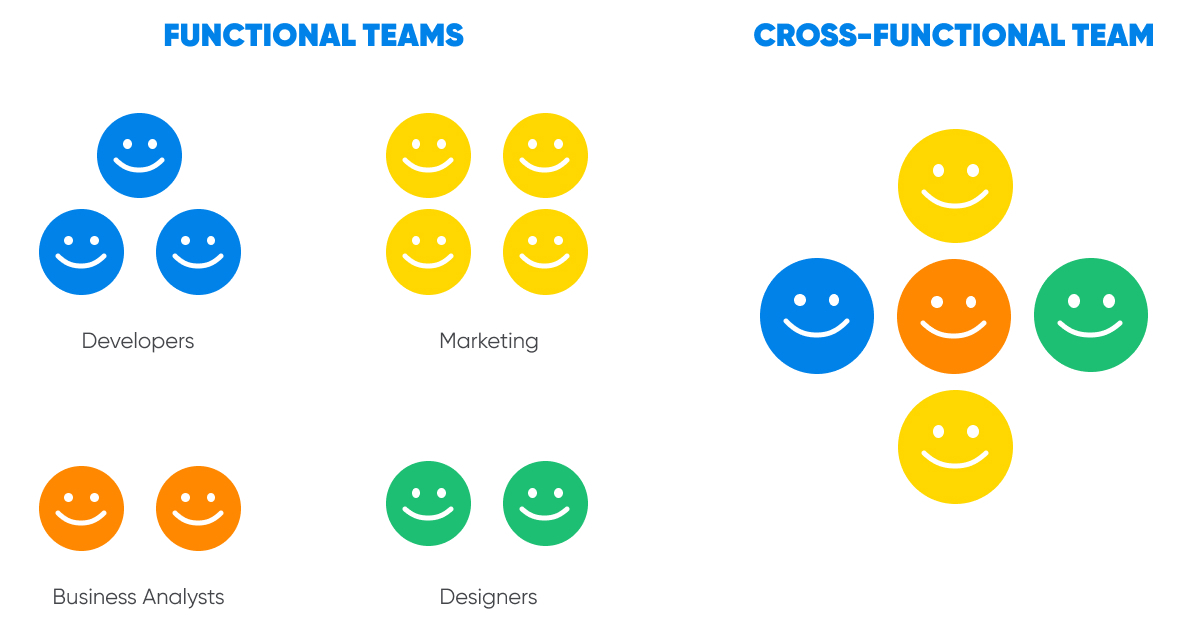 4. Outsourcing digital services to distributed teams help customers achieve huge cost reduction
Unfortunately, this is not always the case. Moreover, the absence of cost reduction is one of the key disappointments among new customers who believed that organizing distributed teams is as "affordable" as outsourcing digital services to third parties.
There is a reason why a distributed team often results in direct labor costs equal to those of the in-house team. As a rule, you opt for offshore contractors when you're looking for a particularly skilled specialist, and the higher the level of an expert is, the less is the chance that they will agree on a low salary.
There might be a cost reduction but it is usually explained by the fact that you don't need to pay the office rent in different parts of the world as most members of your distributed team will work remotely from home offices.
5. Tracking the time of your distributed team is the only way to get value for the money you pay
Distributed teams and remote specialists usually do hourly billing. For example, if you have a full-time remote developer, you pay them weekly for 40 hours of their work. Some customers decide that the only way to control that they get the value for the money they pay is by asking their developers to download time-tracking software.
This might be an option for IT vendors, but in most cases, project managers and technical team leads must explain to their customers that value for money does not equal 40 hours of work! Developers can mull over some intricate tasks for hours to write necessary lines code in a matter of minutes. Others can have some pre-written code they created for other projects long ago and now use it to solve a customer's problem. And even though it wouldn't take them a lot of time at the moment, there were days when they worked hard on a particular solution.

As with any kind of collaboration, to make all parts benefit from a distributed team model, there should be professional management, high motivation, due diligence of remote employees, and mutual trust.
6. Working with multinational distributed teams has more cons than outsourcing digital and other services
There are certainly some challenges to managing geographically distributed teams. Among the most obvious ones is the necessity to organize efficient communication that would be comfortable for all members of the team. Considering that team members might live in different time zones and have little to no working hours overlap, even the organization of Agile ceremonies like stand-ups and retrospectives might turn out to be challenging.
Provided that you can't find tech talent in your city (or country) and you decide which business model to choose – a distributed team or outsourcing, let's compare their challenges and pitfalls.
| Disadvantages of outsourcing | Disadvantages of distributed teams |
| --- | --- |
| 1. Cost savings are lower than expected. What some might consider the critical advantage of outsourcing over distributed teams, namely cost reduction, rarely has a significant impact on the customer's budget. In other words, if you outsource high-tech tasks that require the involvement of highly qualified specialists, it is likely that you will not get the level of cost reduction that you expected by preferring outsourcing to distributed teams. | 1. Cultural differences and difficulties in adopting the customer's corporate culture. When hiring specialists around the globe, you have to ensure that they share your principal values and will eagerly follow the code of conduct that your company provides. Otherwise, creating a beneficial and friendly team out of a dozen experts might become difficult. |
| 2. Staff turnover. Your IT vendor might consider changing members of your dedicated team for the sake of its own business. This might lead to delays in deployment due to the need to find new team members or to transfer information about the project and duties from an old employee to the new one. | 2. It's not a one-size-fits-all solution. Not every business will equally benefit from working with distributed teams. For example, it is considered a bad choice for short-term projects. |
| 3. Project time or cost overrun. These cases happen just way too often to ignore them. Unfortunately, even if you have the strictest contract with your IT vendor, the chance of missed deadlines and overspending remains high. The lack of agility in IT vendors with fixed bids might partially explain this. | 3. Organizing the simultaneous work of several remote employees is hard. This is the first argument of customers who're not ready to dedicate themselves to managing a widely distributed team. The solution is quite simple, though – hiring a project manager who would share their distributed teams best practices with your managers and the HR department. |
| 4. Inadequate expertise. You might hire the best specialists in software development who would have no expertise in a particular industry. Likewise, your IT vendor might try to force you to change the technology just because they have only specific tech talents. Yet another possibility is that your IT vendor might be cheating and bill you for a Senior developer, while in reality, a Middle specialist will work on your project. This problem will not happen if you directly interview and communicate with your distributed team members. | |
At MWDN, we believe that working with distributed teams has more benefits and fewer flaws compared to the fixed-bid outsourcing and RFQ business model.
7. The corporate culture loses its importance when you start working with distributed teams
That is not true. Corporate culture is an important part of your business that might significantly assist in the communication and efficient collaboration of both your in-house and remote employees. Think of the tools for distributed teams that you can use to help all your workers embrace, enjoy, and benefit from your corporate values.
First, ensure to provide distributed delivery which will help all your developers stay updated and informed about the project's current state. Task trackers like Jira, collaboration platforms like Miro or Google Docs, GitHub, etc., will all be helpful. You should also consider conducting teambuilding activities and social events for distributed teams and your in-house employees.
8. It's hard to find a trustworthy partner when choosing an IT vendor
With the modern transparency and the trend among businesses to evaluate the best partners online, it is easier than ever to find credentials and feedback on almost every company, including IT vendors. Check out Clutch to read the verified testimonials from the company's previous customers. Make sure that the company you're about to hire takes care of its employees by reading developers' feedback on their employer. Visit meet-ups to get acquainted with the representatives of various IT vendors in person. Finding and choosing a reliable IT partner is not hard.
Summing up
When you choose to work with distributed teams, you create a strategic partnership that will help your business evolve, gain a competitive advantage, and transform according to the current digital trends. With the unique expertise of the most skilled specialists all around the world, you will be able to become an industry leader as well as catch up with the latest global trends.
If you have any questions on distributed teams and ways to hire selective tech talents, be sure to contact MWDN and have all your questions answered, and your doubts dispelled.