An average IT support department of a several-hundred-employee enterprise can consist of ten to twenty people. These are IT technical support officers, each of whom has their niche of specialization.
They respond to technical queries made by employees and customers. Sometimes it means updating new software, application releases, and website releases. In other cases, it might be fixing laptops and printers or providing a secure hack-proof network for the enterprise.
Content:
Three levels of IT support
Benefits of outsourced IT helpdesk
What are the peculiarities of delegating advanced IT support?
With an average salary of a Service desk technician in the USA being $44,000 a year, you might consider the possibility of outsourcing IT support services just to cut your expenses. However, it's not just expenditures that matter. Reliable IT vendors that become strategic partners for your business can also add unique expertise and implement best practices to create a competitive advantage for your enterprise.
Three levels of IT support
IT support can be divided into three main levels.
The basic one

. Usually, these are

call centers or help desks

where support members have an algorithm for answering the most frequent questions. This is an "entry point" for young specialists who have just graduated from computer sciences and don't yet have plenty of experience.

One step further is

technical support. These specialists are usually more skilled and can deal with advanced queries. If a company has an in-house technical support team, they will interact directly with the company's users or employees and fix hardware.

And there is the third,

advanced level. You will find system administrators, networks engineers, security specialists, DevOps engineers, and other highly-skilled experts here. These people ensure that the entire IT infrastructure of the enterprise works smoothly.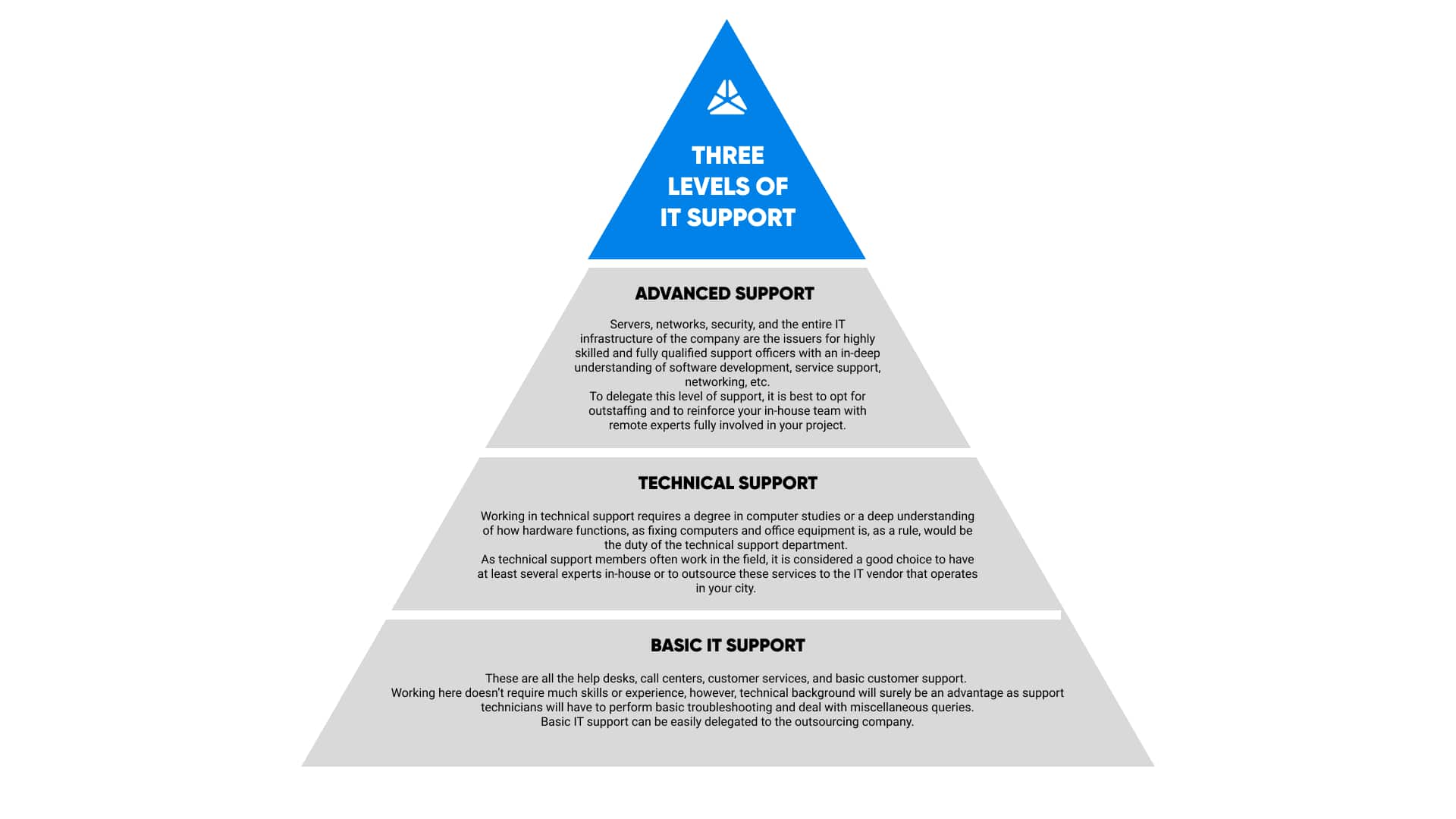 Benefits of outsourced IT helpdesk
Help desk or customer support doesn't require high technical skills or vast experience from their employees. You can easily delegate this part of IT support to a third party. But why should you?
You can

cut up to 60% of direct labor costs

by hiring a support team in a country with a lower cost of living.

You receive

access to the best business practices, including AI chatbots and other technologies that simplify your customers' or employees' IT support.

You work with a

specialized IT vendor

who knows how to educate and manage a support team so that it creates a competitive advantage for your business.

You can

increase the range of working hours

of your support team due to the difference in time between you and your outsourcing company office.

A professional support team will surely

improve the user experience

of your customers/employees.

Make it a priority, and you will get a

faster response time

.
Enjoy the pros and forget about the cons by choosing a reliable outsourcing company that will become your strategic partner. Today, Ukraine is a popular destination for those seeking remote help desk services. The reason is that many Ukrainians speak English quite well, and some have lost their jobs after the full-scale Russian invasion. Another all-time popular country to outsource call centers is India. Indians are also quite fluent in English and have lower rates than in the US or Western Europe.
What are the peculiarities of delegating advanced IT support?
The maintenance of the IT infrastructure of the company, including the working spaces, networks, architecture, applications, servers, cloud storage, as well as backups, and data analysis, are challenging tasks that only tech talents with hands-on experience can handle. And this is when companies in search of such an expert can face some difficulties.
First, finding a specialist that would fit your demands might take a lot of time. Moreover, chances are you may not find the person you need with the budget you have in a particular region. Outsourcing, however, is out of the question because you need your new teammates to be fully involved in your project and share their unique knowledge with your in-house team.
For these particular cases, outstaffing, aka staff augmentation, was created. By choosing an outstaffing company, like MWDN, you can get the specialist you need much faster and at a better cost. Your new remote teammate, though, remains an employee of an IT vendor, which provides your remote employee with an office, computer, and all the necessary equipment and software. Your IT contractor also covers payroll, taxation, insurance, vacations, and other HRM issues of your new teammate. As MWDN recruiters have a vast database of the best Ukrainian and European tech talents, they will promptly fill in your open support officer position.
You're not the first one: Companies outsourcing IT services
Name any international organization or large tech enterprise, and with 100% certainty, we would say that they are on the list of companies that outsource IT services. Alphabet (Google), Meta (Facebook and Instagram), Amazon, Alibaba, and GitHub… all delegate some of their business processes to third parties. They do it to cut costs, let their core team focus on their main projects, increase speed to the market, and access the best business solutions and the most skilled tech talents.
Here is a list of ten international companies that are known to delegate software development and other IT services to other companies:

Largest IT outsourcing companies in 2023
Havas International

. Asked a Ukrainian-based IT vendor to help develop multi-functional, highly personalized smartwatches for one of their campaigns.

Auchan

. Got help with their website from a Romanian outsourcing company.

AstraZeneca

. Delegated to the Swedish IT company the development of a platform where all the information about thousands of drugs of the pharmaceutical giant was gathered.

Coca-Cola

. Contracted a Croatian IT vendor to develop a specific application for onboarding thousands of their employees worldwide.

Xerox

. During its history, it has outsourced various parts of mobile and web development to several Indian IT companies.

MasterCard

. Bought a company (Vyze) that has previously received help from a Polish FinTech outsourcing company.

Samsung

. Hired a Polish IT company to develop an app for the company's employees, where they could track the availability of Samsung goods at different points of sale.

Toyota. Asked an Argentinian company for a comprehensive tender management platform and, along with that, had some of its inner software automated so that their employees don't have to handle repetitive tasks manually anymore.
Vodafone

. Contracted a Ukrainian IT company to develop an insurance portal for the telecommunication giant.

Logitech

. Being a leader in computer peripherals still gets help from companies with narrow specializations. Like in the case when Logitech asked a Ukraine-based outsourcing company to help them improve their camera.
Whenever a non-technical brand comes up with a know-how application, an astonishing website, or some augmented reality elements in their sales points, they most certainly have done it in partnership with an IT vendor.
The list of companies that outsource call centers would be even longer. International companies where customer support is crucial (like airlines, software development companies, large e-commerce platforms, telecommunication companies, or pharmaceutical enterprises) are certainly to delegate their call centers to professional outsourcing vendors. Here are the reasons why companies outsource call centers:
Professional call centers usually provide support in up to 20 languages;

They can offer 24/7 coverage of your phone calls;

They have trainers and recruiters to find and teach a team you need;

They offer multi-channel support via email, Live Chat, messengers, SMS, and phone calls;

They prepare statistics and analysis of queries and reports for each client.
Cost of outsourcing IT services in different countries
| | Call center support, cost per hour | Help desk technician, salary per year | IT support officer, salary per year | System administrator, salary per year | DevOps engineer, salary per year |
| --- | --- | --- | --- | --- | --- |
| The USA | $28-35 | $43,948 | $56,471 | $78,571 | $133,017 |
| Canada | $25-30 | $45,825 | $55,996 | $70,083 | $94,097 |
| Israel | $25 | $41,704 | $41,733 | $50,114 | $68,412 |
| Great Britain | $22 | $30,540 | $40,048 | $43,130 | $77,074 |
| Argentina | $8-18 | $5,856 | $11,172 | $25,922 | $59,756 |
| Poland | $12-25 | $16,727 | $17,701 | $21,799 | $40,939 |
| Slovakia | $5-15 | $19,461 | $23,049 | $22,168 | $37,327 |
| Ukraine | $4-10 | $8,160 | $11,850 | $12,003 | $36,877 |
| India | $5-9 | $4,900 | $5,128 | $7,759 | $9,965 |
| Vietnam | $2-5 | $5,988 | $9,006 | $7,728 | $19,946 |
| The Philipinnes | $8-14 | $5,676 | $7,695 | $6,368 | $14,961 |
Unfortunately, you rarely find a particular description, roadmap, and cost of outsourced IT tasks online. We tried to give you a hint on how much outsourcing various types of IT support might cost you, depending on the country you choose. The estimations above are based on open sources like Glassdoor, Payscale, Indeed, and SalaryExpert, providing data on support officers' salaries in different countries.
While the USA, Canada, Israel, and Great Britain are put into this table for comparison, we have chosen the rest of the countries due to their experience in outsourcing IT services, the high reputation of their tech talents on the international market, and a high command of English.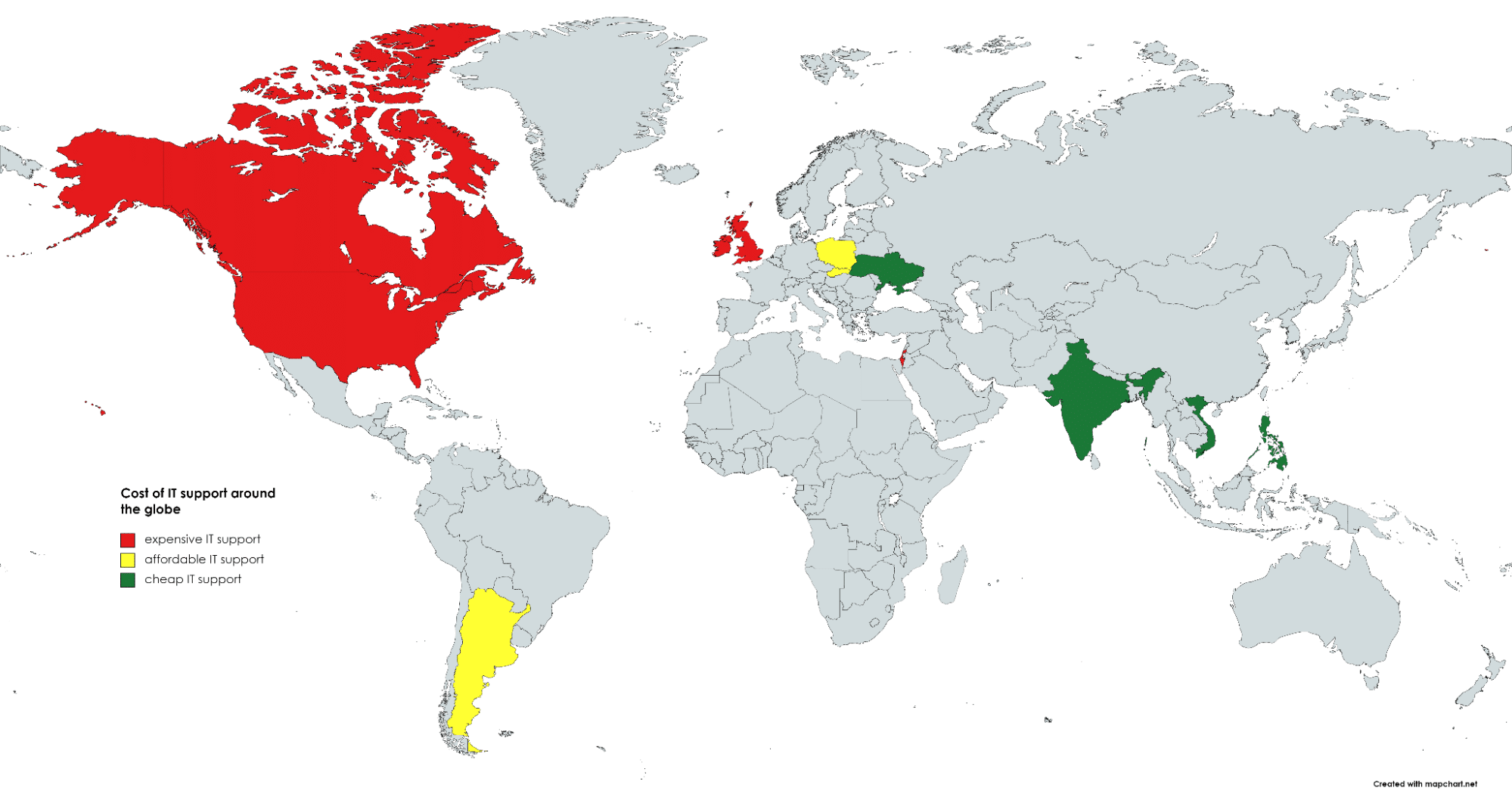 With these numbers being specified, you will still have to get a quote from a particular IT vendor within the country to determine the precise cost of technical support you need.
Other outsourced services examples
Of course, not only IT support services are outsourced. These are just some of the technical directions which you can delegate to a reliable IT vendor:
Cybersecurity

Data analysis

Artificial intelligence

Natural language processing

Machine learning

Blockchain technology

Automatization and robotization

AR and VR

Research and Development

Software development

Mobile and web development

UI/UX Design, Web Design

Quality assurance

Business analysis

Project management

Content marketing

SEO assistance and link building
The best match will happen if you choose your new remote team not just by their function in your company but also by considering their background. For example, if you're a medical billing company, it is best to choose an IT provider with previous experience in healthcare or pharmacy. Delegate your banking app to a company with FinTech expertise and your delivery platform to the IT vendor with logistics experience.
Depending on the level of engagement you require from your new teammates, opt for traditional fixed bid outsourcing or strategic partnership with staff augmentation companies.
Summing up
With all the instabilities in the world economy, particularly in the IT industry, outsourcing IT support services instead of hiring in-house support technicians might sound like a good idea. Cut your labor costs, access the best practices and know-how on the market, and minimize risks by opting for business process outsourcing.